Big booms keep swimming championships afloat
By Euan Youdale09 September 2016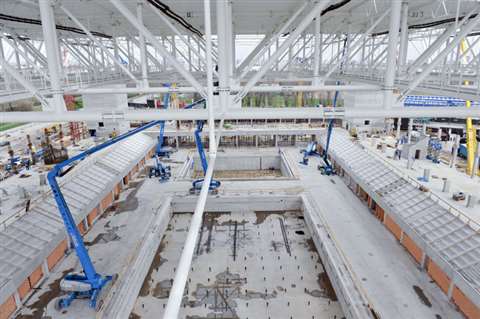 Hungary had originally planned to host the World Swimming Championships in 2021 but when Guadalajara in Mexico withdrew from being the host to the 2017 event in March 2015, Budapest accepted to take on the challenge.
With just two years instead of four to achieve the construction of the spectacular 54m high Dagàly Aquatics Complex, Budapest-based rental company Gepber recommended the use of 10 Genie articulating and telescopic aerial work platforms, including two Genie SX-180 super booms and five Genie ZX-135/70 units.
Designed by 27-year old Hungarian architect Ferenc Hetsch and situated on the banks of the River Danube, the six-storey Dagàly Aquatics Complex is to serve as the 17th World Swimming Championships primary venue. Covering an area of 25000 m2 and offering a capacity of 5000 seats that can be expanded to 18000, the facility consists of a 10 lane, 50m competition pool, an eight-lane warm-up pool, two leisure pools, a top floor restaurant and other press, VIP and leisure facilities. Crowned by a retractable roof, the building also relies on state-of-the-art technology to harness energy from ground heat, wastewater and people's footsteps captured by ingenious walkways surrounding the building.
As soon as the main structure of the complex had been erected, Gepber provided a battalion of five articulating Genie ZX-135/70 booms and five telescopic booms including a Genie S-125 HD, two Genie S-85 units and two Genie SX-180 booms to help install an impressive network of electric cables throughout the complex. They were also operated to assist in lifting, placing and welding the components of the roof and the intricate weave of decorative panels covering the construction's outer walls. The job was scheduled to take four months.
While the articulating Genie ZX-135 units worked on the lower levels of the building up to 43.15 m, the two Genie SX-180 booms were dedicated to the highest elements of the structure, and notably to the welding of the steel components of the retractable roof up to a height of 54m. Featuring a built-in mechanism allowing for opening and closing depending on the weather conditions, the roof is the first of its kind in Hungary.
The Genie SX-180 offers a maximum up-reach of 56.85m, a maximum outreach of 24.4m and equipped as standard with a 7.5 kW on-board generator, an AC power-to-platform and a welder-ready package.
The Dagàly Aquatics Complex will open its doors to swimmers and divers by March 2017 – in good time for the 17th FINA (International Swimming Federation) World Championships to be held from 14th to 30th July the same year.