Big data
By Lindsey Anderson01 May 2018
Rental software's increasing grasp and organization of information can help any size business get on the right track.
It goes without saying that rental software should be able to handle all aspects of rentals, sales, maintenance, equipment lifecycle and business intelligence. Different rental software solutions offer distinct approaches to financial accounting, either integrating with back office software such as QuickBooks, or featuring a fully integrated accounting package.
"In today's day and age, users should expect rental software to 'go mobile' in the ways that matter most, such as getting rates and availability into the hands of salespeople whether they're at a jobsite or in the kitchen making breakfast," says Matt Hopp, general manager of InTempo Software.
However, if a company is purchasing rental software, it's also crucial to go beyond simply comparing features and prices of various systems. A company should evaluate whether the software can support the ways the business might evolve in the future, such as adding locations or preparing for an acquisition.
For instance, advancements in rental software take advantage of the advances technology has made in other sectors. Because mobile devices are now everywhere, rental software and applications are designed to be mobile-friendly.
"We know rental doesn't just take place at the counter – there's data that needs to be captured in maintenance bays, on customer sites and on the lot," says Wayne Harris, chief executive officer, Point of Rental Software. "As the Internet of Things continues to develop, and more equipment includes more trackable data, rental software will continue to incorporate it.
"You can already manage your fleet remotely, knowing when repairs are needed or damage has occurred. You can see how your equipment is being used while on rent, if restrictions are being violated, and take corrective actions or charge extra with data supporting you. That kind of data is only going to get more widespread and more precise. RFID implementation, as it gets less expensive and easier to apply, will become the standard. Rather than counting items at the counter to verify everything is there, you can use large scanners and just run an entire order through. That saves your staff and your customers a lot of time that can now be spent getting ready for the next rental."
Leveling up
Many software companies cite the IoT, or Internet of Things, and telematics as propelling the future of rental.
"Using telematics data enables new capabilities in managing equipment availability and tracking utilization," says Shriram Rajagopal, vice president of product management with e-Emphasys, an ERP software company. "This includes real time monitoring of equipment status, idling and misuse.
"Better data and analytics can lead to less downtime by enabling more predictive maintenance, so you only change oil when its physical condition has deteriorated, for example."
Predictive maintenance helps owners make repairs only when truly necessary. This allows the rental company to proactively service and repair the equipment. This not only benefits the rental company by providing increased revenues while improving customer satisfaction and retention, but also the end customers by avoiding costly unplanned equipment downtime.
"We're seeing more and more businesses of all sizes adopt fully integrated ERP rental software," Hopp says. "We have customers with one rental yard and others with dozens of locations across state borders, and both reap the benefits of ERP software.
A smaller rental company can benefit from rental software because it allows them to streamline processes, increase efficiency, save time and do more with less.
For rental departments, speed is essential. A modern rental software system provides seamless integration across departments, which helps companies get equipment in and out of the yard as fast as possible. As soon as a piece of equipment comes back in to the yard, the system should allow the company to scan the equipment using RFID scanning and immediately generate a service work order directly into the system. The service manager should be notified of the work order via text or email so that they can assign it to a technician using the advanced scheduling capabilities of the system. Once that technician has completed the job, the system will automatically update to show the equipment is ready to rent again. This will update in real-time, allowing sales staff to have an accurate view of the equipment available to rent.
"Heavy construction equipment businesses, with valuable assets to manage and maximize, stand to capture the most value," Hopp says. "One of our customers owns a construction equipment rental startup in upstate New York. He decided to run his business on InTempo Enterprise, our ERP solution, from day one. His reasoning? He doesn't have time to wait for his data to update before making an important decision. He needs real-time information at his fingertips, all day every day.
"Enterprise enables him to manage the end-to-end rental process in a single system. All of his data is in one place, from the initial quote all the way through to customer invoicing and equipment. If his revenue increases he can do an investigation instantly, drilling into recent transactions and breaking them down by customer. Another InTempo customer, a partner in an established equipment rental company located in the Midwest, says the efficiencies gained by integration of all the menu items actually enables him to hire fewer people than he would have otherwise."
Again, though, even if the company isn't large, rental software can be valuable for all companies.
"Smaller rental companies might be the people that benefit the most from rental software," Harris says. "Smaller businesses have fewer resources and are less equipped to accept waste (time or money) in their processes. Rental software allows them to be competitive with a streamlined staff. And as they grow, they need fewer people, with a shorter training period, to handle the extra business."
On time every time
Getting scheduling and dispatch software that works hand in hand with rental software should be a no-brainer, according to Hopp.
If a company is tracking deliveries and pickups, the rental software's scheduling and dispatching tools can be a huge help. Users will be avoiding double entries, last-minute changes to contracts are automatically updated in both areas and businesses will be using a software interface they're already familiar with, so there's less of a learning curve.
"The efficiencies that can be gained and the unbeatable experience it can create for renters is incredibly compelling," Hopp says.
InTempo Enterprise integrates with TMW Systems' Appian FinalMile software. The system allows drag and drop user-friendly route planning and optimization which reduces miles, trucks and costs. It also allows dispatchers to accommodate schedule changes, and—key for heavy construction businesses—allows them to adhere to time window restrictions and equipment constraints.
"The ability to keep your customers up to date via email and text messages also puts the rental process at the same level of high quality service provided by today's cutting-edge online retailers," Hopp says.
Routing information is also important internally because it ensures that businesses are taking the best routes and maximizing employees' time and talents as well as the equipment's lifespan. It's also important externally – customers expect accurate delivery and pickup times and to be able to track their deliveries.
"People's time is extremely valuable, and when you're able to show them that you respect that, that improves customer satisfaction," Harris says.
For e-Emphasys, the company says one of the key success factors for the rental business model is providing efficient and effective logistics services to customers where the right equipment is delivered at the right time, at an optimum cost for the rental company and the end customer.
"Scheduling is critical to ensure the rental equipment is being delivered in a timely fashion to the customers," Rajagopal says. "This allows for backwards planning for all the internal and logistic activities to be completed from the time equipment reaches the customer. This includes providing optimum lead time for equipment preparation like refueling, clean up, check out inspections and more. With advanced GPS based technology tools now available, dispatching tools can combine availability of resources (hauling trucks, yard/service personnel), comprehensive visibility on geo-spatial maps and optimized trip routing to ensure the delivery is both efficient and cost effective. "
What's new
Sandhills Publishing — the company behind RentalYard and more —has rolled out an asset valuation software for the rental industry. FleetEvaluator is a proprietary platform backed by a store of date weighted against key health-of-the-market indicators to generate real-time valuations specifically for construction and agriculture equipment, trucks and trailers.
"We have allocated extensive resources not only to collecting as much accurate and thorough data as possible, but to cleaning and structuring the data and the systems surrounding it so that it can provide powerful insights and valuations for rental and leasing companies," says Moani Baumfalk, who oversees RentalYard.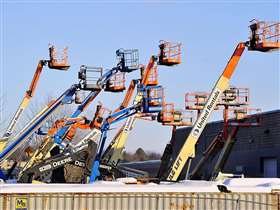 Publications, websites and sales platforms have positioned the company to collect data pertaining to millions of equipment assets listed all around the world on a daily basis. Its platforms also facilitate those assets through multiple phases of the equipment lifecycle due to established retail, wholesale, and auction channels. FleetEvaluator — which is available exclusively to dealers, auctioneers, and rental and leasing companies — is the result of systems that leverage these access points to collect comprehensive data.
RFID is another key focus area in the rental industry that is being adopted by rental software solutions.
Equipment is tagged with RFID tags to emit real-time alerts when passing through RFID readers installed at the yard gates. These alerts are directly available to workers in the yard on their mobile apps and they can respond to quickly turnaround check in/check out and inspection processes.
"Even if a machine is dropped off by the customer in the yard during non-working hours, the notifications on the worker's mobile app remain in the queue to be attended when they report to work," says Rajagopal. "This enables operations to be more efficient in putting an equipment back into 'ready to rent' status."
More developments in the field come from SmartEquip, which is an online fleet support network that connects fleet owners to manufacturers and their dealers with real time access to critical parts and service information. According to Ron Piccolo, senior vice president of sales and marketing for the company, a new product will launch in the coming year.
"Look for our newest product, SmartEquip Connect," Piccolo says. "This product will be targeted to owners of a limited number of pieces of equipment who may not know who their local dealer is. They may have bought equipment at auction, from a broker or from a rental company and do not have any of the product support content they need. We will work with those customers to connect them to their local dealer for support."
Piccolo also says the benefits from implementing SmartEquip are realized throughout the procurement process, from part identification to invoice reconciliation.
"SmartEquip works with each customer to support their specific needs to deliver a seamless, integrated procurement environment," Piccolo says. "In the event the fleet owner does not utilize an ERP system, SmartEquip can function as a stand-alone support network, generate a purchase order and deliver the order to the appropriate vendor on the customer's behalf."