Big impact in a small space
Heavy loads, large equipment, and limited space are usually not a good recipe for lifting operations. This was the situation in the demolition of the old Illtal motorway bridge on the A1 at Eppelborn in Germany, which had to give way to a modern structure. Steil Kranarbeiten, a crane operating company from Trier, considered its Demag CC 3800-1 crawler crane with Split Tray the best possible tool because of the very limited space.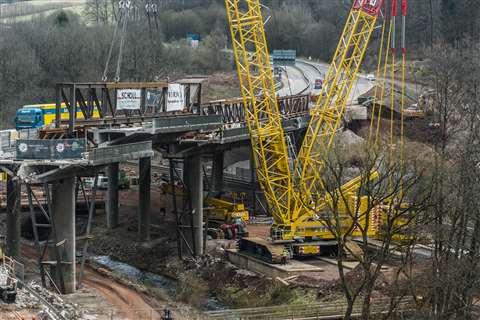 The lack of space on the construction site proved to be a special challenge from the start. "The setup of the crane required a sophisticated logistics concept, where we delivered the parts just-in- to install them immediately," explained René Perlich, head of large cranes.
"Because there was insufficient storage space for all parts on the construction site which was limited by a stream and a railway line. To make matters worse, rail traffic was maintained during the construction work."
Concrete had to be poured in the bank area first for the unstable soil around the stream to be able to support the CC 3800-1 safely. Subsequently, bongossi ties were also laid at the work area of the crane for even pressure distribution. This preparation work provided enough stability for the crane.
The Steil team had to choose rather unconventional approaches even for the assembly of the Superlift mast and boom out of necessity. The Superlift system structure could not be installed in one piece on the crane as usual, as the required space of 36 m (118 ft) on the construction site was simply not available.
"We had just about 20 m (66 ft) available to us", said René whose technicians therefore installed the superlift system "piece by piece." The installation of the 72 m (236 ft) long main boom was another challenge. It had to be set up over the stream due to lack of space.
After the crane was ready for lifting in the intended time frame, the actual work could begin. This proceeded according to the following plan: The bridge was initially divided into seven up to 21 m (69 ft) long and 12 m (39 ft)-wide segments, which were to be lifted one after the other by the CC 3800-1 and slewed behind it and lowered down. At the storage area, the bridge parts were later broken down further and transported by truck.
"The heaviest load was superstructure 2, which weighed in at around 345 t gross," said René, who operated the crane himself.
"And this lift definitely demonstrated that we were absolutely right in choosing our CC 3800-1. Unlike competing models, we still had a lifting capacity reserve of around 10%."