Big screen action from Layher
By Sarah McCay01 December 2014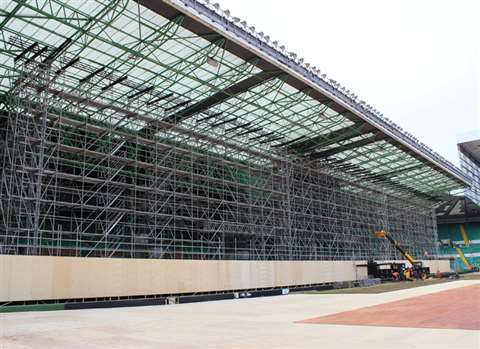 Acorn Scaffolding opted for Layher's modular scaffolding system and the installation capability to provide the screen support structure for the largest LED screen ever seen in Europe, which was used for the Commonwealth Games Opening Ceremony at Celtic Park in Glasgow in mid 2014.
The design, and the equipment selected, addressed key issues at site. By using a continuous scaffold wall, for example, point loads were massively reduced while potentially expensive and cumbersome support structures were not required. This reduced the installation time and eradicated the need for cranage.
Ground bearing constraints and the need to ensure that the installation gained from both lightweight and ease of installation pointed Acorn towards the use of the Layher Allround scaffolding system. The layout featured mounting for the display screen along the full length of the stadium with comprehensive access areas and stairways installed behind.
"To counter the horizontal forces being imposed on the structure, buttress bays were introduced to the rear of the screen support structure – both on and at 10 metre intervals between the reinforced PA bays," said Andy Nutter, managing director at Acorn Scaffolding. "All buttresses were wing braced back at a high level to maintain a working area on the stage platform, while ballast was also incorporated into the buttress structures to support the heavy LED screen."
Acorn custom designed and manufactured the head blocks, which incorporated a bespoke pulley system, to provide the interface from which the PA and screen was flown. These head blocks were installed on every second bay to ensure the imposed load of the screen was more evenly distributed back to ground level.
Alongside the screen support, Acorn also used Layher scaffolding systems to provide a number of other structures for the Opening Ceremony including two hoists, a scaffold hoist tower, nine service bridges, follow-on spot platforms and ancillary decking, as well as providing the scaffolding structures for all the other venues for Glasgow 2014.