Bigge adds 25 Potain towers
By Alex Dahm04 April 2018
US crane rental and sales company Bigge Crane and Rigging Co has ordered 25 new Potain tower cranes to expand its national fleet. They are all 10 tonne capacity Potain MDT219 J10 flat top models from the City Class Series (CCS) by Manitowoc Cranes.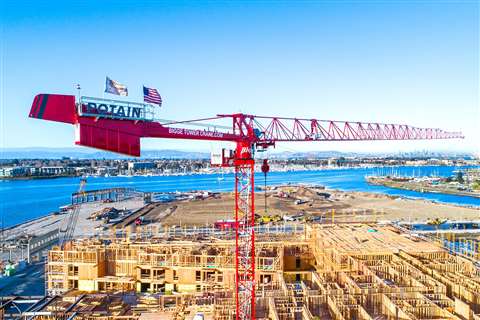 Commenting on the deal, Jesse Sullivan, Bigge tower crane and hoist sales manager, said, "Market demand for tower cranes has increased in the past five years, and our efforts to provide best in class equipment for our customer base continues to be our driving force. We currently have over 60 tower cranes servicing California, and we expect this to increase because of market demand and the versatility of our fleet."
For a year now Bigge has had an MDT219 J10 assisting in construction of the Brooklyn Basin project in Oakland, California. It is on a cross base so doesn't need a concrete foundation and consumable anchors. Loads on this job include steel, concrete, timber and other construction materials, Bigge said.
California-headquartered Bigge is a dealer for Potain City Class cranes and offers them for sale or rent. In its wider rental fleet the 102 year old company has more than 1,000 cranes, in excess of 800 of which are out on jobs countrywide, the company reported.