biggest and best yet
By Lindsay Gale25 March 2008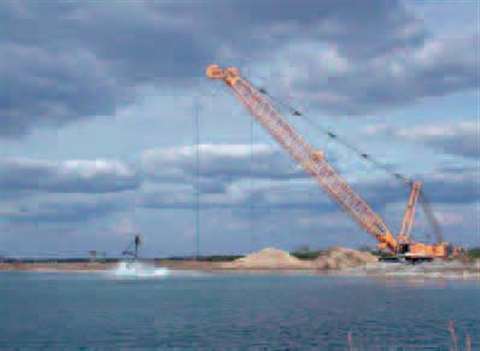 The biggest and best yet–that is whatorganisers are claiming for the 2007 Bauma show, with more than 400,000 visitors expected to throng the Munich show ground. The fact that a number of stands are, for the first time, to be found in the areas between the halls gives a good indication of the scale of the event.
With the number of exhibitors involved, it is unlikely that we would be physically able to include detailed product information for every exhibit, so this guide to the show is restricted to information on product launches of interest to the industry. While we have done our best to identify as many of these as possible, we make no claim that the guide is exhaustive–some people are keeping their new products under wraps until the first day of the show.
In addition to the guide, we have also provided 'walk-through' listings for the main product types (CTYD appearing by a company's name in the listings means that the relevant stand is in the area between the halls that follow after). Hopefully this will make navigation around the extensive Munich site just that little bit easier. There is nothing we can do about the blisters, however. D&Ri will be attending the exhibition, on the KHL Group stand, B3 301, along with our sister construction titles. Feel free to drop by.
Demolition attachments and tools
Finnish manufacturer Allu, formerly known as Ideachip, will be presenting its new six model SC screener crusher bucket range at Bauma. Available for excavators from 8 tons (SC 2–10) to 25 tons (SC 3–20), and wheeled and backhoe loaders from 5 (SC 2–15) to 14 tons (SC 3–25). These new attachments feature a built in power control valve, straight outer sides that allow more material to be held in the bucket and sloping inner sides to better direct material.
Arden Equipment will be introducing a number of new demolition and scrap handling attachments at the show. These include the AS045R scrap shear, the S802 selector grab, and a new scrap grab. The company told D&Ri that it will also have another new product on show, but declined to provide details at the time of going to press.
The latest construction tools and attachments from market leader Atlas Copco will be on show, including the recently launched 2,850 kg (6,270 lb) DP 28000 demolition pulveriser for carriers weighing from 24 to 38 tons. Recent breaker launches will also be on show–the SB 52 for micro carriers in the 0.7 ton to 1.3 ton range, and the SB 552 which comes in at the top end of this breaker line, weighing in at 55 kg (1,210 lb).
But the star of the show will undoubtedly be the company's newest big hammer–and it is seriously big. Weighing in at 10 tonnes, the HB10000 is more than 1,000 kg (2,200 lb) heavier than the largest breaker currently available worldwide. Designed for use with carriers weighing from 85 tons, the new hammer is designed for primary breaking and as an alternative to drilling and blasting in quarry applications. Whether such a large unit will find use in the demolition role remains to be seen, but as structural concrete quality improves as newer buildings are demolished, there could well be a place for it.
The HB10000 features 50% greater productivity than the HB7000 and boasts the StartSelect, AutoControl, PowerAdapt, DustProtector II and ContiLube II features found on the company's line of hydraulic breakers.
Bauma will be a busy time for Demarec, with five new products on show on its stand. The MQP–25 offers crushing, pulverising or shearing jaw sets in a package that weighs no more than 2,000 kg (4,400 lb), allowing it to be used on carriers weighing from 18–25 tonnes (standard or high reach).
The company will also be showing two new prototype jaw sets for its larger MQP models. The T–30 (for the MQP–30) has been specifically designed for steel processing applications, such as tankage and plate, while the U–45 (for the MQP–45) is for use when processing reinforced concrete structures, where it removes concrete chunks while also cutting all associated rebar.
A new demolition and sorting grab, the DRG–65–DN will also make its first appearance. Slotting into the top end of the range, this new attachment is designed for use on larger excavators weighing from 50 to 70 tonnes.
The company will also be showing its DemDrive System for its grab products. The grab shells are mounted directly onto four axle stubs that provide the opening and closing force. This means that the drive unit is completely maintenance free, with no greasing points.
Spanish attachment manufacturer GTNec will be introducing two new ranges of cutter attachments–the 5 model GTL range of longitudinal cutters and the 8 model GTT range of transverse cutters. The GTL range, weighing from 350 kg (770 lb) to 1,300 kg (2860 lb), is for carriers weighing from 3 to 45 tons, while the GTT range, weighing from 220 kg (484 lb) to 5,500 kg (12,100 lb), can be used on carriers weighing from 3 to 110 tons.
While not strictly speaking an attachment, Holmatro will be showing a tool that may prove of interest to the demolition fraternity in the shape of a new hand held concrete crusher. Suitable for use indoors, it generates little dust and can process walls with a thickness of up to 20 cm.
German attachment manufacturer HKS will be showing the latest additions to its XS range of fully rotating scrap and demolition shears, the 7,500 kg (16,500 lb) XS 7000 for carriers weighing from 50 tons and above and the 9,200 kg (20,240 lb) XS 9000 for carriers from 60 tons upwards. Also on show will be a new mobile rail cutter, the RC 26 R, for railway renovation dismantling.
Attachments are the name of the game for Ingersoll Rand at this considerable number of new products will be on show from the new Attachments Division, formed since the acquisition of Irish manufacturer Geith at the end of 2006. These will include grapples, pulverisers, buckets, breakers and couplers Where grapples are concerned, a new Geith Universal grapple combines AR500 materials with high tensile pins. Key features include replaceable bearings in main hinges, boxed tines for standard, silenced and horizontal breakers will be seen for the first time in Europe at Bauma strength, wear package option, O rings to keep grease in and dirt out, and a completely allow steel construction. In addition, a new 10 model range of handling grapples will also be on show for excavators weighing from 3 to 65 tons.
Two new screening buckets will be on display, one featuring grilled separation and the other rotating. They will be joined by a new crushing bucket with a variable jaw opening of 20 to 130 mm.
Two new series of pulverisers will be presented–a four model range of RPU rotating units for excavators from 10 to 40 tons with jaw openings of 600 to 1,200 mm, and the FPU three unit range for excavators from 12 to 35 tons, with weights from 1.1 to 2.4 tons.
Breakers will be represented by two new Silver Clip models from Montabert–the SC6 and SC50. The former weighs in at 65 kg (143 lb) and is for carriers weighing from 0.7 to 1.2 tons. The SC 50 weighs 500 kg (1,100 lb) and is intended for use on 7–14 ton carriers. They will be joined by a new hand–held breaker, the 20.8 kg (45.8 lb) pneumatic IR20BV.
Finally, two new couplers will be presented–the Claw Auto–lock Quick Hitch that offers a wide range of attachment interfaces, patented safety features and operator friendliness and the Geith heavy duty angle tilt, that allows buckets to be twisted up to 45&176; South Korean breaker manufacturer Komac will be showing its complete Tor line of hydraulic breakers at Bauma for the first time in Europe. Models are available in standard, silenced and horizontal designs, and the full range was seen for the first time at the Bauma Chine event held in Shanghai, China, in November 2006.
Full line manufacturer Komatsu now offers a full range of hydraulic breakers for use on 1 ton to 70 ton carriers. This means that all Komatsu machines can now be supplied with a hydraulic hammer that is optimised for the machine, from the PC09 to the PC600.
New on the Mantovanibenne stand will be the GR series of rotating grapples for demolition and sorting applications that use two hydraulic cylinders, synchronised by connecting rods, to ensure smooth and accurate opening and closing. These new grapples weigh from 320 kg (704 lb) in the case of the GR300 for 6 tonne excavators through to the GR3400, believed to weigh in the region of 3,400 kg (7,480 lb) for 38–60 ton carriers. A wide range of kits is available to tailor these attachments to a wide range of applications and carriers.
The company will also be showing the widest opening multi–tool in the world, now designated the MS130, with a jaw opening of 2.5 m (8.2 ft) for use with carriers weighing from 70 to 140 tons. Originally, it started out as the MS 120 at the beginning of 2006, but now has been fitted with larger hydraulic cylinders and is heavier as a result–hence the redesignation.
The BF range of crushing buckets from Meccanica Breganzese will be presented on the company's stand. Four models are available the BF 60.1, BF 70.1, BF 90.3 and the BF 120.4, recommended for use on excavators weighing 8–13 tons, 14–19 tons, 20–27 tons and 28+ tons respectively. They can be used in wide range of applications in demolition, road construction, excavation work, quarrying, environmental remediation and more.
NPK will be showcasing its GH series hydraulic breakers, with 15 models suitable for use with carriers weighing from 1.2 to 110 tons, with eight additional models added to the range since the last Bauma event. The company will also be presenting a new sorting grab, the 1,150 kg (2,530 lb) SG–110 that is suitable for use on carriers weighing from 12 to 20 tons.
Breakers need tool bits and therefore tools specialist Padley &&Venables will be showing a wide range of its quality tool bits that fit all types of hydraulic hammers for demolition applications, including point, chisel and blunt working ends. In addition, tool bits for rock drilling will be on show, especially featuring shank adapters, rods and drill bits, as well as forged shank tools for pavement breaking equipment.
Dutch based hydraulic attachment manufacturer and dealer Rotar will be introducing two new attachments for the demolition/recycling industries at Bauma. The first of these is a line of demolition and recycling grabs. Further details and specifications are being kept under wraps until the show, but the company says that they should offer considerablyincreased productivity, safety, reliability, durability and flexibility as a result of engineering improvements and more durable materials of manufacture.
The company will also be showing a new line of segregation buckets, but again details are not yet available.
Sandvik Rammer will be using the event as the official launch of two new models of hydraulic hammers designed for backhoe loaders, the S 23 and S 25. Both will be available as standard and silenced versions (City) that are delivered ready to mount on any backhoe loader. The S 23 and S 23 City are designed for use with 3–6.5 tonne machines, with the S 25 and S 25 City suitable for use with 5–8.5 tonne machines.
In addition to these new products, Sandvik Rammer will also be highlighting enhancements to its Ramona hammer monitoring system, which is designed to minimise unscheduled downtime, prolong hammer life and maximise productivity.
The enhancements include faster data transfer and communication, now 40% more rapid, along with improved remote monitoring capability to more accurately monitor hammer performance. Reporting has also been improved to make it more user friendly, while the addition of a new pdf generator allows more rapid report production for improved response to potential faults and failures.
The 14 model Beta Breaker brand from Tabe will be introduced at Bauma. Produced at thecompany's new Chinese manufacturing facility, these hydraulic hammers weigh from 260 kg (572 lb) to 3,510 kg (7,722 lb) and can be used on carriers weighing from 2.5 tons to 55 tons. Making use of Tabe's internal breaker designs but sporting a new square casing, these breakers are intended to compete with breakers produced in China and South Korea, said the company.
Wimmer, the Austrian manufacturer of demolition attachments, including grapples &&grabs, buckets, shears and hydraulic hammers will be showing the latest additions to its breaker range, the WH 65 and WH 80 breakers designed for larger excavators up to 100 tons, which will enter series production during 2007.
In addition to its ranges of demolition attachments, the company will be showing an upgraded version of its Oilmatic quick coupler, which has been further automated in time for the show. It is now able to communicate directly with the carrier's on-board electronics to automatically configure the system to provide optimum operation of the specific tool mounted onto the coupler. Up to 14 different tools can be automatically set up by the system.
Awide range of crushing and screening equipment, from crushing buckets through to the largest mobile equipment, will be gracing the stands of the numerous suppliers into this sector and here d&ri suggests a number that will be worth a look.
Extec will be showing three brand new products on its stand, but currently is not willing to disclose information relating to two of them. The one it is willing to share information on is the new S–6 mobile screen designed for aggregate producers that require large throughputs, mobility and clean gradings. The machine's screening area consists of two 10 x 5 ft (3 x 1.6 m) screen boxes, each with their own drive and independently angled. It also features the longest tail conveyor in its class for increased stock piling capacity, along with a host of other features.
Extec will also have representative models from its ranges of mobile crushing and screening equipment, including the C12+ mobile crusher launched at Intermat in 2006. The Ceasar 3 is its mobile compact crusher range. This 80 m3/hr jaw crusher weighs in at 8,000 kg (17,600 lb) and is 6.5 m (21.4 ft) long, 0.7 m (2.3 ft) wide and 2 m (6.6 ft) tall. Its Isuzu diesel provides a power rating of 33 kW (44.3 hp) at 2,200 rpm. It has a hopper capacity of 2 m3, and the jaw clearance can be hydraulically adjusted from 20 to 100 mm.
Meanwhile, the highlight on the Fintec stand will be a new track mounted crusher in the shape of the Fintec 1440–the company's first impact crusher model. The new machine is suitable for numerous applications, including secondary crushing applications or fine crushing of softer rocks, or in recycling operations. Weighing 44 tones, the machine is powered by a Cat C13 engine developing 328 kW and uses a Sandvik PR301D horizontal shaft impactor with a maximum throughput of 350 tons/hour.
Now part of the Wirtgen group of companies, Kleeman crusher manufacturer will be showing two brand new machines at Bauma. The MC110 tracked mobile jaw crusher is targeted at the sub–50 tonne crusher market, and is very similar to the larger MC120 unit. A new mobile screen, the MS130, will also be on the stand. This unit, which completes the company's screen range, features a large hopper, a slotted screen that can be tilted using radio control, and a screen size of 1.5 x 4.3 m.
Austrian manufacturer MFL will be showcasing its ranges of mobile crushers and screens, machines on display will include the Staflex vibrating screen for heavy debris that is used in recycling and quarrying producing end product with grain sizes from 0.5 to 60 mm, the STE 120100 impact crusher with oscillating screen technology, as well as another impact crusher, the H–CI 110–125 HT.
Rockster will launch a new 1.9 ton screen box attachment, the RS83, that is tailored for use with the company's R900 impact crusher. It is assembled directly onto the main discharge conveyor, and is driven by the R900's additional hydraulic drive. The screen box includes features that absorb box vibrations and protect the main conveyor of the crusher. The zigzag grid of the prescreener allows the production of two different grain sizes in only a single pass.
A new patented Rockster duplex system will also be on show, allows for the interchange of the crusher units on the R900 and the R800 (jaw) chassis, in an operation that takes six hours to carry out. This allows a single chassis to be used in different applications as either an impact unit or a jaw unit.
Powerscreen is another who is being somewhat reticent about its Bauma presence, but the company does say that there will be three new screening products to see on its stand. The only details it is currently willing to provide is that they will be a new Horizon horizontal model and two Chieftain models. The company says that these new machines make use of newly patented technology, and have undergone extensive testing as part of its R&D effort.
The latest crushing and screening technology from Rubble Master will be on show at Bauma in the shape of the top of the range RM 100 tracked mobile crusher and the TS3600 mobile screen that were launched towards the end of 2006. Other models from its range of compact crushing solutions will also be on show. SBM, an Austrian mobile and stationary mineral processing specialist, will be presenting a new mobile impact crusher at the show in the shape of the remax Maxi 12. The new unit is available in two models, the remax Eco (without a vibratory screen attachment) and the remax Maxi (with screen). No further detailed specifications are currently available.
Terex Finlay will use Bauma to launch its latest mobile tracked cone crusher, the C–1540P, to extend its range of crushing equipment. The machine will be available in two configurations, the standard C–1540P with a pre–screen option, and the C–1540RS that comes with a recirculating screen configuration. Powered by a Cat C9 developing 261 kW @1,900 rpm, the machine in standard configuration weighs in at 35 tons.
Sister company Terex Pegson, while not debuting a brand new product at the event, will be showing its latest machine, the X400 primary crusher series that was launched early in 2006, along with other existing products including the 1412 Trakpactor and the 1000SR combined crushing and screening plant.
General equipment
Most of the new machine launches to be seen at Bauma are the result of reengining to meet the requirements of Tier III/Stage 3A engine emission legislation, especially where excavators are concerned. Nevertheless, there is plenty of other new pieces of kit to be seen. D&Ri previews as many of these product launches as possible in the general construction equipment sector.
The largest machine on the Bell equipment stand will be the 50 ton (45.5 tonne) capacity B50D articulated dump truck (ADT), which is now being built in the company's German factory. This should mean shorter lead times for customers. In terms of new trucks, the company will show the B30D HP, an upgraded version of its popular 30 ton (27.3 tonne) capacity B30D. The key difference is a 7.2 litre Mercedes Benz engine replacing the 6.37 litre model of the standard truck, which, at 240 kW, provides 17% more power.
Another interesting new machine is the tracked version of the B30D, which was developed for use on peat soils, where a low bearing pressure is essential. As well as the tracks, two axles were redesigned and weight was cut out of the rear chassis and bin to reduce the truck's pressure from 161 kPa to 99kPa. Bauma will see the launch of Case's Stage IIIA compliant B–series tracked excavators, with the 21.5 tonne CX210B on show. The four cylinder Isuzu engine is rated at 117 kW, and is more fuel efficient and requires less servicing than its predecessor. The machine has a maximum dig depth of 6.7 m and a maximum dump height of 6.8 m.
Another new Stage IIIA product on show will be the 821E wheeled loader, which weighs in at 17.2 tonnes. Power comes from a 159 kW Stage IIIA engine and it can carry a maximum bucket of 3.4 m3. Case says the new engine technology delivers 11% more power with lower fuel consumption than its predecessor. The loader also has a higher bucket pin and 4 % more bucket capacity than the old model. Caterpillar will have a staggering number of new machines at Bauma, and these are reported on in detail in this issue's equipment pages. In the earthmoving sector, novelties include an ejector version of the 30 ton (27.3 tonne) capacity 730 articulated dump truck (ADT), five new D–series wheeled excavators from 13 to 22 tonnes, and the D6K dozer, the first of a new generation of machines that will be followed by the D3K, D4K and D5K later this year.
The Doosan stand will feature three new wheeled excavators, all powered by the company's own Doosan DL06 Stage IIIA six cylinder engine. The company says this gives its new its 14.3 tonne DX140W, 16,5 tonne DX160W 27% more productivity and the 19.3 tonne class DX190W 19% more productivity than the Solar 180W it replaces. The 21 tonne class DX210W is 4% more efficient than the Solar 210W.
The cabs of the new machines are slightly larger than their predecessors, and the machines now come with a better seat, offering more adjustment options for the operator. The excavators have two travel speeds and can be specified with a variety of options such as dozer blades and stabilisers.
These wheeled excavators will be complimented by three new crawler models, the 17.7 tonne DX180LC, 21.5 tonne DX225LC and 24.6 tonne DX255LC.. Like their wheeled counterparts, these machines are more productive than the Solar V models they replace, and come with the same improvements to the cab. Visibility has also been improved by reducing the size of the cab uprights and glazing part of the roof.
The company's newest wheeled loader is the DL250, which is powered by a 121 kW Doosan DLo6 engine. It offers 9% more torque than the Mega 250–V it replaces, and comes with a larger cab that offers better visibility. The cab of this 14.5 tonne loader is also quieter, while the air conditioning system has been improved. There is a choice of control systems for the operator, and gears can be changed either manually or automatically.
A new planer control system is being introduced by Dynapac that has, says the company, "been developed in response to requests from operators working in remote places far from specialist maintenance staff." The simplified control option, which uses relays as an alternative to electronics, is available on high–capacity two–metre wide Dynapac planers and the PL 2000 LS and PL 2100 S cold planers can now be ordered with a choice of the existing fully–computerised PLC system or the new conventional electromechanical control circuits.
The company adds, "In the unlikely event of a fault, it can be repaired as easily as changing a fuse in a car, simply by slotting in a new relay. There is no need for specialist knowledge or diagnostic equipment" and, "conventional control is also seen as ideal for operators who are unfamiliar with computers as the planer is controlled by switches instead of a touch panel."
Excavators will be a key focus of the Hitachi stand, not least because of the addition of the EX5500 mining shovel. Back in the construction sector there will be four new wheeled excavators in the shape of the 14.7 tonne ZX140W–3, 16.6 to 18.6 tonne ZX170W–3, 18 to 20.4 tonne ZX190W–3 and 19.4 to 21.7 tonne ZX210W–3. They will be joined by two similarly sized crawler models, the 17.9 tonne XZ160–3 and 22 tonne ZX180–3.
All are fitted with Stage IIIA Isuzu engines and feature Hitachi's HIOS III hydraulic system for greater boom and stick productivity. The cabs feature fully adjustable heated seats, short–stroke joysticks for ease of operation and an LCD display which, as well as being part of the control system, can show pictures from the rear–view camera.
In a similar vein, Hitachi will be adding to its wheeled loader range with a new Stage IIIA model. The ZW180 has a 129 kW engine and comes with a 2.6 to 3.1 m3 bucket, and complements the larger ZW220, ZW250 and ZW310 launched last year. A new load sensing hydraulic system has improved bucket productivity, while the cab features an adjustable heated seat and steering column, and improved climate control.
Hyundai will be adding a new 81.5 tonne crawler excavator to the top of its range at Bauma, a range that previously stopped at the 50 tonne class R500LC–7A. Power comes from a 343 kW Cummins QSX 15 engine, and the machine comes with a 3.4 m3 bucket as standard.
Key features include a power boost button on the joystick, which gives 10% more breakout force, and as well as several operating modes, the excavator can be programmed with individual operators' preferred machine settings.
Further down the range, Hyundai is replacing many of its crawler excavators with 'Dash 7A' versions, which feature Stage IIIA compliant engines with common rail injection systems. Other new features include a multi–function joystick, which can be used to control attachments as well as the arm. The control panel display has also been redesigned with a graphic display to make using the machines more intuitive.
Hyundai's wheeled loaders have also been re–engined. Other improvements include a new control lever with functions such as kick–down now built–in. The new Dash 7A loaders also have a 'light' automatic mode, which cuts gear change times and fuel consumption, and like the excavators, the in–cab display is now graphical.
JCB will be launching new Stage IIIA compliant tracked and wheeled excavators in the 14 to 26 tonne class at Bauma. The new tracked models at Bauma are the JS160 Auto and JS180 Auto covering the 16 to 18 tonne class, the 19 tonne JS190 Auto, four variants around the 20 tonne class, the JS 200 Auto, JS210 Auto, JS 220 Auto, and JS235 Auto, two zero tailswing 23 tonne class variants, the JZ235 Auto and JS 255 Auto and the 24 to 26 tone class JS240 Auto and JS260 Auto. The new introductions to the wheeled excavator range are the 14.5 tonne JS145W Auto, 16 tonne JS160W Auto, 17.5 tonne JS175W Auto and 20 tonne JS200W Auto models.
The key changes are to the engine and cab. The Stage IIIA Isuzu units used by JCB deliver up to 25% more power and up to 27% more torque than their predecessors, while consuming 12% less fuel. This translates into up to 5% more productivity, according to JCB.
The new cabs on the new Auto models now features a high–backed seat as standard to improve operator comfort, reduced in–cab noise and a new cargo shelf and stowage net for improved storage. An automated climate control system is available as an option along with a heated air suspension seat.
Komatsu's new 13–tonne D51EX/PX–22 dozer features a new Stage IIIA engine, which is quieter and more fuel efficient than its predecessor. Better visibility is provided by the slanting nose and rear–mounted radiator, for an excellent view of the blade. A new cab mounting system reduces vibration and the noise level at the operator's ear is just 76 dB. Komatsu–Topcon machine control systems are available as a factory–installed option for increased precision grading precision.
Two new large excavators will make their debut at Bauma in the shape of the 110 tonne class, the PC1250–8 and 200 tonne PC2000–8, which are both available in either backhoe or face shovel configurations. The PC1250–8 has a 502 kW Stage IIIA engine, while at 713 kW, the PC2000–8's engine is outside the scope of the emissions laws.
New to the company's wheeled loader lineup are the 175 kW WA430–6, 202 kW WA470–6 and 224 kW WA480–6, which together cover bucket sizes from 3.3 m3 to 6.0 m3. All have Stage IIIA engines and new drive trains for low fuel consumption, while load sensing hydraulics help improve controllability, cycle times and breakout forces.
Komatsu's SpaceCab is a common feature across all three loaders, and this provides a spacious interior with air conditioning, adjustable steering column, ergonomic controls and an air–cushioned, heated seat. It is also a quiet environment with noise at the operator's ear around 71 to 72 dB(A) depending on the model.
In the excavator segment, the new PW140–7 wheeled excavator offers a 12.7 to 15.2 tonne operating weight depending on the options chosen. It has a short overhang counterweight and tight turning circle, and Komatsu says its 'HydraMind' hydraulic system gives it the best lifting capacity in its class. But despite its compact dimensions, the PW140–7 has a spacious cab, with low noise and vibration.
Liebherr's A 904 C is a 19 to 21 tonne class wheeled excavator fitted with a 105 kW Stage IIIA engine. Options include a range of booms up to 5.3m and sticks up to 3.05 m, and the Liebherr 'Likufix' quick–coupler can also be specified. Getting into the cab has been made easier with a wide door, and an adjustable seat excavator range is the 14.2 tonne R 313 Litronic, which features a 74.9 kW engine. Four variants of boom and four stick variations are available, as is a 2.75 m wide dozer blade. Meanwhile the large cab provides a comfortable working space and good visibility for the operator.
The new 76.4 tonne R 964 C crawler excavator will be exhibited in its front shovel configuration for quarrying and mining applications. Power comes from a 320 kW Stage IIIA engine, which is 13% more powerful than the machine's predecessor, the R 964B. Options include extra protection for the pistons and slewing gear, while the robust undercarriage is based on the next model up in the Liebherr range, the R 974C.
In the industrial sector, the new A 954 C HD Litronic 'High Rise' wheeled excavator will be of interest to the scrap and materials handling industries. The 2 m tower between the undercarriage and body allows vertical and horizontal reaches of up to 25 m, and outriggers have been added to ensure stability at such reaches.
Launched last year, but on display at an exhibition for the first time is the PR 764 Litronic, which, at 52.5 tonnes is the largest hydrostatic drive dozer in the world. Powered by a 310 kW Liebherr V8 engine, the dozer delivers a high pushing and ripping performance, while the hydrostatic drive helps smooth–out speed changes and reduces fuel consumption. The 16 tonne class LR 624 Litronic is the latest in Liebherr's fourth generation of crawler loaders. Key features include a comfortable re–designed cab with an unobstructed view of the front end. Power meanwhile comes from a 143 kW Liebherr diesel engine, which delivers maximum power at just 1,800 rpm, helping to keep fuel consumption down.
In the wheeled loader segment, Liebherr will introduce four new models, the L 524 2plus1, L 528 2plus1, L538 2plus1 and L542 2plus1. These have bucket capacities from 2.0 to 2.7 m3, and come with either an 86 kW or 105 kW Stage IIIA engine. Key features for the operator include a bigger cab and wider doorway, and the machines are available with either a Z–bar or parallel lift front end. High–lift versions are due in the second half of the year.
Further up the range is the new L 550 2plus2, which replaces the L 544 2plus2 in the 3.2 m3 bucket class. The tipping load has been raised by more than a tonne to 11.7 tonnes, and the 130 kW engine is also more powerful than that of its predecessor.
The first of New Holland's Stage IIIA compliant excavators is the 20 tonne class E215B. Power comes from CNH's own 118 kW six–cylinder engine, which works at lower revs than its predecessor for less noise and more reliability. A new hydraulic system allows easier control of flows and pressures, and four work modes are available to suit heavy and fine work and a range of attachments.
In a similar size class is the E235B SR, a short radius crawler excavator weighing in between 24.6 and 25.3 tonnes. Despite its compact appearance it comes with a large cab, and is offered with either an NLC or LC undercarriage. The Stage IIIA engine delivers 118kW and teamed with a new hydraulic system this delivers a 20% improvement in fuel efficiency.
There are four new wheeled loaders being launched at Bauma, again with stage IIIA engines. The W170B, W170B TC, W190B and W270B span the 145 to 239 kW and 2.4 to 4.6 m3 bucket classes, and feature CNH (or Cummins for the W270B) engines teamed with ZF Powershift transmissions. These combinations provide more torque than their predecessors.
The 145 kW W170B is available either with a traditional Z–bar front end, or as the parallel lifting tool carrier (TC) variant. It comes with a 2.4 to 2.8 m3 bucket. The 190B meanwhile has a 169 kW engine and can be fitted with a 3.1 to 3.5 m3 bucket, while the W270B has a 239 kW rated engine and a 4.0 to 3.6 m3 bucket.
The company has also updated its dozer range and will be launching the 16 tonne class D150B model at Bauma. The 108 kW Stage IIIA engine and hydrostatic transmission deliver good fuel economy, while a new electronically controlled pump allows the dozer to turn on the spot, maintain a steady speed while levelling or run on maximum power.
Terex will be showing two new wheeled excavators, the 14 to 15.9 tonne TW140 and 18.9 to 20 tonne TW190. These feature larger fuel tanks than their predecessors, better access to filters and easier access to the cab. The 'positive control' hydraulic system allows accurate, bump–free operation, even when multiple movements are being undertaken. Power comes from Cummins Stage IIIA engines.
New in the wheeled loader segment are the TL 420 and TL 450, which have 4.2 m3 and 4.5 m3 buckets and 216 kW and 231 kW Stage IIIA Cummins engines respectively. They also feature ZF transmissions and Rexroth load sensing hydraulics and have parallel lift front ends with an automated 'return to dig' function. Both have a dump height of 3.15 m and feature a hydraulic damping system as standard that makes for a smoother ride.
Also new is the TL 210, which has a 1119 kW Stage IIIA engine and comes with either a quick hitch and 2 m3 bucket or a direct mounted 2.1 m3 bucket. The hydrostatic drive provides a maximum travel speed of 40 km/h, while the front linkage provides parallel lift capabilities with Z–bar breakout forces.
For the demolition industry, D&Ri understands that the rumoured Volvo high reach machine will be making its debut on the company's stand. We understand that the machine is designated the UHR EC700, but no other information is available at time of going to press. You will just have to make a point of calling by the Volvo stand.
Bauma will also see the launch of new machines in both Volvo's brand new excavator and wheeled loader ranges. The first models in the F–series wheeled loader range will be the L60F, L70F and L90F, which come with 1.7, 2,0 and 2.3 m3 bucks and have Stage IIIA Volvo engines rated at 116 kW, 126 kW and 129 kW respectively.
The engines provide 6% to 13% more power than their predecessors, depending on the model and up to 15% more torque. They are teamed with a new elector–hydraulic automatic transmission, which is quieter and provides a higher travel speed than on the E–series. The loader arm geometry is Volvo's TP–linkage, which combines the breakout force of a Z–bar with parallel lift capability.
Operators will appreciate the new larger cab, with smaller pillars and more glass area, along with the updated climate control system and ergonomic controls.
Also new is the flagship L350F, which weighs in at 50 to 54 tonnes and can carry a 6,2 to 12.7 m3 bucket. Power comes from a 397 kW Stage IIIA Volvo engine, which is augmented by new hydraulics, transmission and axles for faster cycle times and greater fuel efficiency.
Volvo's new excavator range is the C–series and models being debuted at Bauma include the three wheeled models – the 14 to 16 tonne EW140C, 16 to 18 tonne EW160C and 18 to 20 tonne EW180C – and three crawlers, the 16.7 to 19.1 tonne EC160C, 18.3 to 19.2 tonne EC180C and 21.7 to 23.4 tonne EC210C.
All feature Volvo Stage IIIA compliant engines, with load sensing hydraulics. The Volvo 'Care Cabs' have increased glass areas, more room, adjustable suspension seat, a 14 vent climate control system and a new console among numerous improvements. All the daily service points are accessible from ground level, and there is increased parts commonality to other Volvo models, which should make it easier to get spares.
One highlight of Bauma will be yet another hybrid engine–powered construction machine produced by engine manufacturer Deutz, in conjunction with Weyhausen. Specific information on the machine is not yet available, but it will definitely be worth a look.
The S100 is the latest compact skid steer loader from Bobcat. Weighing in at just 1.8 tonnes it has a rated capacity of 453 kg, and is powered by a 25 kW Kubota Stage IIIA engine. At 2.26 m long and 1.18 m wide the S100 can manoeuvre in confined spaces, while a selection of more than 30 attachments means it can carry out a range of tasks.
New in the mini excavator segment is the 2.6 tonne 425 ZTS and 2.9 tonne 428 ZTS, both zero tailswing models with load sensing hydraulics. They feature spacious cabs, and high breakout forces, while day–to–day maintenance points are easy to access.
Bobcat's new telehandler is the T2250, rated at 2.2 tonnes lift capacity and with a maximum lift height of 5.2 m. Its dimensions are comparable to that of a large skid steer loader, and it can be fitted with the company's 'Bob–Tach' coupling to accept its range of loader attachments.
Bobcat's 2.5 tonne zero tailswing excavator, the 425 ZTS Power comes from a 56 kW Kubota engine and there is a hydrostatic transmission with two driving modes and a top speed of 25 km/h.
Also new is the 2200D, a four–wheel drive multipurpose vehicle supplied by Bobcat's sister company Club Car. It can carry a load of 0.5 tonnes in the rear cargo box and has a top speed of 40 km/h. But despite its small size, it has a genuine off–road capability with a differential lock and the 'IntelliTrak' system to prevent wheel spin on soft ground.
Amman–Yanmar's stand will feature several new zero tailswing mini excavators. The New ViO15 weighs in at 1.68 tonnes with a canopy, and has been designed with ease of maintenance in mind. Performance has been increased compared to its predecessor, while the machine retains the adjustable gauge undercarriage, which can be widened from 0.95 to 1,28 m.
Further up the range, the 4.64 tonne and 5.21 tonne ViO45 and ViO55 are both also new. Replacing models of the same name, the new minis feature a wealth of design improvements, such as better hose routing and cylinder protection, a bigger dozer blade and the option of a quick coupler.
Neuson's KramerAllrad subsidiary has branched out into telescopic handlers, and will be showing three models at Bauma, the 3306, 4107 and 4009, with 6 m, 7 m and 9 m lift heights respectively. Features include a wide base and low centre of gravity for maximum stability, and many components are shared with Kramer's proven wheeled loaders.
The company has also extended its 50 series of compact wheeled loaders with the 250 and 350 models. These 0.25 m3 and 0.35 m3 bucket class machines have rigid frames and four wheel steering, and at a width of just 1.2 m, are suitable for confined sites. They come with 16 kW and 23 kW engines respectively, although more powerful versions are available as an option.
In the mini excavator segment the company will be presenting the 9503, which it describes as the world's fastest wheeled excavator. A 75 kW Deutz engine provides this 9 to 10 tonne machine with a travel speed of up to 40 km/h.
Another key feature is the tilting cab, which makes maintenances easy, while operators will appreciate the spacious and comfortable cab. Case will introduce the E Series compact wheeled loader range, made up of the 21E, 121E, 221E and 321E. The new machines have dump heights of 2.53 m, 2.6 m, 2.6 m and 2.65 m respectively.
Key to the design is a new monoboom that provides the operator with superior visibility to the coupler and attachments to allow faster attachment changes and precise working. The Komatsu will be launching two new 'midi' excavators at Bauma. Pictured is the 8.3 tonne tracked version, the PC88MR–6 redesigned linkage also provides parallel lifting throughout the lifting cycle for load and carry operations, and safer material handling with less potential spillage. In addition, it makes position and handling of palletised loads at heights above 3 m when the machine is fitted with forks.
There is also a new Case compact tracked skid steer – the 440CT, which features pilot controls and a tilting cab for easy service access. It has a ground pressure of just 34.5 kPa with a track length on the ground of 1,44 m.
Doosan's stand will feature its first ever zero tailswing mini excavator, the 3.65 tonne DX35Z. Power comes from a 20 kW engine, and the machine offers a 4.8 m dig depth.
Fellow Korean Hyundai will also be launching a 3.5 tonne class zero tailswing mini excavator at Bauma. The R35Z–7 comes with a 0.11 m3 bucket as standard and is powered by a 20.5 kW Yanmar engine. Maximum digging depth is 3.15 m, while it has a dump height of 3.46 m.
Volvo is introducing upgraded versions of two of its short radius excavators at Bauma. The ECR58 Plus and ECR 88 Plus weigh in at 5.5 and 8.5 tonnes respectively, and feature a heavier counterweight, giving higher lifting capacities.
The company's backhoe loaders have also had the 'plus' treatment. The BL61 Plus now has a 68 kW engine – up 6kW on its predecessor – and has higher breakout forces on both the front bucket (50.1 kN) and excavator (49.6 kN). The lift capacity of the front end is 10% higher at 2.92 tonnes.
Similarly, at 75 kW, the BL71 Plus has 5 kW more engine power, and now features joystick controls as standard.
JCB will be unveiling new machines in its 'Robot' skid steer loader range. The line–up consists of five wheeled skid steers from 600 kg to 1,100 kg capacity, along with three tracked variants boasting 820 kg, 900 kg and 1,020 kg capacities. While most of these machines are replacements for existing models, the (wheeled) Robot 180 is JCB's first ever 800 kg capacity skid steer.
The most striking thing about JCB's skid steers is the single arm design, which allows the operator to get into the cab via a side door, rather than having to climb over the bucket. In addition to this retained feature, JCB has upgraded both the internal look and feel of the machines as well as the control systems, with an improved instrument layout and multi–function controls. Models from the 190 upwards are available as a 'high flow' (HF) variant to allow them to work with attachments such as planers and trencher blades.
Terex's latest mini excavator is the 2.5 tonne TC 25. A new boom design and hydraulics improve performance, and as with all Terex minis, the boom cylinder is top–mounted for greater protection. It boasts a dump height of 2.8 m and 15.8 kN of breakout force, and power comes from a 16.5 kW Mitsubishi engine.
New Holland will be launching two new models in its telehandler range, the 7 m, 3 tonne capacity LM732 and 9 m, 3.3 tonne rated LM1133. These complement the existing machines in the range, which includes 13 m, 14 m, and 17 m class machines. Designed for stability, the New Holland machines feature a long wheel base and a patented system for the selflevelling of attachments.
The company also has two new tracked loaders, the C175 and C185, rated at 43 kW and 55 kW respectively. They have a two speed transmission, delivering a maximum speed of 7.4 km/h, and feature fast boom and bucket speeds for quick cycles.
Also new is the L175 skid steer loader, the wheeled brother of the C175. This 900 kg capacity unit features the same 'Super Boom' vertical lift linkage for higher dump heights, fast ground speeds and now rear towers or structures to reduce visibility. Options include two–speed drive and a deluxe cab with air conditioning.
In the mini excavator segment, New Holland is launching the E18 SR, a 1.6 tonne machine with a short radius counterweight. The machine features an adjustable width undercarriage and folding dozer blade to allow it to fit through narrow openings, while a dual speed drive system allows it to move around sites quickly.
Hitachi will be adding to its mini excavator line with three new short tail machines, the 1.1 tonne ZX10U–2, 1.7 tonne ZX17U–2 and 2,3 tonne ZX22U–2, along with the 1 tonne ZX08–2 micro excavator. Changes to the counterweights improve stability, while the cabs have been improved with more leg room, better visibility and air conditioning.
Ihimer will be adding two five tonne class mini excavators to fill gaps in its 12–model range. The 50VX and 55VX are both zero tailswing models weighing in at 4.8 and 5.3 tonnes. Key features include high bucket forces of 35 kN and 40 kN respectively, load sensing hydraulics and a comfortable cab with good operator visibility.
Netherlands–based Diverto Technologies will be using Bauma to unveil its new concept model, which it plans to manufacture with China's Sunward. The Diverto is a multi–function machine that can be used as an excavator and converted into a 360° loader through the patented folding boom.
The machine has the equivalent capacity of a 6 tonne short tail swing excavator and has an offset articulated boom for improved visibility. The boom folds away in less than one minute to convert the machine into the loader configuration. Diverto Technologies and Sunward hope to have the machine commercially available by late 2007.
New from Hanix Europe is the 5.5 tonne class H55DR. The machine features a larger, more comfortable cab its predecessor, and the control layout has been changed for easier operation. Floating mounts mean the operator is better isolated from noise and vibration, and there is more glass for better visibility.
Komatsu's new 8.3 tonne midi excavator, the PC88MR–6 features a short radius tail design allows it to work close to obstructions while the closed circuit hydraulics allow smooth control. Options include a choice of tracks, three arm options and additional counterweight, while operators will appreciate the spacious lownoise cab and suspended seat.
At 9.2 tonnes the wheeled PW98MR–6 will appeal to a similar segment. Common design themes include the short radius back end, smooth hydraulics and comfortable cab. The travel speed is of course higher – 30 km/h – and the machine has four wheel steering, with three steering modes for maximum manoeuvrability.
Also in the utility segment, Komatsu has enhanced its range of attachments for telescopic handlers, and now offers a winch and man–basket alongside its existing line–up of buckets, forks, jibs and hooks.
Mecalac will be exhibiting three new AX series compact wheeled loaders from its German subsidiary Ahlmann. The machines' most noticeable feature is their single front booms, which gives the operator a good view of the bucket. The machines also feature a new cab, with large tinted windows, adjustable seat and low–fatigue joystick.
The models on show will be the AX70 AX85 and AX 100, with 0.70, 0.85 and 1 m3 buckets respectively. The AX 70 and AX 85 have a 45.5 kW engine, while the AX 100 has a 49.3 kW power unit.
Following Wacker's acquisition of agricultural equipment manufacturer Weidermann, it has used the new in–house knowledge to develop a range of wheeled loaders for the construction market. The complete range will have six models, starting with the smallest WL13 and ranging up to the WL55.
Other new developments from Wacker include two new petrol driven hand–held breakers. The BH24 has the highest impact of any breaker in the Wacker range and will be available as a standard model or in a low vibration format.
Turkey's Hidromek will use Bauma for the European launch of its Hi–Concept backhoe loader, which will be commercially available from mid–2007. According to Hidromek, the more ergonomic cab design, exterior styling and performance improvements of the new model will be rolled out throughout its product range.
Articulated wheeled loaders with hydrostatic transmissions establish a new range for Venieri. The 8800 kg VF963B has a 87 KW Perkins engine and 1.7 m3 bucket. The 11,500 kg VF9013B, with 112 kW of power, can reach a speed of 44 kph, the fastest hydrostatic loader in the market, says the company.
Also on the stand will be the 4400 kg VF 263 Plus electric loader, whose 0.7 m3 bucket can lift 2,400 kg at a maximum height of 2.45 m and that generates a 4,500 kg breakout force.
Haulotte will show its first own–design HTL (Haulotte Top Lift) telehandlers, which will be 3 tonne capacity/14 m reach and 4 tonne capacity/17 m models. These are being built at Haulotte's new facility in Santander, Spain, following the dissolution of its telehandler joint venture with Faresin.
Although normally associated with the heavier end of the equipment industry, Liebherr will unveil a four–model range of telescopic handlers at Bauma. The TL 435–10 TL 435–13 TL 445–10 and TL 442–13 provide lifting heights of 10 m or 13 m and capacities of 3.5 to 4.5 tonnes. They are all powered by a 80 kW four–cylinder turbocharged engine. A key feature is the tight 3.8 m turning radius, and three steer modes–front–, four–wheel or crab, which are useful features on confined sites.
Manitou's MRT 3050 is a rotating telescopic handler offering a lift height of 30 m, and a maximum capacity of 5 tonnes. Like the rest of the MRT range, it is fitted with a rated capacity indicator (RCI) to help prevent overloading. A unique feature is the pentagonal cross–section boom, which Manitou says makes for more rigidity and precision in operation. A range of attachments including pallet forks, winches and baskets are available.
Further down the range Manitou is now offering its 10 m, 3 tonne MT 1030 S with a turbo charged engine. As well as providing more power, this 74 kW engine is more fuel efficient than the naturally–aspirated alternative. New from Terex's Genie subsidiary is the rotating GTH–6025R telehandler. It has a maximum lifting height of 24.8 m, a maximum forward reach of 21.5 m, and a lifting capacity of 6,000 kg. The four independent stabilisers are hydraulically operated.
Ausa has expanded its dumper line with the 9 tonne payload, D 900 AP, which has an articulated and oscillating chassis and permanent 4 wheel drive. A 75 kW, V3800–DI–T Kubota diesel powers the 4,700 kg machine through a 4–speed gearbox and torque converter. Skip (heaped) capacity is 5.04 m3, and its compact design allows an external turning radius of 5.95 m.
Thwaites will present three new models at the show. The 1.5 Tonne Hi–Swivel Hydrostatic replaces the 1.5 tonne Hi–Swivel, and now comes with hydrostatic transmission. The machine is capable of lifting its 1.5 tonne payload to a height of 1.8 m, and rotating it 180 ° before dumping.
The company's popular 3 tonne Powerswivel model is now available with a hydrostatic drive, while further up is the 9 tonne Powerswivel. Built on the chassis of the company's 10 tonne front tipping machine, this is the largest Powerswivel machine in the Thwaites range, and it is able to rotate its 9 tonne capacity skip through 180°.
Bergmann's new 12,000 kg payload dumper, the 3012, offers either a three–way tip capacity of 8.5 m3 or rear–tip capacity of 9 m3. Its size and configuration, says the company, give a 7 m outside turning radius and allows loading by machines in the compact class. The driver's station rotates within the cab, which also has anti–vibration systems, a pollen–filtration system and optional air conditioning. A 120 kW Deutz engine drives power transmission components from manufacturer ZF to give a top speed of 45 km/h.
The new Hinowa HS Wanted tracked dumper range will not replace the current HP range, but will offer customers a high specification, lower engine emissions and lower noise. The HS machines, for example, will have an integrated hour meter that should prove popular with rental buyers. The HS models will take the same 24 attachments as the HPs.
Hinowa has been producing forklift attachments for its carriers for some time, but now the company is launching a range of three track–mounted forklifts that are complete machines and not kits for fitting to crawler carriers. The models will have 400 kg, 900 kg and 1,400 kg capacities.