Bilfinger proceeds cautiously
By Thomas Allen14 August 2017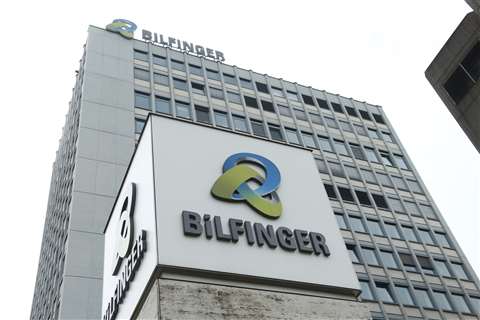 In Bilfinger's second quarter results for 2017, the German-based contractor said that the company was continuing the strategic repositioning outlined in its strategy 2020, despite what was described as a challenging environment.
Bilfinger's CEO Tom Blades said, "We have staked out a clear market position and initiated a consistent strategic orientation that bundles our strengths. We are making good progress with the implementation of the strategy while the streamlining of the portfolio is proceeding according to plan."
In line with the group's strategy, the approval processes for projects have now been optimised to include a binding risk classification, risk-based approval levels and regular project reviews at the executive board level.
Also, the organisational structure of the firm's operational units was said to include the establishment of a new digitalisation and innovation unit in the engineering and technologies business segment. Bilfinger said the expansion of its digitalisation portfolio included the founding of a joint venture to foster the development of ubix, an Internet of Things and automation platform developed by the company.
Orders received in the second quarter of 2017 stood at €988 million, which represented a 4% drop from the same period in the previous year, when orders received were recorded at €1.03 billion. However, organic development – not including company disposals and currency effects – was described as stable.
The order backlog was down from €2.68 billion in the second quarter of 2016 to €2.5 billion in the second quarter of this year.
Output volumes also fell, with a 10% drop to €991 million, compared to the previous year's second quarter output of €1.1 billion. This was said to be in line with expectations, though, and included a revenue reversal of about 3% related to the booking of risk provisions for some legacy projects in the US.
Those risk provisions also affected the company's adjusted EBITA (earnings before interest, taxes and amortisation), which fell significantly to -€43 million, compared to €2 million in the second quarter of 2016.
Despite this, net profit rose substantially from -€54 million in the second quarter of 2016 to -€7 million in the second quarter of 2017. This was said to be due to a positive overall impact from legacy projects. Earnings from discontinued operations improved by €60 million, compared to the same period in the previous year.
Operating cash flow improved to -€92 million, compared to -€108 million in the same period in 2016.
Looking ahead, Bilfinger said it anticipated an organic growth of orders received at the group level with an upswing in demand in the second half of 2017. However, it expected an organic decrease in output volume in the mid to high single-digit percentage range.
Adjusted EBITA was expected to break even with the previous year's figure of €15 million.