BIM: Architectural imagery for access equipment
By Euan Youdale and Leila Steed20 June 2022
Access manufacturers are increasingly offering BIM versions of their physical model ranges, as it becomes firmly established as a construction design aid.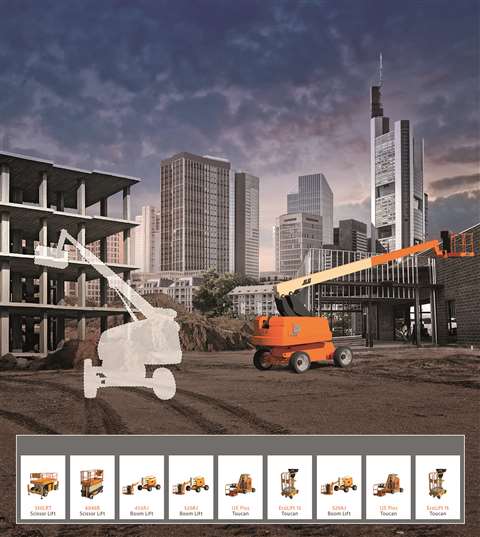 BIM (building information modelling) is a 3D model-based process that gives architecture and construction professionals the tools to more efficiently plan, construct and manage buildings and infrastructure.
As Haulotte explains, a BIM model integrates technical and parametric data to act as a true digital twin - exactly as a piece of equipment would on the construction site.
The technology has been championed by many industry specialists as a 'game changer', in its ability to help detect problems in the virtual world, before they encroach on the real world.
BIM software market
According to research data from industry analyst Cambashi, the global market for BIM software will be worth US$21 billion by 2025.
The research company's latest BIM Observatory research data indicates that, while the construction industry's use of software has been much slower than other sectors, such as manufacturing, the uptake is increasing.
It is estimated that US$14 billion was spent on BIM software in 2021 and the sector is estimated to see yearly double digit growth between now and 2025.
"Remote working trends resulting from the global pandemic, as well as government initiatives and regulations, are driving digital transformation in the construction industry," says Petra Gartzen, Cambashi's lead analyst.
"This in turn is accelerating a growth in demand for BIM software, enabling the construction industry to evolve from the 'Stone Age' to the 'Digital Age'."
JLG Industries was the first in the access industry to launch a BIM library of its models on its website back in 2018.
Since then the library has been expanded across its products to also include its crawler mounted products, produced by its partner Hinowa, based in Italy, and sold under the JLG name in the US.
"The major benefit of JLG BIM models is that it lets architects anticipate challenges, manage risk and eliminate guesswork in the build environment. Relevant machine data can be accessed easily to make informed decisions."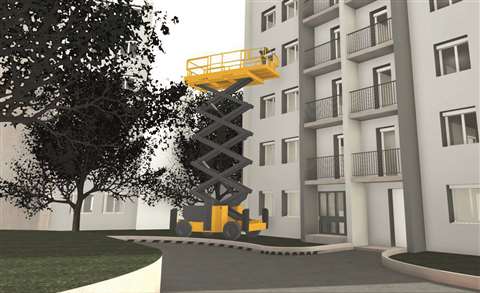 "BIM helps improve collaboration among teams and gives greater design insight through the entire building lifecycle from concept to demolition or renovation," says JLG.
BIM libraries
Another provider is Haulotte, which has been growing its BIM offering across its range in recent years, designing the models to be easily dropped into a virtual worksite.
"Their small data size responds to easy and fluent usage, while their design respects Haulotte machine models. The files have clear and concise parameters, with minimal and maximal ranges of motion precisely specified.
"The overall work envelope has been defined in a clear and continuous way so that each machine can be deployed in all possible configurations to reach the working area."
Earlier this year Manitou announced it too had launched 3D digital models of its equipment for use with BIM.
The creation of its virtual models, which was carried out by specialist BIM&CO, can be found on Manitou's and BIM&CO's website. They can easily be downloaded and introduced into their own digital work environments.
The online product catalogue currently comprises 11 fixed telehandlers models, including the MT 733 and MT 1033 machines, and four MEWPs.
A question posed by AI's sister magazine Construction Europe is, 'has BIM lived up to its early promise, or does digital technology such as this have a long way to go before it can genuinely make a difference?'
Fabio Ponzio, vice president of building solutions at digital solutions specialist Hexagon Geosystems, answers in the positive. "For construction planning, preparation and execution, the high level of details and information available from BIM makes construction more productive, efficient and helps to stay on budget and on time."
BIM is also improving operations as all the information related to building can be handed over to the owner, adds Ponzio. "So, the owner knows exactly what has been installed and what material, pipes, etc, have been used and has easy access to manufacturing information as well.
"Whether it's capturing an empty site or an as-built environment of an existing building, BIM can and should be used throughout the entire lifecycle from design, construction to operations. It enables teams to become more efficient and sustainable from start to finish."
Having a visual model or digital twin also means that everyone involved in the project can understand and explore the site without making visits, continues Ponzio, "Resulting in a decrease in machine use and harmful CO2 emissions."
The collaborative BIM process also allows everyone on the team to work from the same detailed and accurate information source, making problems easier to identify and faster to resolve.
Scaffolding Imaging Modeling
Taking the technology a stage further, German scaffolding manufacturer Layher is advancing the use of technology within the scaffolding sector with its Scaffolding Imaging Modeling, or SIM.
Like BIM, Layher SIM is a 3D-model-based process for digitalization of scaffolding-specific work sequences. It is tailored to temporary scaffolding structures and covers all the main factors in scaffolding construction, from planning to logistics and implementation.
On construction projects, SIM works by utilising virtual or augmented reality to give a clear visualisation of how a project will function in real-life.
The project's 3D Building Information Modeling (BIM) is loaded into the AR software, allowing customers full visibility of all components. Users can then interact and walk through the project to review the work prior to construction.
BIM: Virtual and augmented reality
Frank Frietsch, CEO of Layher Inc., explains that these virtual and augmented reality solutions enable architects to design-out risk and provides contractors with the capabilities to digitise construction sites.
It also allows for a smoother flow of communication between the entire supply chain in a project
"In BIM you have everything from the building, the construction, the design of the building, to the labour management, the whole rental, and everything else," says Frietsch.
"The SIM part is basically the smaller part in the construction or renovation phase, where you would have real time access to that through the whole modelling."
Frietsch adds that as BIM and SIM continue to be updated, the industry could see wider adoption of 4D, 5D and 6D iterations. 4D BIM could add scheduling information to construction sequences. 5D could see cost information added to models.