BKL prepares for expansion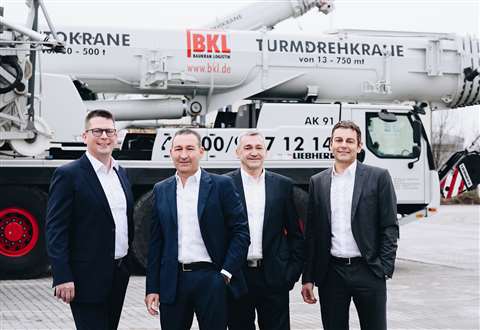 Tower and mobile crane rental specialist BKL in Germany has added two top level managers to help it gear up for growth.
On 1 January 2018, two new members were added to the executive management at BKL Baukran Logistik. Jörg Hegestweiler and Robert Popp are new directors on the executive board. The management is structured to focus on sales, finance and technical services, BKL said.
Alexander Volz, BKL managing partner, commented, "Enlarging the management team and dividing responsibility into individual departments sends out a clear signal of the company's development, establishing a powerful position from which to launch our national and international expansion."
Jörg Hegestweiler took responsibility for sales, marketing, human resources and information technology. Robert Popp, previously a holder of statutory authority at BKL, is head of technical services. Franz Schwaiger, BKL managing director since 2014, remains in charge of finance. Alexander Volz continues as chair of the executive management.
BKL is no stranger to expansion. In the last three years, BKL's crane fleet has increased by around 20 per cent. It includes more than 400 tower cranes and about 70 all terrain mobile cranes and mobile folding cranes. In addition to BKL sites in the German cities of Frankfurt, Hannover and Ingolstadt, a fifth one, BKL Rosenheim, started operation in January 2018.
Jörg Hegestweiler moved from Peri, a leading international formwork and scaffolding specialist, where he was regional managing director for operations in Middle East and Africa. Before that he was at Liebherr, where he gained almost 20 years' experience in the tower crane sector.
As managing director for technical services Robert Popp is also responsible for operational procurement, technical apprenticeships and further training. He was head of service at BKL since 2006, responsible for the mobile crane rental, transportation, erection and repair departments. For ten years before that Popp spent almost ten years working on superstructure projects at Bilfinger und Berger, specialising in the use of construction cranes.