Black Sea scaffolding
By Euan Youdale07 August 2015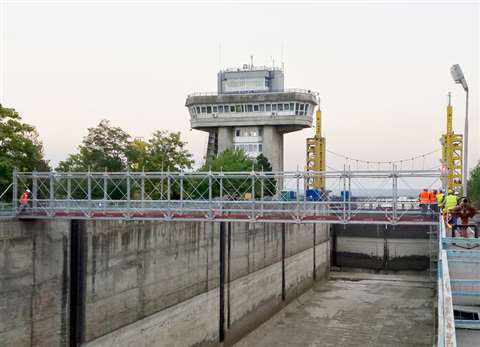 Layher Allround Scaffolding was used for modernisation work at the Danube Black Sea Canal locks in Romania. The waterway shortens the course of the Danube to the Black Sea by up to 450 km.
For each lock stairway towers and bridges were created to provide access to and across the locks and to help with the tight schedule. The two stairway towers provided access to the lock chambers, while the temporary bridge provided quick crossing of the lock.
This project used the platform stairway, a one-piece and quick-to-fit unit with entry and exit landing. Using this standard component plus four standard Allround Scaffolding structures, four scaffolding erectors built for each lock two unidirectional Allround platform stairway towers, each with a height of 20 m, with each tower anchored to the lock wall every 4 m.
The bridges with spans of around 15 and 26 m were also just as quick to construct. The Allround Bridging System can if required be preassembled on the ground, section by section, by the scaffolding erectors and then positioned by crane, as was done in Romania. The temporary bridges in this project were set down on the walls of the lock chambers. Layher steel decks with perforated surface provided stability in bad weather conditions and a non-slip surface.