BlokCam changes name and launches new brand
By Christian Shelton06 March 2020
UK-based wireless crane camera system company and safety specialist BlokCam has changed its name to BlokCorp Ltd. Under this new name it has launched a new line called BlokAlert. BlokAlert is a visual and audible alert safety system designed to raise awareness during lifting. The self-contained unit emits an audio alarm and 180 degree LED flashing beacon and is designed for easy attachment via neodymium magnets to the hook block, in a similar way to the BlokCam product. Up to 528 different audible alarms are possible.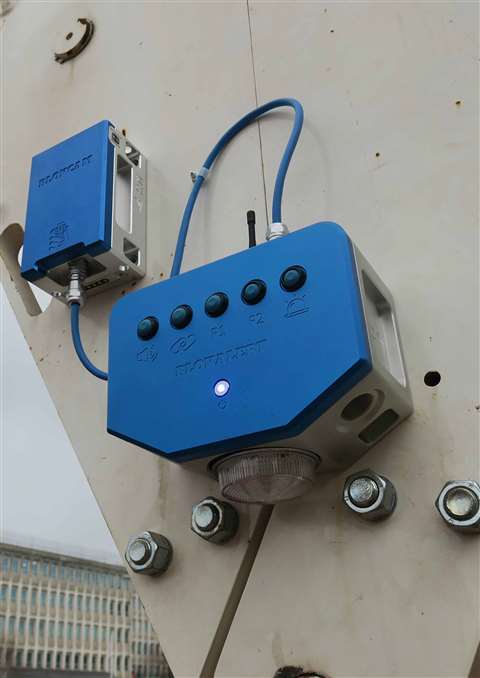 BlokCorp recommends the system as a safer alternative to the operator using an alarm for a number of reasons. The transmitter is activated by a footswitch in the crane cab, for handsfree operation. When operated, a signal is transmitted to the receiver on the hook block of the crane. By locating the warning system on the hook block the alarms draw attention to the potential hazard rather than away from it, as can happen if the operator uses the crane's horn, an airhorn or a whistle. By forewarning workers to the proximity of the hook block, the risk of them being struck by the crane's hook block, lifting accessories or load is minimised.
To further raise increase safety, the BlokAlert comes with two handheld fobs which enable workers on the ground to sound the hook block's alarm if they become aware of potential hazards. Each fob comes with four buttons as standard, enabling control of up to four separate hook alarms, although eight and 16 button fobs may be specified for control of larger numbers of alarms.
The BlokAlert system has an inbuilt lithium battery with 124-hour battery life. It can operate in temperatures between -10 degrees C and 50 degrees C (14 degrees F to 122 degrees F).
According to BlokCam, one major UK contractor is planning to implement the BlokAlert on all its crane operation sites.