Bluelift's first SA26 to Pinnacle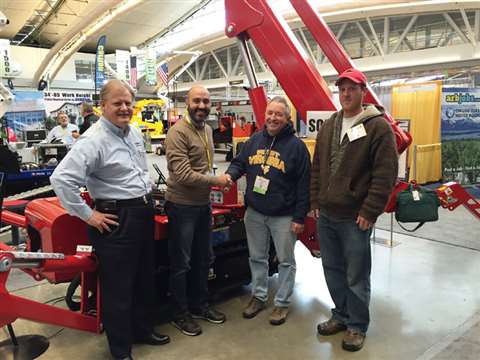 Pinnacle Tree Care has taken delivery of the first Bluelift SA26 tracked platform SA26 (B85 in the USA and Canada) at the ReachMaster booth at TCIA Expo, Pittsburgh, USA.
The show ran from 12-14 November. The SA26 conforms to industry demands for a platform as compact and light as possible, but with good working height, outreach and payload, said Bluelift. Based on the Italian manufacturer's SA22, the SA26 is aimed at the tree care, facility management and rental market.
It features a dual sigma type riser, four-section telescopic boom and articulated jib offering an unrestricted 26 m working height. The overall weight of 3350 kg, which is 360 kg more compared to the SA22. Outreach is 14.5 m outreach with operator in basket, and with 250 kg in basket the machine has an 11 m reach.