Bobcat completes telehandler range
Bobcat has completed its range of telehandlers with the addition of the 8m TL43.80HF and 7m TL30.70 models.
The new TL43.80HF has a maximum lift capacity of 4.3 tonnes and can reach a maximum lift height of almost 8m. Alongside it, Bobcat released the TL30.70, which provides a lift capacity of 3 tonnes and a lift height of almost 7m.
According to the manufacturer the TL30.70 model is a cost-effective alternative to larger 7m models, especially where working spaces are tight and increased manoeuvrability is required. In addition, the TL30.70 offers a maximum reach of 4m with a load of more than 1 tonne and at the maximum lift height users can lift up to 2 tonnes.
Olivier Traccucci, Bobcat Telehandler Senior Product Manage, said, "The new TL43.80HF and TL30.70 continue this legacy as they complete our range of telehandlers and ensure customers can benefit from unmatched loading productivity and lift capacity. Bobcat machines are made for tough jobs, whilst still providing all the agility and versatility any application would require."
Comprising a low load centre, a long wheel base and a new rear counterweight, the TL43.80HF has a width of just 2.3m and a length of less than 5m from the rear to the fork face. According to Bobcat it is suitable for a range of industries including manufacturing, building materials, warehousing and mining.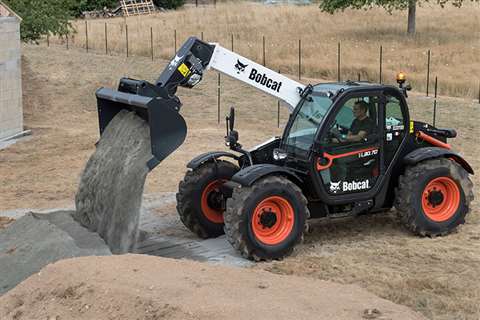 The company now offers a total of 13 rigid frame telehandler models, which cover maximum lifting capacities of 2.6 to 4.3 tonnes and lifting heights of 6 to 18m.