Bobcat India begins production
By Leila Steed11 September 2019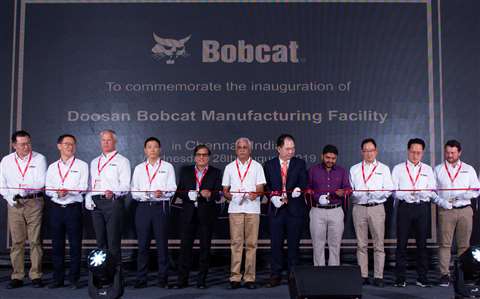 Production of Doosan Bobcat's backhoe loaders has begun at the company's first manufacturing plant in India.
The new backhoe loaders will be added to Bobcat's current product offering in India, which includes several skid-steer loader models and mini-excavator models.
The manufacturer said that India's compact market is the third largest in the world and that its backhoe loader market, which accounts for 80% of country's entire compact construction market, is the biggest in the world. Growing by an average of 9.7% a year since 2014.
Scott Park, Doosan Bobcat CEO, said: "Of all the emerging economies, India is the key market, showing the most prominent growth pattern fuelled by investment increases in various types of infrastructure across the country."
The backhoe loaders now being produced at the plant were designed and developed by the company's Chennai engineering team for working conditions and customer needs in India.
In a significant push to solidify its presence in the country's compact equipment market Doosan Bobcat plans to add 25 dealerships and 65 sales networks across India, before the end of this year. It also intends to further expand its sales networks to 200 by 2024.
The manufacturer said that in the future production at the new plant in Chennai would be expanded, to make it a global manufacturing hub for exporting products to other countries.
Scott Park said: "We plan to use the Chennai plant as our global production base for backhoe loaders and boost their sales around the world and in the Middle East, Africa and Southeast Asia in particular."
Located on the outskirts of Chennai, the 80,000 sq m (860,0000 sq ft) site includes fabrication, warehouse, assembly and paint shop facilities. The integrated plant was opened by the company a year ago and signalled the company's entry into the Indian backhoe market. It has a maximum production capacity of 8,000 machines per year.