Bobcat launches R-Series loader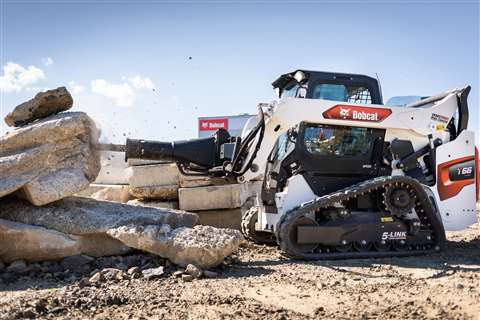 Manufacturer Bobcat has launched its new R-Series of compact construction equipment.
The R-Series comprises a range of new loader, wheeled loader and excavator models and also features a Stage V compliant T66 tracked loader for demolition, recycling and waste material handling applications.
Gustavo Otero, president of Doosan Bobcat EMEA, said: "With Next is Now, Bobcat is empowering people to work more efficiently and to enable them to achieve more than ever before.
"We are advancing more powerful, more efficient and smarter equipment and technologies in an expansion that offers an enhanced and much wider choice of products to increase opportunities for our customers."
Designed with a new styling scheme, the R-Series models come with a fully enclosed cab, a 12.7 cm (5 in) display and an LED lighting system as standard.
The new T66 and T76 loaders have a redesigned cooling system and the machines also include longer wheelbases and track footprints than those of Bobcat's previous generation of machines. The manufacturer said this means the new models have greater stability and, with improved hydraulics, also offer greater lifting capacity and "class leading" push and breakout forces.
Bobcat's new R-Series loaders have an increased lift height for easier dumping into trucks and features cast steel structures in the loader arms. The company said this means the arms are 20% stronger than its previous models. Narrower profiles in areas such as the front knuckle also allow for improved visibility of the attachments and work area.
According to Bobcat, which has already begun delivering the first of its R-Series machines to customers, options include a clear-Side cab with mesh-free side screens and a rear-view camera that connects to touch display inside the cab for improved visibility. An optional Auto Ride Control feature is said to reduce material spillages.
The T66 tracked loader can be also be provided with a 5-Link torsion suspension undercarriage and includes a redesigned Bobcat inline engine and direct-drive system.
The new loaders, which were due to be previewed at this year's SaMoTer construction industry fair in Italy, are available with a range of attachment options including a hydraulic breakers, dozer blades and grapples.