Bobcat partners with Magni for telehandler series
By Euan Youdale02 December 2020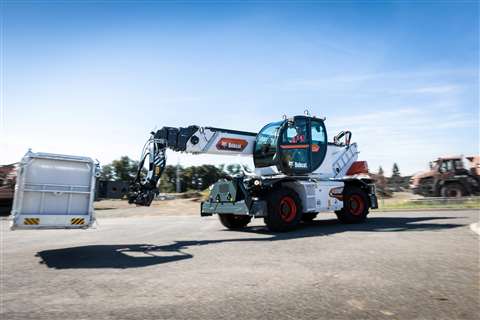 Bobcat has collaborated with Italian rotating telehandler specialist Magni to launch a new range of products.
The new rotating telehandler range, sold by Bobcat under its brand name, is designed for markets in Europe, the Middle East and Africa (EMEA), Russia and CIS countries. It includes ten Stage V compliant models for the European market, with lifting heights from 18m to 39m and lifting capacities from 4 to 7 tonnes. These are complemented by another four Stage IIIA engine powered models aimed at the Middle East, Africa and Russia/CIS regions, with lifting heights from 18m to 25m and lifting capacities from 4 tonnes to 6 tonnes.
According to Bobcat, the rotating telehandler market continues to grow worldwide. In Europe, for example, the market has increased by 23% over the last five years and, in 2019, reached more than 3,000 units. Some 85% of the global market volume is in the EMEA region. Therefore, the company said it was the ideal time to expand its range, which now includes 23 fixed and rotating models.
The company has addressed operator comfort with a patented cab that is fully pressurised, offering 100% air filtration and air conditioning, as well as large windows with panoramic visibility, an easily adjustable steering column and a fully adjustable seat. In the cab, all telehandlers are equipped with a large, bright intuitive touchscreen control display. Machine settings are managed over five different pages.
The 26 attachments include forks, supplied as standard, as well as crane jibs, winches or jib winches and aerial platforms. For example, platform attachments are available for one, two or three persons and with up to 1,000kg capacity. Most of the new Bobcat models are equipped with a remote control to allow operation from the aerial platform and remotely.
The smart attachment recognition system automatically recognises the attachment using RFID technology, and uploads the corresponding load charts onto the display. As a result, the machine is ready to work safely within seconds and the touchscreen displays a dynamic load chart which allows the operator to keep an eye on the load's centre of gravity. The control's limit page also allows the operator to restrict the working zone in three dimensions and limit working speeds for maximum control and safety.
Additional options include control with drive function, allowing the machine to be driven remotely and stabilisation to be managed directly from the basket.
The Twin Power options allows the machine to be used without starting the diesel engine, which reduces emissions. By connecting the machine to an external electricity supply (380 V), the machine can perform all usual lifting and load operations. A 15 kW electric motor and a 90 litre/min piston pump provides the required precision.