Boehler outlines Asia challenges
By Euan Youdale03 June 2015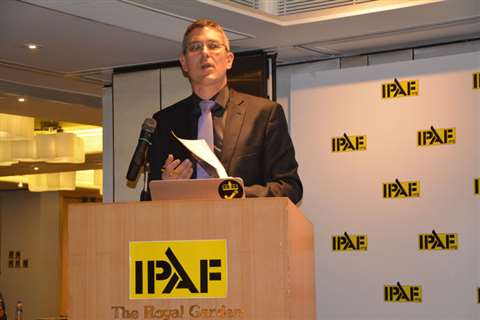 Brad Boehler, president of Skyjack, delivered a presentation at the IPAF Asia Conference in Hong Kong on 26 May, during which he outlined seven key areas he felt could determine the future growth of the powered access industry in the region.
"The market in Asia offers huge potential for the powered access industry," Mr Boehler told delegates. "If you look at AWP use per capita in this region, versus that in the more developed markets of North America and Europe, then it's easy to see the potential there is here. However, it's also clear that growth will be driven by a combination of several factors and will not be linked solely to economic growth. Nor should we expect growth to happen overnight."
Although Skyjack has established customers across Asia, the past two years have seen the company intensify its efforts in the region. First came the appointment of Simon Cracknell as Skyjack's first business development director for Asia in 2013, and this was followed by the announcement of a slew of new dealers in the region in countries including China, South Korea, Hong Kong, Singapore, Malaysia, Thailand and Indonesia.
Areas for growth
"For us at Skyjack, we've identified seven key areas that we believe will affect the rate of growth of the access industry in Asia," Mr Boehler said. "Those are: the development of the rental concept and an associated acceptance of the aerial work platform as a prime rental product; addressing the imbalance of aerial work platforms use in construction; the advance of health and safety legislation and it's policing; the role of OEM's in developing the market; the role of global rental companies; the continued role of internationally recognised projects with the involvement of global construction companies and associated construction techniques; the development of regionally specific rental business models – supported by product specific modifications."
Each one of those areas has the potential to positively or, indeed, negatively impact the growth of the access industry in Asia, according to Boehler.
Education is key. In areas where ownership is the norm there is a need to inform the business community of the opportunities and benefits that the rental concept offers potential entrepreneurs and the economy as a whole. Once that seed is planted and the growth of rental penetration is evident, then the discussion can move more specifically to how aerial work platforms are ideally suited for rentals.
Looking at market statistics one trend is noticeable – Asian markets, when compared to mature markets, tend to use aerial work platforms in industrial and maintenance applications, but not so much in construction. For example, rough terrain scissors are mostly absent from Asian jobsites. While boom lifts, if present in the market, tend to be larger models that are used in shipbuilding.
"As I walked around Shanghai last October, I was struck by the lack of slab scissors on construction sites. Back home a high rise building would have a number of machines on each floor and a large quantity on the site as a whole," Boehler said. "Of course I am wary of imposing our techniques in this market, but the difference is striking and I cannot help but wonder what the rental industry would look like if this changed."
Health and safety legislation, will naturally vary country-to-country and, indeed, a number of countries in the region, such as Singapore, Japan and South Korea, already have regulations in place promoting safer work practices, where the advantage of powered access over more traditional alternatives can be highlighted. A comparison of statistics for fatalities due to work at height between mature economies and some in Asia shows that there is a real potential for improvement. However, it is not just legislation per se, but its policing that will drive greater uptake of AWPs, according to Boehler.
"If you are an international rental company it may seem a contradiction for me to suggest that more competing companies in these markets the better," Boehler said. "I say this not because it allows OEM's to sell more in the region, but because the more companies that operate here the more the acceptance of the rental concept will prevail."
Potential challenges

Rental companies may face some challenges in terms of their business models. In mature markets, rentals that provide operators with the machines, are usually offered for more complicated machines such as cranes. But in the Asian market, take India for example, there is evidence of demand for AWP rental with an operator. This poses a challenge since rental companies are not only responsible for renting and maintaining AWPs, but also for securing certified operators. The upside is the market has a demand for used equipment and this may prove useful as international rental companies use the region to dispose of used AWPs previously used in mature markets.
OEM's need to support international and domestic rental companies. First through education then by providing products that are suitable to nuances in applications and techniques.
High profile international projects are a growth driver Skyjack identified and here Boehler told delegates how the increasing scale of modern construction projects combined with their associated high profile nature will naturally shift attention to more reliable equipment and reputable working practices. And closely related to this was the fourth growth driver, modern building styles. With the increasing shift to modular design in construction and growing levels of automation, greater utilization of access platforms was not only preferable, Boehler said, but essential. The productivity push, which Boehler identified as affecting all areas of business and industry, and not just construction, is also a continuous push for greater efficiency. And this is not limited to high profile projects with modern construction methods. All over Asia, projects are under pressure as economic growth continues at rates that outstrip North American and European economies.
"While we've looked at markets of North America and Europe to give us some clues as to where the Asian access market might lead, we're also very aware that Asia, and the countries within it, are unique," Boehler said. "The size and the direction of the access industry here will be driven by our customers. It is our job to anticipate and react to our customers' needs. And that's exactly what we plan to do."
The International Powered Access Federation (IPAF) Asia Conference was held May 26, 2015 in Hong Kong.