Boels Rental sees Italian growth
By Helen Wright08 May 2014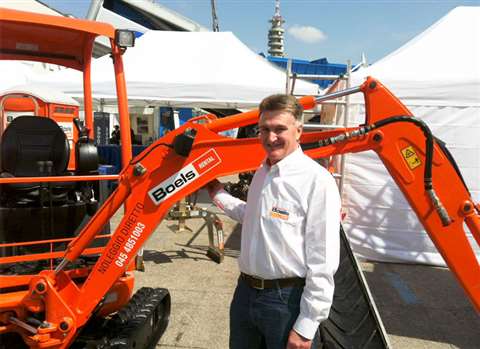 The Italian rental market has potential according to Boels Rental, which has seen steady growth since it began operating in the country in 2011, with further expansion planned.
Boels Rental opened is first depot in Italy in November 2011, followed by two more in 2012. Speaking on the first day of the Samoter and Asphaltica construction equipment exhibitions in Verona, regional manager for Italy Tarcisio Sciocco said the company planned to open at least one more depot in 2015.
"We started from zero in the middle of a bad period, so we are of course growing," he explained. "The crisis has caused Italian customers to realise the value of rental instead of buying machines.
"Ownership is not so important now, and instead there is a big potential for rental. For instance, some customers have sold off all their machines as used equipment, and have decided to go over to rental."
Mr Sciocco said the company had already seen revenues jump 50% in the first four months of 2014, compared to last year.
"Rental rates are very low still, but for us as a newcomer, every rental deal adds something," he added. "Our rental fleet is currently worth around €3 million, but this will be increasing because of our expansion plans.
"Most of our equipment comes brand new from the head office in the Netherlands, which gives us a big advantage over our competitors as many aren't offering new machines to rent. We are demonstrating that the Italian market has potential and a future."
Boels Rental offers earthmoving and access equipment to rent in Italy, together with smaller products like compressors, concrete mixers and hand-held tools.
The 29th edition of Italian construction equipment exhibition Samoter is teamed with the Asphaltica road paving technology event. The combined exhibitions run from 8 May to 11 May.