Boom dolly market sees improvement across North America
By D.Ann Shiffler28 March 2022
As crane sales surge, boom dolly demand rises.
While the pandemic has negatively impacted many sectors of the crane, rigging and specialized transportation sector, the boom dolly market only "wavered slightly."
"The market is steady," said Tony Niese, president, Nelson Trailers. "Other than the initial shock due to the shutdowns early in the pandemic, we have not really noticed that demand has been affected much. Once we got through the first couple of months of the pandemic, demand increased quickly to what we would call normal levels."
Greenfield Products' Sales Manager Josh Meyers agreed with Niese.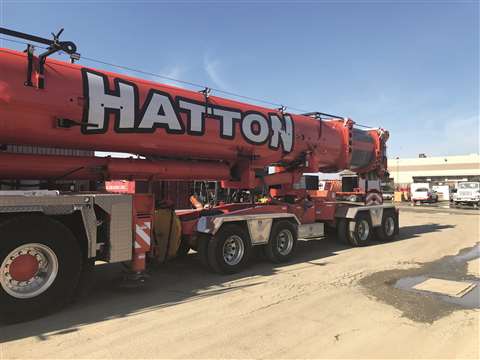 "The pandemic certainly affected aspects of our business as it did for everyone, but thankfully the boom dolly market only wavered slightly during that time," he said. "In the last several months, we've seen dolly interest pick back up to pre-2020 levels. Crane users seem more confident than ever in their needs for new cranes, and with each new crane you will need a dolly to get you on the road safely and legally."
TransWorld Manufacturing Company President Crystal Dieleman termed the boom dolly market as "hot."
"The market is hot, but the supply chain is slowing down just about everything," she said. "As with everything else in our global economy, we are seeing delays, shortages and rising prices. The demand is there for the product, it's just a matter of navigating changing conditions to fulfill orders."
Niese said supply chain issues, along with rapidly increasing steel, aluminum and component pricing, have been a huge challenge.
Input costs rise
"The constant upward pressure on input costs makes things very challenging," he said. "We have taken the stance (unlike most of our suppliers and from what we hear some of our competitors) that we will hold our pricing on all confirmed orders. Once we receive an order, we are not going back to our customers asking for more money just because our cost has increased. Although this has had a significant negative effect on our margins, we are confident that our customers will remember that we honor our commitments."
Supply chain issues require adept management and a commitment, according to Niese.
"We have been working with our supplier partners to ensure that we have the components that we need when we need them," he said. "We have increased our investment in inventory to unprecedented levels. We have also been looking for alternate suppliers where we can. We are working diligently to ensure that we do not sacrifice quality or safety when choosing to use an alternate supplier."
Meyers said Greenfield Products has been seeing delays in sourcing axles, suspensions and wire harnesses.
"However, with these items being common across various dolly models, we can order in bulk to stay ahead of any future delays," he said. "We are more reliant than ever on savvy sourcing and purchasing strategies."
TransWorld Manufacturing is also working its way through supply chain issues, rising prices, delays and shortages of components and materials.
"Crane deliveries are delayed or pushed out for months," Dieleman said. "Pricing on everything seems to be going up, so it's difficult to send quotes out without double checking with a couple suppliers first. I encourage my customers to get their orders in early. They might think that six months is plenty of time to make a decision on a dolly, but realistically we need to be purchasing and planning for major components early on to ensure a timely delivery. The sooner the better."
Because of supply chain issues and other pressures, there is some cautiousness in the market, according to Dustin Huston, vice president, HMR Supplies.
"With the uptick in requests, I think we are turning the corner, but I feel it could swing one way or the other fairly quickly depending on many factors including geopolitics, domestic policy, interest rate changes, fuel prices, available inventory and the like. The current economic situation is the biggest challenge. We are seeing large price increases on components, available inventory for items can be challenging and lead times have changed. The supply chain is definitely not operating at its most efficient level. Just-In-Time inventory management served us well, and when we had the products or access to the products there were enough planes, trucks and ships to get the stuff where it was needed."
Monkey wrench
But the pandemic threw a monkey wrench in the market, Huston said.
"Talking with vendors and customers is key so that everyone is on the same page," Huston said. "Planning ahead has helped and most everyone is aware of the challenges, so it's not like customers aren't aware of the price increases and delays. Like everyone, no one likes it, but there isn't much we can do about it right now."
To mitigate supply chain issues, Huston said HMR Supplies has been proactive, communicating with vendors and planning ahead.
"It's going to take time for the supply chain and economy to get back into its regular groove," he said. "I don't know if it will go back to the way it was before, but it's affecting everyone. Communication helps make sure pricing changes, delivery dates and alternative options are reviewed so everyone is on the same page."
In Meyers' view, the biggest challenge in the market today is differentiating Greenfield's products from its competitors.
"There's so much parity in the design of dollies these days that it can be hard to stand out from the crowd," he said. "We are always touting the personalized service and engineering know-how we provide as ways to do that."
Nelson said it's all about the people when it comes to deciding where to buy a boom dolly.
"While we have went to great lengths to standardize our dollies and dolly components to the greatest extent possible, we have done so in a manner that still allows customization," he said. "Our team works with customers to not simply say 'here is a three-axle boom dolly for your crane,' but to work with them and understand what they are trying to do. We work with the customer to understand where they want to go with the crane, if they can haul counterweight on the dolly, or if they need storage on the dolly for spreader beams or outrigger pads. We work with customers to find the right solution for them."
For Nelson Trailers, the boom dolly in the highest demand is for a five-axle all-terrain crane.
"Many of the crane manufacturers have been coming out with new cranes in this class, and we have been working with them to ensure that our designs are compatible," Niese said. "This not only includes the boom to the dolly connection, but updated air, electrical and auxiliary connections as well. These auxiliary connections include compatibility with back up cameras, tire pressure monitoring systems and most importantly, roll stability controls."
Dieleman said there's been a run of boom dollies for the Liebherr LTM 1400, the largest dolly-able crane by Liebherr.
"It was such a popular model they made a few more to everyone's benefit," she said. "The 150 to 200-ton capacity range seems to be popular right now."
Huston said HMR Supplies is getting requests for boom dollies for a range of cranes.
"There isn't one brand or size that seems more popular right now," he said.
Product customization is a strength for HMR Supplies.
"Our most popular attribute is working with customers to solve a special situation or issue where a standard dolly won't fit," he said. "We offer standard products, but we excel in helping customers with a custom spread, custom towers to allow for counterweight stowage, air cushioned tower, etcetera."
All-terrain cranes in the 100 to 500-ton capacity range require boom dollies. This is the sweet spot for Greenfield Products.
"Small units can become DOT legal without a dolly," Meyers said. "On the other side, some of the larger all-terrains coming out today actually require a boom launcher because the booms are getting so big."
Gaining steam
The boom launcher market continues to gain steam with the larger scale ATs that being introduced in the market.
"The boom launch trailer market is growing," said Niese. "The cranes just keep getting bigger and bigger. Not only is the new boom launch trailer market strong, but we have also been providing many customers with kits to allow them to use existing Nelson trailers with different cranes. Our team has been working hard over the last several years to provide a more modular trailer. This has greatly simplified the changeover process for various cranes."
Meyers some of the booms are getting so big the only way to get DOT legal is to pull the boom off the carrier.
"A boom launcher is a very efficient way to handle that," Meyers said. "Pulling, transporting and re-installing the boom with a dedicated piece of equipment goes a long way in improving productivity and minimizing setup and take-down time."
Dieleman said the boom launcher market is growing.
"It's clear 700-plus ton cranes are not a rarity anymore," she said. "The market is mostly one type of boom launch trailer. I think we will see a lot of improvements in the design and functionality of launch trailers as these monster ATs become more common."
She said her engineers are mostly done with a new boom launch design, and they hope to have one built and tested by the end of the year.
"It's a brand new product and will solve a lot of challenges for our customers," she said.
Huston said the boom launcher market is still small, but it's starting to take off.
"Everything continues to get heavier and taller, requiring larger cranes," he said. "We have had a few more requests for this product and are watching the market. We are excited about more opportunities to work with our customers on this type of a solution."
Niese said he is always amazed that a customer can be looking at a crane that weighs 140,000 pounds and then asks Nelson to find a way to save 2,000 pounds on the boom dolly.
"Our engineering team has been working diligently to find ways to do this," he said. "We have introduced new, lightweight designs in order to save weight and maintain structural integrity. We are utilizing light weight components such as aluminum hubs, centrifuge brake drums and aluminum air tanks."
Reducing weights
Nelson has redesigned its dolly frames and towers with higher strength steel in high stress areas and incorporated a more efficient structure.
"This has allowed us to reduce the dolly weights without compromising structural integrity," he said.
Among the most important attributes of Greenfield's boom dollies is the Greenfield logo on the mudflaps, Meyers said.
"It represents all of the people that took a part in designing, manufacturing and delivering a quality product that we can be proud of," he said.
TransWorld Manufacturing's pivoting tower is a feature that keeps customers coming back.
"Our pivoting tower assists in both reducing forces going up to your crane boom, and keeping your dolly tires on the ground," Dieleman said. "A fixed tower is the alternative, and it is inflexible. Think of your crane cresting a hill, that pivot keeps your back dolly tires on the ground, and your transport configuration much more stable."
Huston said working with the customer to create greater efficiencies is the key.
"If the boom dolly can help reduce a load, haul a special spreader bar or rigging, work in certain road and bridge restrictions and the like, that is critical to maximizing the investment of a boom dolly."