Boom lifts: Testing the limits
By Euan Youdale27 March 2023
Capacity, flexibility and lowering emissions are seeing new introductions for telescopic lifts.
One of the companies to have been moving with the times is JLG, with the realisation that diesel engine powered equipment runs the risk of becoming redundant as requirements for green energy solutions grow.
Owners of JLG's 66ft working height 660SJ can now transform the diesel boom lift to become 100% electric powered through the introduction of the manufacturer's conversion kit.
Electric boom lifts
The retrofit option is designed to allow rental companies to extend the lifetime of their existing fleet, as in the future it may become more difficult to sell on diesel equipment, depending on the situation.
It is offered in two different sizes of lithium battery pack: 30KW or 40KW. The system is 48V.
Mirco Negri, senior product manager for the EMAIR, said, "Converting diesel-powered machines to electric battery power contributes to an increased residual value and lower total cost of ownership.
"Utilisation and rental rates could be improved as the converted equipment can be used on a wider variety of projects, particularly those requiring low emissions and noise levels, such as residential urban areas."
As Negri adds, "It also extends the lifetime of equipment by making it compliant with more stringent regulations, which are expected to meet the EU's 2030 deadline for 50% reduced emissions.
While there is much to be gained from the conversion process, there are considerable losses, too. The CO2 emissions of a rental fleet will be reduced dramatically – with an estimated reduction of 200kg over five years, per machine. Running costs can be cut by up to 80% due to decreased fuel consumption.
Maintenance costs are also significantly lower – as there are fewer consumable parts requiring regular replacement with electric batteries compared with diesel engines.
Rough terrain boom lifts
Genie has been going down the green energy route for some time and is still betting on hybrid as the preferred option for RT equipment.
Its latest offerings, the 20.6m working height hybrid S-60 FE and electric S-60 DC booms were first launched in Europe in May of last year and introduced in December 2022 to North America and Latin America. The S-60 DC also is currently available in most of the Asia-Pacific region.
This is coupled with a growing market for telescopic booms, says Simone Manci, Genie Applications Engineer. "There is an increasing demand on large jobsites for versatile equipment that can work indoors and outdoors, including on rough terrain.
"This is occurring because regulations are becoming increasingly more stringent, and, at the same time, businesses are recognizing the need for, and placing importance on, sustainability."
Where is the market demand for telescopic booms coming from?
Demand is also strong in emerging markets that are moving away from scaffolding to MEWPs, and in existing markets where usage is growing and expanding into new areas.
Globally, investments in infrastructure is helping drive this demand especially for high-capacity applications or high-reaching lifts.
Manci adds, "Additionally, as large group events return, you're also seeing strong demand for telescopic booms in entertainment-focused events like the World Cup or Formula 1, where stadiums and arenas needs built or maintained.
Advances in technology mean that in some cases, electrified equipment can offer better and more efficient performance, improving the sustainability of our industry and company.
Hybrid boom lifts
However, Manci adds, because not all jobsites are ready for full electrification, Genie has focused on offering FE hybrid and DC electric boom lifts, which combine the benefits of a 4x4 diesel machine with the performance of electric booms.
The FE range has been on the market for some time now and, says Manci, has maintained its popularity, partly as it is able to keep working even if the battery is dead.
Additionally, FE lifts charge the battery while the machine works in hybrid mode and can work a full week on a single tank of fuel in hybrid mode or all day in all-electric mode.
The S-60 FE can be used indoors and outdoors and work more than one week on a single tank of fuel. Additionally, a feature of FE booms is their intelligent control system, which the batteries charged and the machine ready to work by using both regenerative braking technology and automatic engine start and stop.
Other features of the S-60 FE/DC include an unrestricted platform capacity of 300kg and a 1.83m jib that delivers a 130-degree working range.
Boom lifts designed for flexibility
Dingli has expanded its M Series range of modular boom lifts, with the launch of the electric powered BT34ERT and the diesel powered BT34RT.
The booms offer a maximum working height of 34.14m, an outreach of 21.6m, and an operating weight of 19,150kg (19.2 tonnes).
Like other models in the range, they offer a lower centre of gravity for greater stability and feature four-section booms that provide a large load capacity, easy maintenance and stable control.

Both models include Dingli's axle integrated four-wheel drive system which enables them to navigate rough terrain.
Around 90% of the models' components - all of which are located on both sides of the chassis for easy access - and over 95% of their structural parts are common to the M series range. This helps to lower the cost of maintenance and storage.
Like other M Series machines, which cover maximum working heights from 24 to 34 meters, the booms can also be transported in a standard container.
Haulotte's latest launch is the 16.1m working height HT16 RTJ, in June 2020. While this was a while ago, and there are no plans for new telescopics, at least in the coming months, the product answers the needs in this working height sector in the US, Northern Europe, Australia and particularly China.
The company agrees with the view that the telescopic market is a growing one and estimates that over the past five years it has increased by 14% year-over-year.
That increase is mainly driven by the accelerated growth in China.
Taking the Chinese market out of the equation the trend is flattening at a -2% year-on-year drop over the previous half decade. Platform lift capacity increased significantly.
Access equipment trends: Increased lifting capacity
Designed for working in challenging environments and tackling demanding projects, the HT16 RTJ O/PRO (HT46 RTJ O/PRO in North America) shares the same design and performance characteristics as the other models in the Haulotte RTJ range.
The model provides a dual platform capacity along with four-wheel steering and is ideal for work up to 16m.
Other features include optimised outreach and a dual load feature of 250kg - 350kg, along with four-wheel steer.
Skyjack product manager Corey Connolly also believes that moving forward, capacity increases are a key trend in the telescopic boom market to optimise productivity and ease of workflow. "Having a range with increased capacities means that operators are able to complete tasks more efficiently across all kinds of applications."
Reflecting this trend, Skyjack's 40ft and 60ft telescopic booms have increased platform capacities – up to 454 kg – integrated with load sensing and carry the '+' designation.
Boom lifts for the equipment rental market
Skyjack launched its latest telescopic boom model in 2022 to give rental companies and users increased productivity while meeting changing North American ANSI design standards.
Additional changes were made on the 40ft and 60ft models by increasing platform capacities, and updating the control system to provide additional insights when machines are equipped with Skyjack's telematics solution Elevate.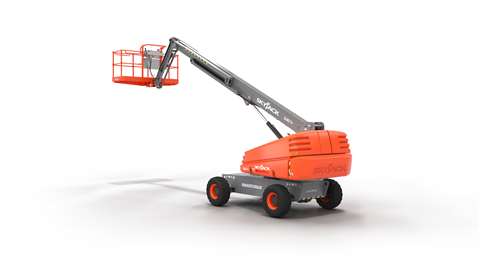 Connolly explains that with these changes, capacities went from a single 500lb capacity up to a dual 660/1,000lb capacity.
In 2021 additional updates were made to Skyjack's 40ft models, with the addition of the Smartorque design on other Skyjack products, offering optimised gearing, and a simplified, high-efficiency hydraulics package, so machines can employ smaller engines with less complex aftertreatment components. This allows similar on-site job performance to higher powered units.
The main driver was the desire to improve customer ROI, in part related to data from Skyjack's telematics Elevate solution. Connolly says, "Telematics data highlighted that on typical jobsites, available engine power was rarely being fully utilized thus carrying an unnecessary cost burden with a larger engine."
The upgrades allow for the use of lower horsepower engines on the 40ft models while still delivering the same on-site job performance as higher powered units - providing excellent performance with less engine horsepower.