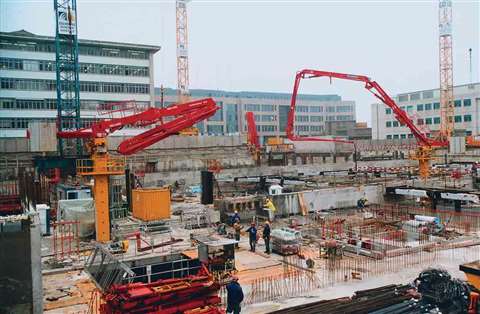 Successful operation of concrete pumping and placing booms is dependent on several factors: site preparation, finding the right concrete and machine for the job and just in time delivery and scheduling.
In Geneva, Switzerland, for example, a Zschokke headed joint venture (JV) is ahead of its 19-month construction schedule on the shell of the CHF 250 million (€160 million) Pac Acacias complex, the new headquarters of banking house Pictet & Cie, thanks to the use of high-quality, self-compacting concretes (SCC) and extremely effective pour logistics.
The excavation pit covers an area of about 10000 m2 and will hold several car parks and strong rooms in four basements. On completion, the new bank will have five storeys above ground.
Because of the asymmetrical building plot, the JV had intended to concrete the floor slab, floors, ceilings and walls using the "satellite system", which involves positioning a stationary concrete placing boom by crane on to tubular columns so individual formwork sections can be poured stageby stage.
This method would normally save time and money. However, frequent re-positioning of the boom on a site this size makes the procedure relatively time-consuming and requires more personnel, making it too expensive.
The construction management team therefore decided to combine each of the 13 m high tubular columns, which are placed at intervals over the floor slab, with a Putzmeister MX 32 T concrete placing boom, which places the concrete via a delivery line of up to 110 m.
Transfer Point
Concrete delivery is carried out by just one Putzmeister BSA 1408 E concrete pump, next to a 6 m mixing pan in a tight space beneath a concrete batching unit on the edge of the excavation pit. The mixing pan remixes the on-site concrete and is used as a buffer when more concrete is produced than is needed at any given moment.
The main concrete line leads 60 m from the pump to a central transfer point in the excavation pit. The end of the line can be closed with a hydraulically activated lock valve so the individual MX booms can be used in rotation. From the lock valve onwards, either a short delivery line forms a connection to the 1st stationary boom or, by inserting a short pipe length, the fixed line from the 2nd boom can be controlled.
When the 3rd boom is pouring/placing a 90­ elbow behind the lock valve directs the concrete to an anchored secondary line. A further lock valve is installed behind the pump's hopper to allow cleaning work to be carried out.
Three self-compacting concrete formulations are being used. Each one contains Flextremo 3R, a relatively new Portland composite cement from Holcim, as the bonding agent. The JV also adds Flextremo 4R when working at low temperatures.
According to a JV spokesman, using Flextremo 3R means concrete can be placed without the need for vibration and with considerably fewer operators and machines. With a total of 55000 m3 of concrete needed there is the potential for enormous cost savings, which, coupled with earlier accessibility to load-bearing structures has seen the project make good progress.
The concrete pour is carried out in sections of 300 m3 (foundation slab) and 150 m3 (floor slab formwork). According to a JV spokesman, the quantity of concrete placed per hour does not depend on the concrete pump's output (maximum capacity 79 m3/hour), but on the capacity of the batching unit (50 m3/hour). According to the site log, the pumps actual output has been a consistent 46 m3/hour.
Market Opportunities
With the relative slowdown in the Chinese construction market over recent months thanks to economic measures imposed by the Government designed to cool the economy, many manufacturers are turning to non-domestic markets.
Zoomlion Powermole Ltd, the UK-based subsidiary of Chinese construction equipment manufacturer Changsha Zoomlion Heavy Industry Science and Technology Development Co. Ltd, has, for example, appointed PCP Gulf LLC, the Dubai based arm of Premier Concrete Pumping Ltd, as their exclusive dealer for Bahrain, Oman, Qatar and UAE.
According to Allan Kayes, managing director of Zoomlion Powermole, recent sales in the region have included five 37 m booms to materials supplier RMC and ten 44 m boom truck mounted units to MBmix. PCP has also sold three high volume trailer mounted pumps, matched with three 28 m self-climbing placing booms and various other concrete placing equipment, including 10 m and 12 m manual placing booms to several local companies.
Mr Kayes told CE that negotiations are currently taking place for a further eight mobile pumps and ten static units to be sold into the UAE and Bahrain. These sales, said Mr Kayes, will be used as a vehicle to leverage a further share in the EAME market. Although Mr Kayes refused to be drawn on when it might happen, the next logical step for the company is getting its equipment CE-marked so it can be sold in Europe.
Record Pour
Another company enjoying considerable success in the region is German-based manufacturer Schwing. At the Jumeirah Beach Residence (JBR) in Dubai what is thought to be the largest single continuous concrete pour in the United Arab Emirates has recently taken place.
Main contractor Al Habtoor Engineering used ten Schwing concrete pumps, eight S 42 SX and two KVM 52, to work on the record 33 hour pour for a 10000 m raft slab. Seven batching plants were used to supply a special grade 50 concrete containing 65% Slag (GGBS) and 35% Cement (OPC) and W/C ratio of 0.37.
Five worked full time and two were on standby in the event of a breakdown. Four of the plants were located on the JBR site production facility close to the Sheik Zayed Expressway, a distance of almost 1km, with additional standby plants located in the Al Quoz Industrial Area, a distance of almost 15km.
Sub-contractor Ready Mix Beton (RMB) batched concrete with ice and chilled water so the fresh concrete temperature was maintained at 27­C or less. More than 1100 tonnes of ice was used in order to control hydration due to the high ambient daytime temperatures (45­C).
Outlook
With ten new countries joining the European Union in May 2004 – Cyprus, Czech Republic, Estonia, Hungary, Latvia, Lithuania, Malta, Poland, the Slovak Republic and Slovenia – many contractors and manufacturers are looking beyond their domestic markets for sales opportunities. Other markets of particular interest to European manufacturers and contractors are the Middle East, which is enjoying a boom in construction, particularly in the United Arab Emirates, and China.
However, while construction in China remains at a relatively high level, the Government has begun to put a stop to many 'vanity' projects and to cut back on state spending in an effort to help cool the economy. What is certain is that Chinese manufacturers are now beginning to eye foreign markets, particularly Europe, and it can only be a matter of time before cheaper CE-marked Chinese machines start to appear.