Boom truck from Manitowoc
Wisconsin, USA-based crane manufacturer Manitowoc is showing its new National Crane brand NBT40-2 boom truck at the ConExpo trade show in Las Vegas, USA.
The new NBT40-2 series can be ordered with a capacity of either 40 or 45 US tons (36.3 or 40.8 tonnes) and a 127 foot (38.7 metre) or a 142 foot (43.3 metre) main boom. It has a two-piece 31 foot (9.4 metre) to 55 foot (16.8 metre) telescoping jib and has a maximum tip height of 150 feet (45.7 metres), which can extend to 204 feet (62.2 metres) with the jib.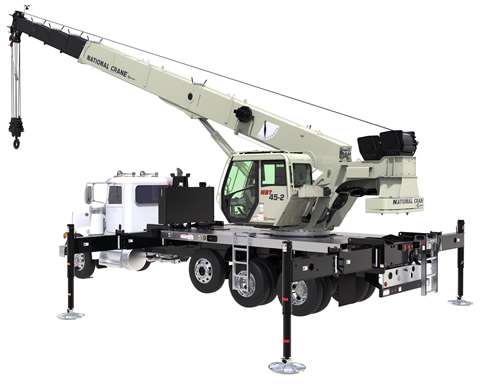 According to Manitowoc, the NBT40-2 is a combined re-engineering of its National Crane NBT40-1 and NBT50L series, and offers increased capacity and reach yet without being any heavier than the NBT40-1.
Manitowoc said the new boom truck's turntable and torsion box have been redesigned to provide a solid feel, even when lifting out at the limits of the load chart. The boom has been re-engineered for increased boom stiffness in order to maximise load chart and minimise flex.
A redesigned, fixed counterweight system has enabled National Crane to optimise the capacity of the boom truck, says Manitowoc.
These specifications make the NBT40-2 particularly suitable for work in the commercial or residential construction industries, said Manitowoc, due to its versatile boom lengths and capacity at reach. It's also suitable for the utility or tree service industries, especially when needing 200 foot (61 metre) plus of platform height, Manitowoc added.
The NBT40-2 boom truck comes with a hydraulically tilting cab as standard and a heated operator seat. Also standard is a front-bumper-mounted hoist control. Wireless outrigger controls can be specified, as well as four position outriggers which are designed to provide quicker and easier setup.
The NBT40-1 has a colour graphical display and real-time diagnostics. Additional features include electric hydraulic controls with speed adjustability, an optional multiple camera system and an integrated wireless wind speed indicator.
The NBT40-2 series shares several traits with the NBT50L series, including its electrical and controls ar-chitecture. The commonality between these two models will minimise operator and technician training for users of both products, says Manitowoc, as well as provide easier maintenance and parts access.
The new NBT40-2 series is manufactured at the company's factory in Shady Grove, Pennsylvania.
Also at ConExpo, Manitowoc is showing its NBT60L boom truck. It has a 46 metre (151 foot) five section full power boom. An optional 11 metre (36 foot) fixed length offsettable jib and a 7.9 metre to 13.7 metre (26 foot to 45 foot) two-section offsettable manual extension is available. It has a hydraulically removable counterweight system with multiple configurations and a hydraulically tilting operator cab. "We added the longer boom option to the NBT60L to meet the demands of the energy and utility sectors," said Bob Ritter, product manager of boom trucks at Manitowoc. "These industries will find the longer reach and optimised load charts ideal."
At ConExpo, National Crane is at booth #F6144 in the Festival Lot, near the corner of Las Vegas Boulevard and Sahara Avenue.