Boom trucks: Raising the bar
By Laura Hatton27 August 2015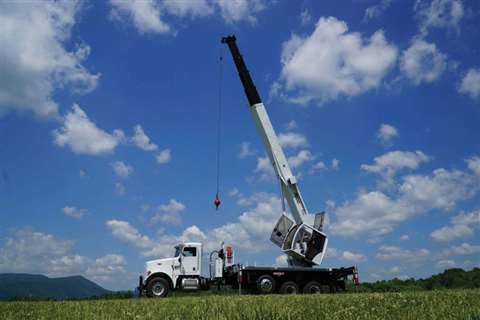 Boom trucks, also known as truck mounted cranes (cranes mounted on a commercial chassis), are increasing in capacity. This trend is being driven by customers requiring higher capacity models, which in turn is pushing manufacturers to build larger models of boom trucks than ever before. As Matt Trefz, Altec Cranes market manager points out, as a result commercial truck chassis manufacturers are developing solutions to support this evolution, making the traditional truck crane (a crane mounted on a purpose built chassis) increasingly obsolete.
Jim Glazer, Elliot Equipment Company explains, "Boom trucks are gaining in popularity and gradually changing the dividing line between boom truck and truck crane markets. Just a few years ago, the largest boom truck capacity was 35 tons [31 tonnes]; now it is 70 tons [63.5 tonnes] and climbing. Due to the lower costs and flexibility of commercial chassis, boom trucks will continue to move upward in capacity, displacing more truck cranes as the tool of choice."
With commercial truck manufacturers now offering a wide range of chassis layout options, including twin steer setups, super single tyres, tri-drives, stronger frames, larger engines, and much more, it is becoming easier for boom truck manufacturers to mount larger cranes than ever before. This offers benefits to customers as it helps them meet permit regulations while still having the capacity they require. It also helps manufacturers because it allows them to concentrate on simply designing and building the crane.
Justin Pilgrim, Manitowoc Cranes global product director for boom trucks and carry deck cranes explains, "In North America, road regulations vary from state to state and as a manufacturer it complicates the design of new products in regards to weight and dimensions. Boom trucks typically comply with most road regulations, which make it a beneficial crane choice for a customer with these types of demands in mind. For crane manufacturers, the benefit of designing a crane for a boom truck is that they can focus on the crane, while the truck chassis manufacturers can focus more on emissions and road regulations."
Main advantages
Being mounted on a commercial chassis means that boom trucks have a number of advantages compared to truck cranes, which have a purpose-built chassis. Trefz explains, "The customer can choose the chassis manufacturer, which is attractive for a variety of reasons. For example, some users want a common chassis brand in their fleet, which can simplify maintenance and training."
A commercial truck chassis also typically provides good operator comfort and efficient transport speed between jobs. Other advantages include lower cost (as the chassis is not bespoke and is mass produced), fuel savings, lower service costs and lower running costs, Cinzia Gruppini, at Italian crane manufacturer Marchetti Autogru sales department points out.
Glazer adds, "In addition, boom trucks are also often easier to navigate in urban environments and are easier to transport without permits since the axle configurations can be specified easily to fit local market needs. For example, a 40 ton [36 tonne] boom truck may be fully legal to transport on four axles in parts of the USA, but would require a twin-steer chassis in parts of Canada. This is often easier to do on a boom truck than a truck crane."
The focus on road regulations is important the world over, and having the option to put a crane on a commercial chassis can help overcome different road regulations. Crane manufacturer Tadano, for example, explained to IC how the company can sell its cranes in countries or regions which have varying or strict load regulations or permit laws by equipping its truck cranes on a standard commercial chassis that is manufactured to meet the demand and needs by country or region.
Other advantages passed on to the customer include ease of transport and quick set up times, as Pilgrim adds, "Most often boom trucks comply with highway travel rules, which means travelling from one job site to another can be accomplished easily and special permits are not often needed. Also, they are easy to move around the job site and can travel at full highway speeds between jobs. In addition, lifting performance and utilisation can be enhanced because there is less setup and tear down time, and less preparation time is needed for the crane on the job site. This efficiency results in lower costs. Customers that spend most of their time transporting the crane between jobsites prefer boom trucks over other solutions, like all terrain cranes, because their work does not require all the features those products offer; consumables like tyres are more economical than all terrain tyres, manual transmissions more simple, and axle and drive train parts are more economical."
Latest designs
To meet customer demands for high capacity, roadability and versatility, boom truck manufacturer Altec offers the AC45-127S, a 45 ton [40 tonne] capacity crane with a new cab and LMI reel. The new cab has a front and side entrance and an optional 20 degree tilt feature. Additional features include a lower winch control and engine start stop function. The AC45-127S weighs 30 tonnes and is designed for installation on a variety of commercial chassis, the manufacturer says.
Trefz says, "When we began the project, customers told us they needed more capacity beyond a 25-foot [7 metre] load radius, a 'solid' feel at a 100 foot [30 m] load radius, and road transport without weight permits. Altec's engineering team was able to deliver a 45 ton [40 tonne] boom truck with a stronger chart, better feel and attractive payload compared to alternative products."
From Elliott Equipment Company are the 30 ton (27 tonne) 30105RS-D and 40 ton (36 tonne) 40142. The 30105RS-D is a boom truck and digger combination. The model is available with an open seated control station and full colour LMI display. It can be fitted on either a commercial truck chassis or a tracked-carrier, the manufacturer says. Other features include wireless remote control and a hydraulic pole claw attachment.
The 40142 Boom Truck has a new outrigger configuration that allows for a federal bridge legal 4-axle chassis configuration and eliminates the need for a front stabiliser, the manufacturer says. It has a 43 m main boom and a 10 to 65 m two-piece telescopic jib. For utility construction and personnel lifting, the 40142 is also available with a new gravity work platform.
From Italian crane manufacturer Idrogru is the 160 tonne capacity KT160.29. The model is mounted on a four-axle Scania chassis, has pick and carry capabilities and is fitted with independent hydraulic cylinders. Idrogru manufactures telescopic boom cranes from 90 to 260 tonnes capacity, with reach up to 40 metres (excluding the lattice jib).
From Marchetti Autogru is the MTK 35, which can be mounted on a three axle truck chassis. It has a gross vehicle weight (GVW) of 26 tonnes, including the counterweight, to meet the road requirements in European countries, the manufacturer says.
From National Crane is the NBT60, a 54.4 tonne (60 US ton) capacity crane with a 39 m five-section, full-power boom. It is also available with a 7.9 to 13.7 m two-section, offsettable manual extension.
The latest boom truck from Tadano is the GS-600EX. It has a 60 tonne capacity and a 42 m five-section hexagonal box boom. It is fitted on a Scania carrier with right-hand steering and can be fitted with a two-stage bi-fold lattice-type jib for extra reach. Additional features include The Hello-Net management system and AML stabiliser system, which includes 4-point hydraulically operated outriggers, slewable front and H-type rear outriggers. The outriggers can be controlled simultaneously or independently from either side of the carrier. The model is also fitted with "Eco-mode" which improves fuel consumption when the crane is being operated, the manufacturer added.
"The GS-600EX can be driven on public roads without having to dismount the counter weight, which allows customers to operate their cranes more efficiently," a spokesperson from Tadano said. "We have used the right-hand steering Scania carrier for the first time due to its compliance with emission control regulations, which permit it to be driven on Singapore's public roads."
From Terex is the 80 US ton (72.6 tonne) capacity Crossover 8000. It has the X-pattern outrigger design for stability and is fitted with the new Terex family tilt cab. The Crossover 8000 can be mounted on various chassis including Freightliner, Western Star and Kenworth.
From Manitex is the upgraded TC 500 from the TC Series. The new model has upgraded hydraulics, electrics, a new telematics system and an upgraded cab. The new hydraulic system has a single pump with three fixed displacement sections replaced by one variable displacement pump and one gear pump, the manufacturer says. It has a variable displacement piston pump for the hoist, telescope and winch functions which supplies oil to the functions when demanded. This keeps oil temperatures down and increases truck fuel efficiency, the manufacturer adds.
The upgraded model also has a new telematics system. Data available includes hydraulic pump pressure and temperature, load utilisation and outrigger positions. The TC 500 also has an updated cab with electronic joysticks, operator display, optional video cameras, adjustable cab tilt speed and crane function speeds, and USB ports for quick software updates or phone charging. The main data display screen shows all load monitoring information (LMI) and notifies the operator of check engine lights, stop engine lights and regeneration commands.
Additional features include a new load sensing valve with manual overrides on the outrigger control and new radio remote control with proportional buttons. "The new load sensing outrigger valve will run at full speed regardless of engine RPM," Randy Robertson, Manitex director of sales and marketing says. "The new outrigger remote control has a single remote transmitter for all operation of four outriggers and front bumper stabiliser. In addition, the radio receiver has an LCD screen to give the user feedback."