BP contract for Aertssen
By Laura Hatton16 October 2015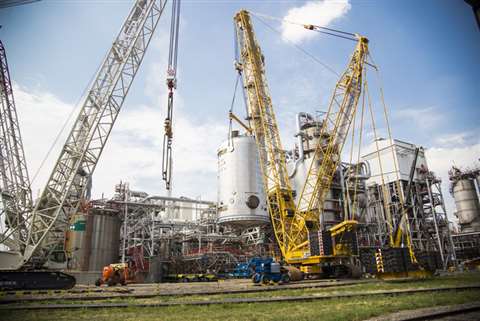 Lift and transport service provider Aertssen Kranen has completed the first part of the WiESOX contract with BP Chembel in Geel, Belgium.
Aertssen kranen was tasked with preliminary and final detailed engineering, pre-lifting and on site preparations, lifting and final alignment during the project.
The task involved the transportation and installation of a 420 tonne reactor at the BP plant in Geel. The reactor was 10.12 metres in diameter and 17.77 m long. It was built at Coek Engineering a few kilometres from BP Chembel. The transport of the reactor was carried out by Roll-iT, a subsidiary of Aertssen Kranen.
Roll-iT used 32 axle lines of self propelled modular transporter (SPMT). The reactor was transported overnight. Challenges along the route included crossing the E313 highway in Belgium. To overcome the problem, traffic was temporarily stopped and crash barriers were removed, allowing the transport to continue its journey. Further challenges along the route included crossing a temporary bridge.
Once on site the following day, the reactor was tilted using a Terex CC 2800-1 crawler crane, with a Terex CC 2400 acting as a tailing crane. The reactor was then lifted onto its final foundation at a radius of 15.5 m. To carry out the lift, the CC 2800-1 was rigged in SSL configuration with 54 m main boom.
Bob De Jong, BP Chembel project manager, said, "Everything went smoothly, transport as well as lifting. The track from the place where we crossed the E313 highway to the construction site was covered even faster than planned. The temporary bridge was set in place just in time. The reactor was perfectly put in place right from the first time. There was an overall feeling of satisfaction and relief. Once the lifting started, everything went very fluently."
In October a second but smaller reactor is being removed from site to be modified. In a third phase this reactor will be repositioned on a new location in the BP plant.