Breakers: New ground
By Steve Ducker31 January 2018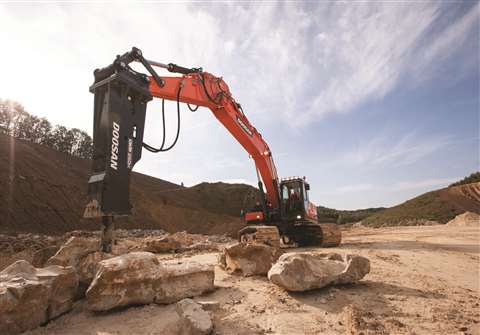 Hydraulic breakers, designed to attach to equipment such as excavators, are manufactured in a range of sizes to suit compact, medium and large equipment, and a key factor is the attachment's longevity, given the robust nature of its work.
JCB Attachments now offers two ranges of hydraulic breakers designed to work with its excavators, backhoe loaders and compact machinery lines. Its latest range is the Contractor breakers range, which is now available alongside the existing Professional line of hydraulic hammers.
The Contractor range has been specifically designed for customers looking for a solution for working in less arduous conditions.
The range includes 13 models, from the compact HM012T that tips the scales at just 100kg operating weight to suit mini and micro excavators, through to the 3.8 tonne HM380T that has been designed to work with excavators in the 46 to 50 tonne category.
All models undergo final assembly in the UK, said JCB.
A key feature of the Contractor range is that all its breakers have accumulators to protect the carrier machine from hydraulic pressure spikes, reducing possible wear and tear on the hydraulic system.
An auto stop feature on HM080T and above reduces blank firing, protecting the breaker from unnecessary wear and damage.
Hammers for use with equipment above 11 tonnes in operating weight come with a refillable auto greasing system as standard, ensuring the breaker always receives the correct amount of lubrication throughout the working day. JCB said this cut downtime and boosted productivity for the customer.
Twin oval tool retaining pins are included on heavier models, delivering double the life of a standard pin, said the manufacturer, as they can be rotated to wear on both sides.
Smaller breakers are equipped with a single tool retainer.
Two-speed control valves on models above the 9 tonne carrier weight mark allow the operator to customise tool speed and stroke length, depending on the material that is being broken. This increases productivity and reduces the risk of damage to the breaker and the carrier, said JCB.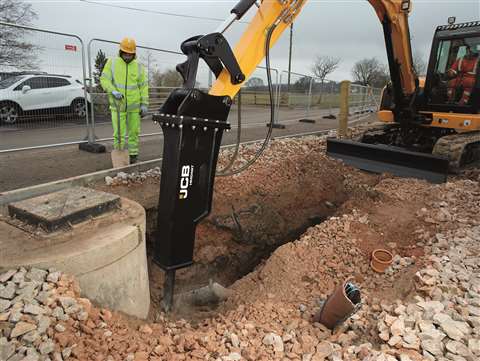 Internal control valves deliver higher efficiency against competitive products with external valves. This includes reduced maintenance as the oil flow is improved, reducing heat build up in the system and protecting internal seals. Heavier models also feature blank firing protection, further cutting the potential for damage to the breaker and wear to the carrier machine.
Single scaled
Contractor breakers use a single scaled design with the same maintenance requirements for each model. This ensures that dealer and customer service staff, particularly in a rental operation, can easily work on all hammers in the range.
All JCB Contractor and Professional breakers are delivered ready to work, with the correct mounting brackets and hydraulic hoses to match a wide range of JCB equipment. A universal option is also available without the mounting bracket for use on other brands of equipment if operating a mixed fleet. JCB said that compatibility was guaranteed and the full hydraulic hammer range was backed by JCB's global service network.
Chicago Pneumatic's engineers have used their technology to deliver the new RX12, a rig-mounted hydraulic breaker for carriers between 9 and 15 tonnes.
According to the company, the new product has 10% more output power and 28% more impact energy than its predecessor model, the RX8. It is part of the RX range, which comprises six models.
With a service weight of 625kg and a tool diameter of 90mm, Chicago Pneumatic said the RX12 was designed for a range of light demolition, landscaping, building renovation and road construction applications.
The RX12 features a mono-block design, with the cylinder and tool holder integrated in one piece, reducing the total number of parts and eliminating the need for side bolts, to increase overall reliability. The inclusion of a replaceable cylinder sleeve also cuts repair time and costs.
Elsewhere, The FX-Pro series of hydraulic breakers from Hydraram combines design features developed through its CAD/CAM facilities with special alloy steel mixtures and, according to the company, years of user field experience.
Built with a firm belief in power and simplicity, the Hydraram breakers have few moving parts and the construction is designed for easy and simple maintenance and repair. The breakers are described as having a longer life due to a special hardening process and having a higher impact energy through long and short stroke.
The company also said the control valve was 10 to 15% more efficient than other systems.
They are delivered as standard with sound- and vibration-proofed housing, air connection for underwater demolition, and a connection for central lubrication.
The range encompasses 22 models, for carriers ranging from 0.5 to 150 tonnes, at weights from 60 to 10,400kg.
Larger models
Looking at larger models, French-based Montabert's Heavy Range Premium breaker is designed for excavators of 18 tonnes or bigger.
The company's general manager in the US, Stephane Giroudon, said, "For 20 years, we've seen some of the best manufacturers trying to match or come up with comparable products, but this is not easy to design or manufacture.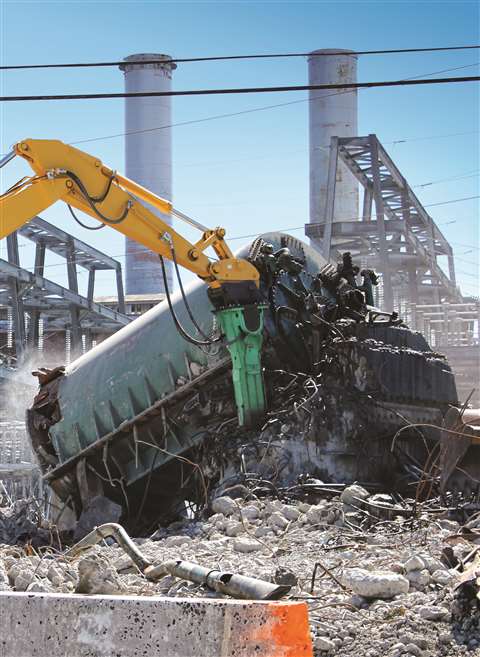 "We are selling a premium product into the market."
The automatic variable speed technology senses changes in the hardness of the material being demolished, and adjusts the impact energy and striking rate accordingly. The benefit of this is said to be that it reduces unnecessary harmful energy back to the carrier and breaker, preventing wear on parts and components.
The breaker is constantly lubricated via an automatic lubrication system, while the automatic pressure regulator ensures operation pressure across a range of outdoor temperatures. Optional extras allow for underwater applications or tunnelling.
The variable speed breaker is part of a product portfolio that also includes heavy two-speed, medium and compact models, through to its N-series at the smaller end of the scale.
Robust design
Bigger still, Doosan has recently extended its DXB breakers range, designed for use on medium and large excavators.
The breakers claim a simple, robust design, good economy, low maintenance costs and operator comfort. They include an energy recovery system and a patented valve system, with an advanced dampening system to protect the breakers against blank firing.
At the top of the range, the Doosan DXB190H is suitable for 22 to 30 tonne excavators while the DXB260H breaker is designed for use on 27 to 34 tonne excavators. The enhanced power-to-weight ratios of these breakers is said to provide efficient reduction of rock, boulders and concrete, as well as excellent excavation work.
Dutch-based Dehaco offers two types of hydraulic breakers, with the IBEX GS-series and the IBEX HS-series.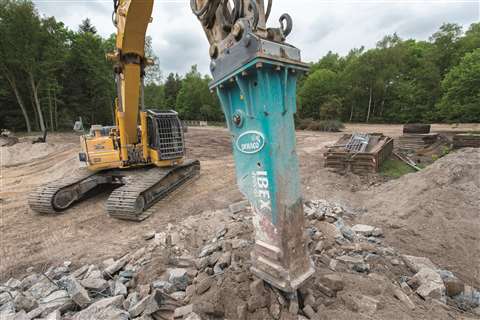 The GS-series breakers are gas silenced and the range consists of 14 models, all equipped with a nitrogen accumulator and suitable for carriers from 0.8 to 55 tonnes. The larger models in the GS-series feature an accumulator to generate more additional impact energy. This accumulator also reduces peak pressures from the hydraulic circuit, reducing recoil to the carrier and protecting the breaker. When desired, these breakers are available with an open housing.
The HS-series breakers are hydraulic silenced and this is a series comprising four models. These breakers are completely hydraulic, featuring the PAA system (Power Absorbing Accumulator) and the OTC-system (Oil Traffic Control).
These specially-designed technologies were said to ensure a continuous and stable oil flow and operating pressure, where an optimal impact energy will be produced. Both systems act as a hydraulic shock absorber, with the constant impact energy further reducing any recoil to the carrier.
Reinforced concrete
Three heavy-duty HB series Atlas Copco breakers, supplied by UK-based Sandhurst to DDS Demolition, have been put to work destroying reinforced concrete structures during a rebar mill clear-up at Sheerness Steel works on the Isle of Sheppey in Kent, in the South East of England.
The Atlas Copco breakers supplied by Sandhurst were HB2200, HB3600 and HB4200 units. These powerful breakers weighing 2, 3 and 4 tonnes were purchased to suit the Komatsu PC290, PC350, PC360, PC450 and a PC490 machines working on the site.
DDS, also based in Kent, is a demolition, reclamation and site clearing specialist, and was preferred for the Peel Port Wellmarsh tear-down and site clear up contract, estimated to be worth up to £3 million (€3.40 million), over a 52-week project term.
Steel was first produced at the Sheerness site in 2003 but production furnaces and a large rolling mill on the 21.4ha site had been left untouched since the specialist rebar steelworks closed in 2012. A decision was finally made to develop parts of the site and demolition work started in 2016.
Phase three of the project included the serious challenge of breaking and removing thousands of tonnes of heavily reinforced concrete machine plinths, push walls and reinforced foundations. DDS decided some additional high productivity hydraulic breakers were needed to help deliver the project on time.
Although Sandhurst operates Europe's largest Atlas Copco Breaker rental fleet and could have supplied rental breakers, this time DDS thought buying was the right solution.
DDS group buyer, Lee Pooley, said, "We faced some very heavy breaking on this job and wanted proven breakers with the capability of efficiently punching into heavily reinforced structures."
The company has hired Atlas Copco breakers and attachments for years from Sandhurst.
"We felt buying was the right decision for us this time if we could get the right offer, so we called Peter Dean of Sandhurst who matched Atlas Copco breakers to three of our Komatsus and we shook hands on a deal we were really happy with."
Without through bolts
Spanish-based TABE released its new hydraulic breaker, the MT 80, onto the market earlier this year. The company said the new model stood as one of the biggest hydraulic breakers, claiming to be the only hydraulic breaker of 8 tonnes manufactured without through bolts.
It was said to have been made to TABE's standards, "such as strength, capacity, resistance, reliability and safety".
TABE also said the breaker had been manufactured to a special design, "offering the best toughness, efficiency and functionality".
The new MT 80 has an auto lube system for the critical wearing parts. It also has a frequency variation system allowing the customer to choose the best frequency for each kind of ground.
There is also an underwater system allowing the MT 80 to work safely and easily in all kind of underwater applications, said its manufacturer.