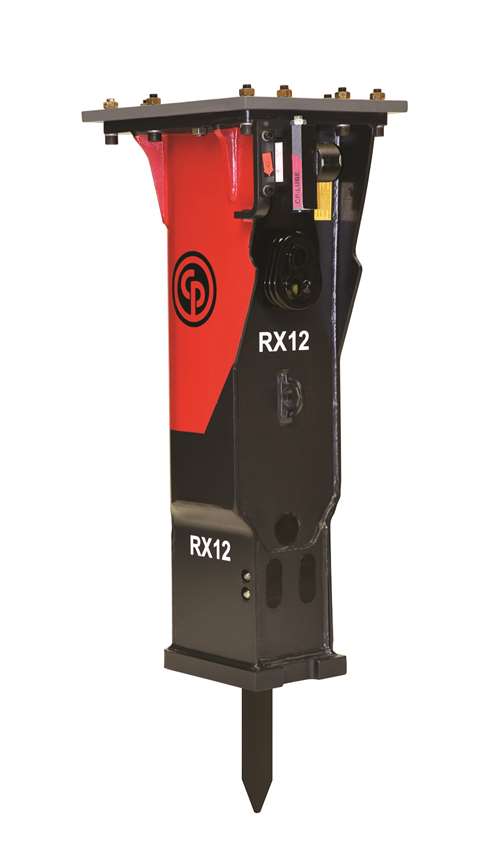 Chicago Pneumatic's new RX12, a rig-mounted hydraulic breaker for carriers between 9 and 15 t
Technology is certain to be one of the primary drivers in the future breakers market, with more efficient hydraulics combining with high-tech design and fewer moving parts to reduce maintenance costs.
Connected equipment is also under development, with telematics playing its part, as it does across the construction industry.
That said, traditional attributes such as reliability and power will always be at the top of the shopping list for operators.
Chicago Pneumatic
Chicago Pneumatic's engineers utilised their technology to deliver the new RX12, a rig-mounted hydraulic breaker for carriers between 9 and 15 t.
According to the company, the new product has 10% more output power and 28% more impact energy than its predecessor.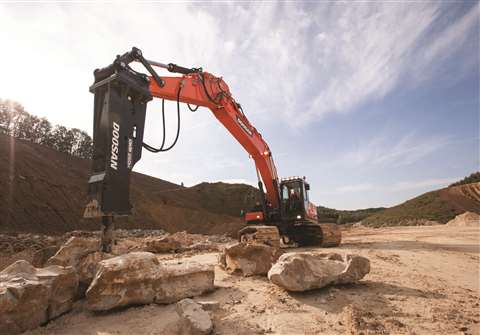 Doosan's DXB 260H breaker is designed for use on 27 to 34 t excavators
With a service weight of 625 kg and a tool diameter of 90 mm, Chicago Pneumatic says the RX12 is designed for a range of light demolition, landscaping, building renovation and road construction applications.
The RX12 features a mono-block design, with the cylinder and tool holder integrated in one piece, reducing the total number of parts and eliminating the need for side bolts, to increase overall reliability. The inclusion of a replaceable cylinder sleeve also cuts repair time and costs.
Doosan
Doosan has recently extended its DXB breakers range, designed for use on medium and large excavators.
The breakers promise a simple, robust design, good economy, low maintenance costs and operator comfort. They include an energy recovery system and a patented valve system, with an advanced dampening system to protect the breakers against blank firing.
At the top of the range, the Doosan DXB190H is suitable for 22 to 30 t excavators while the DXB260H breaker is designed for use on 27 to 34 t excavators. The enhanced power-to-weight ratios of these breakers provide efficient reduction of rock, boulders and concrete, as well as excellent excavation work.
JCB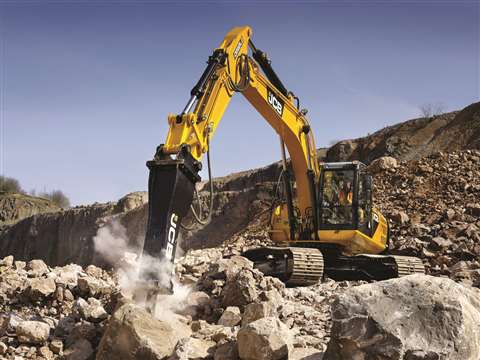 JCB's Contractor range of breakers will work with carrier machines from 0.8 to 50 t
JCB Attachments offers two ranges of hydraulic breakers designed to work with its excavators, backhoe loaders and compact machinery lines. Contractor breakers are now available alongside the existing Professional line of hydraulic hammers.
The Contractor range will work with carrier machines from 0.8 to 50 t, with breakers at the larger end coming equipped with refillable auto greasing systems.
All models have accumulators to protect the carrier machine from hydraulic pressure spikes, as well as internal control valves to increase efficiency and an auto-stop feature.
On the heavier models, twin oval tool retaining pins are said to have double the life of a standard pin, while smaller breakers have a single tool retainer.
These models also feature blank firing protection, reducing the risk of damage to the breaker and wear to the carrier machine.
Hydraram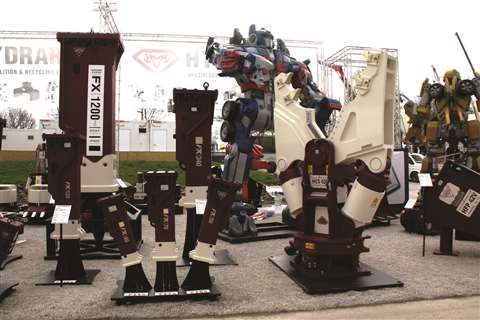 Most of Rammer's cutter-crusher range feature a chamfered jaw design for greater penetration
The FX-Pro series of hydraulic breakers from Hydraram combines design features developed through its CAD/CAM facilities with special alloy steel mixtures and, says the company, years of user field experience.
Built with a firm belief in power and simplicity, the Hydraram breakers have few moving parts and the construction is designed for easy and simple maintenance and repair.
The breakers are described as longer life due to a special hardening process, and having a higher impact energy through long and short stroke. The company also said the control valve is 10 to 15% more efficient than other systems.
They are delivered as standard with sound and vibration proofed housing, air connection for under water demolition and a connection for central lubrication.
The range encompasses 22 models, for carriers ranging from 0.5 to 150 t, at weights from 60 to 10,400 kg.
Rammer
The new Rammer Cutter-Crusher (RCC) range is manufactured from wear resistant HB400 steel for a longer life. Suitable for carriers in the 3 to 130 t operating weight range, the RCC models – except the 290 kg RCC04R – feature a chamfered jaw design for greater penetration, a speed valve and desynchronised jaws for more precise placement and faster cycle times.
All other models feature full hydraulic rotation for faster and more precise positioning. This system is covered by hydraulic rotation valve protection for longer motor life and reduced owning and operating costs. As a further nod towards system protection, the larger RCC models all feature forged and fully protected cylinder rods, heat-treated pins as well as bushes for a longer low maintenance life.
The Rammer Scrap Shear (RSS) line-up is designed to withstand even the harshest of demolition environments. Comprising nine models, for carriers with operating weights from 2 to 60 t, the products are also manufactured from HB400 steel for optimum wear resistance and a long working life. They also share the same hydraulic rotation, rotation protection, heat-treated pins and bushes, and weld-free cylinder rods found on the RCC range.
Caterpillar
Rammer 777 at work in Adelaide, Australia
Cat recently announced its B20, B30 and B35 top mount hydraulic hammers with Cat hydraulic kits for sale into Africa and the Middle East. The B-series hydraulic hammers combine enhanced power-to-weight ratio with simplicity for municipal, general construction, demolition, quarry and mining applications. Cat's installed hydraulic kit distinguishes the match and performance of Cat B-series hammer to other local competitors, by its weld-free mounting feature and ability to regulate hydraulic flow, which will protect both machine and breaker.
The new Cat H80E/Es hydraulic hammer, designed for the full range of Cat backhoe loaders and for 307 and 308 excavators, is available in both conventional (H80E) and silenced (H80Es) versions. Replacing the H75E/Es model, is completely designed and manufactured by Cat and giving it the distinction of being the only global manufacturer to build both hammer and carrier. The H80E/Es, fully supported by Cat dealers, delivers 1,356 J of energy at 600 to 1,500 blows per minute.
The H80E/Es has a lighter operating weight, compared with the predecessor model, resulting in greater working stability and increased carrier fuel economy. In addition, the new hammer accepts a wider range of hydraulic-oil flow, allowing the H80E/Es to be used with a variety of carrier brands for optimum utilisation in mixed fleets.
The E-Series hammers range builds on proven D-Series features, including an automatic shut-off system that instantly stops hammer operation when the tool breaks through material. The system increases hammer reliability and durability by eliminating high internal stresses created by blank firing. Sound suppression is a standard feature for the H80Es, protecting the environment and enhancing operator comfort.
Montabert
Montabert's Heavy Range Premium breaker – which celebrated its 30th anniversary at this year's ConExpo exhibiton – is designed for excavators of 18 t or larger.
The company's general manager in the US, Stephane Giroudon, said of the tool, "For 20 years, we've seen some of the best manufacturers trying to match or come up with comparable products, but this is not easy to design or manufacture. We are selling a premium product into the market."
The automatic variable speed technology senses changes in the hardness of the material being demolished, and adjusts the impact energy and striking rate accordingly. The benefit of this is that it reduces unnecessary harmful energy back to the carrier and breaker, preventing wear on parts and components. The breaker is constantly lubricated thanks to an automatic lubrication system, while the automatic pressure regulator ensures operation pressure across a range of outdoor temperatures. Optional extras allow for underwater applications or tunnelling.
The variable speed breaker is part of a product portfolio that also includes heavy two-speed, medium and compact models, through to its N-series at the smaller end of the scale.
Atlas Copco
Towards the end of last year, Atlas Copco introduced the Cobra PROi, the first petrol breaker to include electronic fuel injection.
Promising 10% more power at all working speeds, the firm says it can simultaneously provide savings of up to 10% on fuel consumption, due to optimal combustion.
Designed to start easily in almost any climate or at altitude, smooth running is ensured by means of an integrated mechanical fuel pump that keeps constant pressure to the regulator without the help of electricity.
Furthermore, while standard EFI systems require 3 bar pressure in the fuel system, the Cobra PROi's low pressure EFI system needs just 0.2 bar; this minimises pressure variations and voids in the fuel.
Atlas Copco says it has reduced hand-arm vibration levels on 3 axes to below 4 m/s2, and kept the weight of the machine to just 24 kg, so it can easily be carried and fits easily in the boot of a car.
The Cobra PROi's high capacity air filter gives a longer lifetime and is easily accessed for fast servicing.