Bresciani Autotrasporti buys Effer CWE 525
By Laura Hatton27 January 2015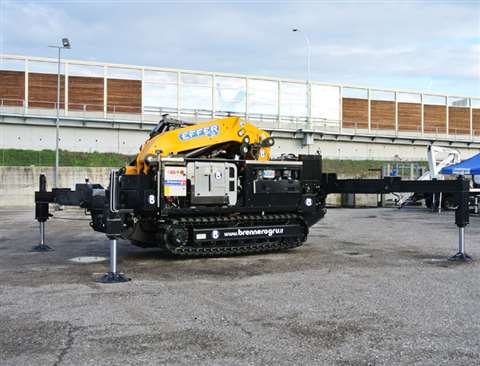 Italian lifting service provider Bresciani Autotrasporti has added a large Effer articulating crane on a tracked carrier to its fleet.
The CWE 525 crawler was previewed at the SAIE 2014 construction exhibition in Bologna, Italy by Effer partner Brennero Gru. It is an Effer 525 articulating hydraulic crane mounted on a self-propelled crawler track carrier. It is 1.85 metres wide by 5 m long and its folded height is 2.5 m. The model also has an extra jib, a 2 tonne winch and an aerial work platform.
Its double V stabilisation system is managed by Scanreco remote control and optional extras include 3,000 kg of removable ballast.
The crawler carrier is designed to allow the crane to move on steep terrain and mud. It is powered by a diesel engine but for use in sensitive areas it can be electrically driven.
The CWE 525 weighs 13 tonnes and has a lifting capacity exceeding 50 metre tonnes.