Bridge installation for ALE
By Laura Hatton10 June 2015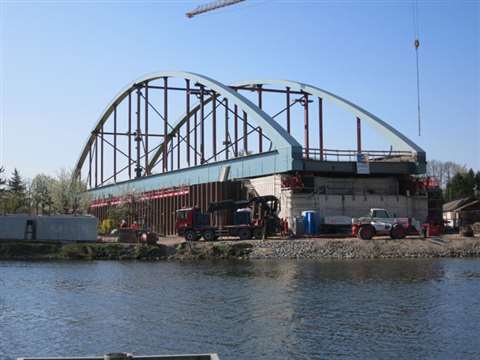 UK-based heavy lift and special transportation service provider ALE has completed the installation of the Marquardt Bridge, near Berlin, Germany.
The replacement bridge arc weighed 700 tonnes and was 100 metres long, 15 m wide and 18 m. It was installed across the Marquardt River in ten stages using a combination of self propelled modular transporter (SPMT), skidding plates, strand jacks and climbing jacks.
Using a pontoon for assistance to enable the float over operation, ALE launched the bridge over skidding plates in several stages. The bridge was taken over by two 285 tonnes climbing jacks on each side of the river. The bridge was then jacked down onto its final position.
Tom Van De Locht, ALE project engineer, said, "We have close contacts with bridge constructors throughout Germany and have launched over 100 different bridges.
"This was our third consecutive bridge installation in April with the same team and equipment. Because of our experience and teamwork, we can deliver the innovative engineering and quality standards our clients expect."
ALE completed the installation at the end of April 2015.