Bridge lift doomed from the planning stage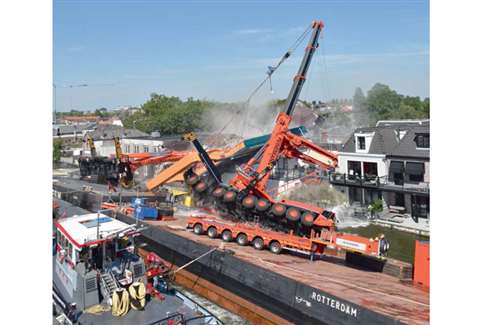 Failings in the preparations and in the lifting plan led to the August 2015 crane collapses in Alphen aan den Rijn, Netherlands, according to a report from the Dutch Safety Board.
On 3 August 2015 a pair of wheeled mobile cranes went over during an operation to lift a bridge deck section. A 400 tonne capacity and a 700 tonne capacity wheeled mobile telescopic crane, owned by Dutch rental company Peinemann, were tandem lifting the deck as part of a project to restore the town's Queen Juliana Bridge. The cranes were each mounted on separate barges. As the weight was transferred across the barges they listed and both cranes slid and went down one after the other, dropping the bridge deck and crushing buildings. One person was injured.
The barge carrying the smaller of the two cranes "was already insufficiently stable before the work was even started," the 29 June report stated. From that respect failure was unavoidable, the report continued. In addition, the barge carried objects other than the crane which affected stability and there was "imperfect distribution of ballast water between the compartments in the barge."
An insufficient margin to compensate for the effect of, for example, a gust of wind was another contributor. "As a consequence, an initial movement by the bridge section during the lifting work caused the barge supporting the smaller construction crane to slope [out of level] to such an extent that the mast of the crane failed, causing the crane itself to topple, thereby pulling the bridge section with it, which in turn also pulled over the large construction crane."
The above problems stemmed from "shortcomings in the preparation for the lifting operation by both the crane operator and the barge operator." It was a complicated lifting operation and "the complexity of the tandem lifting operation using mobile cranes operating from barges was not reflected in this lifting plan." Standard factors of wind and movement of the cranes were not taken into account, the report said.
"There were no safety margins, as a result of which the lifting rig lacked the capacity to compensate for any uncertainties or irregularities in execution." The cranes were loaded to capacity. "The lifting work commenced using a lifting plan that offered insufficient stability for the safe execution of the work. … There was no systematic or integrated process of risk management."