Bridging the gap
By Murray Pollok01 May 2008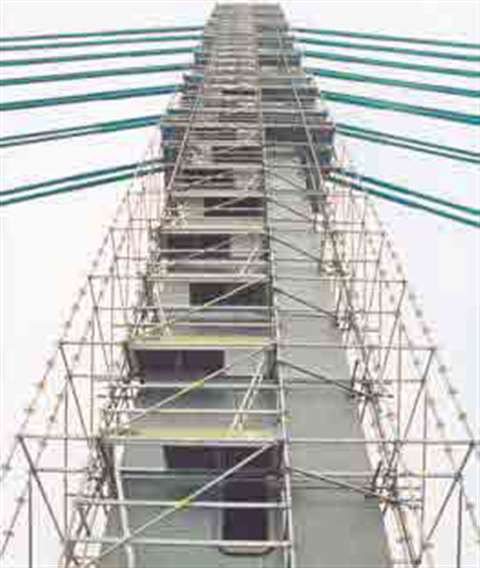 The Polish town of Plock, 120 miles northwest of Warsaw, sits on the banks of the River Weichsel. Following a considerable growth in traffic, a new cable stay bridge has been constructed over the river to ease traffic congestion on this important route from the Baltic Sea.
Polish contractor Freyssinet Polska Sp. Z o.o. needed a scaffolding solution to provide access to the steel suspension towers during construction that could reach over 60 m (200 ft), could withstand high wind loads, and provide safe and generous working areas for construction workers.
At the same time, the scaffold had to provide optimal adjustment to the inclined steel cables while avoiding damage to the corrosion protection coating on the pylons.
The contractor decide to use Peri's modular UP Rosett scaffolding, with its high node rigidity that could provide a safe structure up to the required maximum working height.
The structure completely enclosed the pylons, with two 2.5 m (8.2 ft) by 0.72 (2.4 ft) and two 1.5 m (5 ft) by 2.5 m (8.2 ft) sections firmly connected to each other by scaffold tubes. Horizontal loads were transferred via these tubes and bass spindles into the piers.
The anti-corrosion coating was protected by plywood strips at the pressure points, with no further anchoring being required.
By using brackets from Peri's standard range, the work platforms were adjusted in width to allow for the steel cables running from the pylons to the bridge deck below.