Briggs makes big investment in battery manufacturing
By Mike Brezonick29 March 2023
Briggs & Stratton announced it is making an additional investment of $6 million in its Advanced Battery Manufacturing facility in Tucker, Ga., to improve the safety, efficiency and production capacity of its Vanguard Lithium-Ion Battery Packs through the addition of automated equipment within its manufacturing process.
The 78,000 sq.ft. facility opened in 2020 to support a strategic supply agreement with Ingersoll Rand to power Club Car vehicles with Vanguard Lithium-Ion Battery Packs. The Tucker location includes four production lines with the capacity to accommodate future growth as the demand for battery power continues to grow across the off-highway industry. The new automated equipment will begin operation in early spring.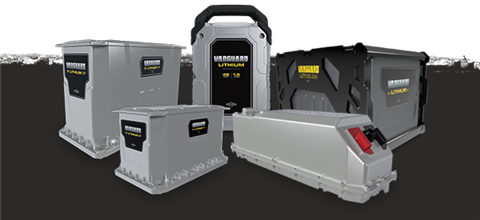 "This significant investment further cements our commitment to bringing the most robust, reliable battery packs to market," said Chris Davison, Marketing director — Electrification at Briggs & Stratton. "The addition of automation to our manufacturing processes will help to streamline and strengthen our production capacity but also further ensure the safety of those working on the assembly line.
"With the addition of strategic automation enhancements, the state-of-the-art Tucker facility will elevate the level of service, support and expertise we are able to provide to our OEM stakeholders as they seek to integrate battery power into their equipment."
In response to the growing Vanguard battery portfolio, the Tucker facility is expanding its manufacturing processes to accommodate the production of different packs and configurations. The automated equipment will enable all of the facility's assembly lines to build the different battery pack models and configurations.
Automation will also add an additional layer of safety to the manufacturing process, the company said, as it helps to address ergonomic strain on operators due to repetitive motion, limit the exposure of operators to sensitive materials, and ensure that material handling requirements are met.
"We'll be using advanced safety devices, controls and equipment to ensure that we're not only making a quality product, but also keeping our operators and technicians safe in the process," said Christopher Bonham, plant manager at Briggs & Stratton.
With the addition of automated equipment, Bonham also anticipates improved quality levels and production performance due to the removal of variation throughout the manufacturing process.
"Automation allows us to minimize the occurrence of inevitable human error in assembly," Bonham said. "The best way for us to address potential quality and safety issues that could arise from working with sensitive battery cells is to eliminate risk. This is one method of achieving that," Bonham said. "It also helps us streamline and simplify our processes, improve scheduling, and pivot more quickly to meet customer demand. We will see efficiency improvements between three and 10 times."
Vanguard offers a range of battery power solutions in both fixed (Fi Series) and swappable (Si Series) configurations, including a 1.5 kWh power option in the Si Series and 3.5, 3.8, 5, 7 and 10 kWh power options in the Fi Series.
"This investment shows Briggs & Stratton's commitment to electrification as well as to the Tucker facility and our workforce here," Bonham said. "It's a significant investment and vote of confidence for the products we're building. We have a great future ahead as both our team and product lineup continue to grow."