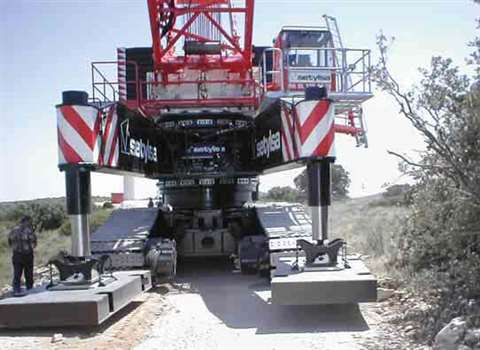 Arecent report from financial analyst Standard & Poor suggested that the downturn in the European construction market would continue into 2005. The weakness of the US dollar is predicted to continue having a negative effect on market conditions, along with a slow down in the building of new homes, due to the difficulty that buyers are facing to find mortgages.
Despite the gloomy outlook, there are plenty of bright spots throughout Europe where the forecasts for crane users differ greatly from the bleak conditions predicted.
The Spanish construction market has been one of Europe's best performing regions over recent years, and 2005 looks set to continue in the same vein. Liebherr alone sold 150 new mobile cranes into the country during 2004. Head of mobile crane sales Josep Garcia says he expects the strong market conditions to continue this year.
The recent appointment of Zaragoza as the host city for the International Expo 2008, will result in up to €100 million being invested there. The new buildings and infrastructure that will be constructed for the Expo will transform Zaragoza and continue to bolster the strong Spanish construction sector.
SEOPAN, the Spanish association of construction companies, expects the sector to grow by 3.5 % on 2004 with the Government subsidised public housing building programme that was announced late in the year the driving force behind it. The Association of Property Developers of Madrid forecasts that around 620000 new homes will be built in Spain during 2005 and Government figures show that the construction sector accounting for 11 % of GDP growth over the coming year.
The Ministry of Public Works has also approved a Special Road Plan that will begin to be implemented this year and a Strategic Infrastructure and Transport Plan is also to be approved this year, with a completion date of 2020. Part of the plan includes construction of 6000 km of new high-capacity highways and 9000 km of high-speed railroads. Total investment in these projects is tipped to be around €240 million. SMOPyC's timing is perfect with the country set for long-term investment and contractors looking to invest in the machinery to work with.
A tried and trusted way of measuring the health of a market is to look at new companies that are entering it. IC spoke to one of the newest entrants in the Spanish crane rental market, General de Alquiler de Maquinaria (GAM).
From the manufacturers
The European crawler crane market, which has suffered in recent years, is providing good news for manufacturers as rental companies have been investing heavily in new machines.
Kobelco, which claims 30 % of the global crawler market for 2004, had "significant" orders from Sarens in Belgium, De Kil and Van Adrighem in the Netherlands and a 12 crane order for 80 tonne capacity CKE800 cranes from another Dutch rental house, Nebem. European sales manager Jost Verhulst believes that Kobelco's share of the European crawler crane market will be "higher than the 30 % of the worldwide market" and that the market is in the best condition that it has been for 10 years.
Hitachi Sumitomo has also enjoyed the last 12 months as far as business in Europe is concerned. Hemmo Luijerink, manager, special & lifting equipment sales, said Hitachi Sumitomo has sold 12 units of the SCX2500 250 tonne capacity machine to large European rental companies in the last year. Customers on the list include Sarens, Mammoet, and Van Adrighem.
The SCX2500 has penetrated the German market, where Luijerink says several units have been sold to demolition contractors. He also thinks that as more countries enter the European Union, crawler cranes that can be used "for a wide variety of jobs, ranging from demolition, construction and civil engineering, ones that are unsuitable for mobile and tower cranes," will be needed. As a result of this demand, Luijerink expects crawlers will "push out mobile and tower cranes in many areas."
Crawlers are also proving popular in the EAME region for Manitowoc, and European sales manager Frans Vanwinkel says the company has sold 14 crawlers there in the last year.
On wheels
Mobile crane sales in the region have also been strong throughout 2004. Tadano Faun says that its strongest markets have been in Scandinavia and Spain where the ATF models 110-G, 80-4 and 160G-5 have been the best selling all terrain models from its product line.
Tadano Faun also launched the GR-300EX rough terrain crane in Europe in November 2004 and says that market response to the new model has been good.
Liebherr-Werk Ehingen says that a large proportion of the 1000 mobile cranes that it sold during 2004 were to end users in Europe. Large orders included a 38 crane order to UK rental giant Ainscough and a 50 unit order for the French army. Both these big orders were mostly for the new 55 tonne capacity LTM1055.1, which marketing director Wolfgang Beringer says has been "extremely successful" since its launch. The UK is proving to be a successful market for Liebherr, with 14 new customers buying its mobile cranes for the first time during 2004, according to Liebherr GB director David Milne.
Once again, Spain is named as one of the strongest regions, this time by Grove, which has sold a GMK 5200 and GMK 2035 to rental house Polisoi and a GMK 4075-1 and GMK 3050-1 to Bauza. Grove is also reported to have delivered four new GMK 7450s to rental companies in Italy.
Terex-Demag enjoyed a prosperous 2004 as far as mobile crane sales were concerned. The company reported its best ever Bauma showing with sales of 48 cranes as a direct result of the show. In terms of single orders, however, this was bettered by an order for 25 new wheeled mobile cranes from Hewden Crane Hire in the UK. The GB £ 6 million (US $10 million) from the UK major was the first part of a fleet upgrade programme that will continue over the next few years.
Towers
The tower crane manufacturers IC spoke to mention the Eastern EU countries as the best emerging markets in the region. Terex-Comedil says it is working well with TDH in Hungary, where it delivered around 40 self erecting and tower cranes in the first three quarters of 2004.
In Poland, Terex-Comedil says the market is beginning to take off and the company is also increasing its presence in Greece.
Liebherr-Werk Biberach, the group's tower crane manufacturer, says that it sold 109 new units in Germany in 2004 a healthy increase over the 94 units in 2003.
Liebherr Grier Tour, which has a fleet of 550 tower cranes that it rents to end users, says that Liebherr is the market leader in Western Europe, although there are exceptions, such as France, where Potain holds that position.
Potain has also had significant sales successes away from its home market in France. Its Belgian dealer Neremat sold more than 40 new tower cranes to various customers in the country, which has a total annual market size of approximately 100 units.
Spanish tower crane manufacturer Linden Comansa will post results that show 2004 to be its best ever year in terms of sales and orders. The company says it is producing two cranes a day and will move to a larger factory later this year to increase production. Export manager Christopher Dawe says the UK and Spain were the best markets for the company in 2004, and he hinted at signs of a recovery in Germany.
Loaders
In the loader crane sector, Hiab delivered more than 11000 new cranes during 2004, mainly from its XS range. The record figures, according to marketing communications manager Harm-Jan Riksen, are set to be bettered during 2005. The 11000 units was a 10 % increase on the previous year and Riksen is expecting to see a similar increase this year.
Elsewhere in the loader sector, Giancarlo Perego, president of Ferrari Corporation and Amco Veba, reports strong interest from the new Eastern EU countries and believes that the emerging market there has strong potential. He added that used machines had traditionally been sold there but customers were now keen on new models. He conceded that the price of new cranes compared to used ones "may be a problem."