Bronto goes to work at night
By Lindsey Anderson27 October 2010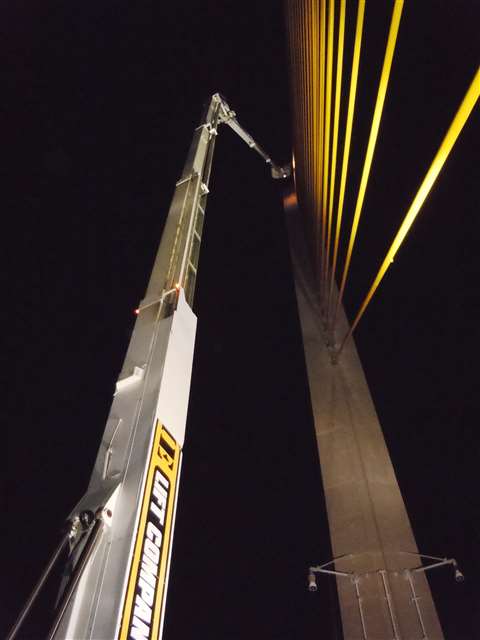 Acme Lift recently supplied the Florida Department of Transportation with a Bronto Skylift S236 HLA to inspect cables on the 4.1-mile-long Sunshine Skyway Bridge, which spans Tampa Bay between St. Petersburg and Manatee Co., FL.
Alex Gold, Acme Lift's Bronto operator who travels with the boom and stays with the machine when it's in operation, trained three inspectors on how to use the Bronto basket. The inspectors loaded a fluoroscope, a video camera, a digital recorder and a digital camera in the basket and spent the week of Oct. 18-22 conducting nighttime examinations 230 feet above the ground.
The inspections occur at night to minimize traffic disruptions. The Bronto rig requires closure of one of the traffic lanes
"The Bronto is ideally suited for bridge inspections, allowing exceptional safety while providing unmatched height and outreach in an easily transportable package," said Woody Weld, president and chief executive officer of Acme Lift. "At its full working height of 236 feet above ground level, the Bronto's spacious self-leveling man-basket provides aerial workers with an extremely solid and stable working experience.
"Our Bronto lift has been utilized in hundreds of different environments, including everything from space shuttle launch platform work and wind power maintenance to performing inspections on the US Navy's aircraft carriers. If you need to get to over 200 feet in height quickly, safely, and have a safe and stable place to work, the Bronto is the best available option."
Acme's Bronto was rented by D. Peryea & Co. of Toronto, OH, that specializes in inspections. Dean Peryea, company owner, said he is impressed by the Bronto.
"They're pretty amazing machines," Peryea said. "When you're up that high, you can send her over a couple of inches and it won't take you for a ride," Peryea said.
The Bronto features 360-degree rotation, has a maximum side outreach of 90 feet and can stretch 53 feet below ground level. Mounted on a 59-foot trailer, the Bronto can hold up to 1,000 pounds and be operated at wind speeds up to 38 mph.