Bucket crusher is new era for Costello
A USA-based demolition contractor that swapped mobile crushing and screening plants for a bucket crusher attachment has called the outcome a "big win-win for our projects".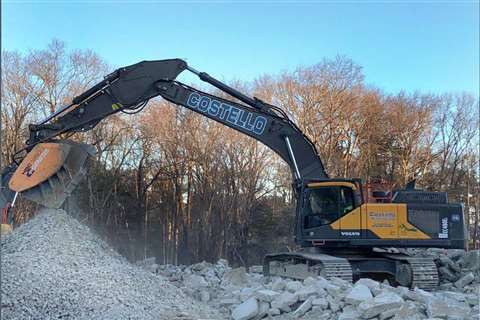 Costello Dismantling, based in Massachusetts, operated a range of crushing and screening equipment for concrete recycling for several years.
But after visiting the World of Concrete show in Las Vegas, company president Dan Costello said he became aware of a new generation of technology that led to buying a Genesis HBC 1250 bucket crusher.
"Our fleet consisted of primary and secondary crushers, triple-deck screener, conveyors, maintenance truck, operators and a mechanic," said Dan Costello.
"The fleet allowed us to process concrete at our permanent yard and at demolition job sites.
"We were finding that the volume of material we were crushing did not warrant the continued expenditures of maintaining the fleet. It was not that the overall volume of concrete we encountered on jobs was not there, but the volume of material we were able to process with our own equipment was trending downward.
"A variety of reasons, including job-site limitations, and transportation costs of local disposal versus the costs of bringing material to our permanent yard facility, highlighted the decline in volume that we were seeing. Without being able to process on site, transportation costs became a deciding factor in taking advantage of an opportunity to sell our crushing fleet.
"Being able to crush concrete for site re-use is a big win-win for our demolition projects. The obvious need to crush concrete lead us to look closely at bucket crushers to accomplish this task."
Costello Dismantling requested a demonstration from its Genesis representative to try an HBC 1250 with its fleet of Volvo 480E excavators. The company sized a stockpile of pulverised concrete to 12 in minus to remove most reinforcing and allow consistent feeding of the bucket crusher. It then pre-weighed a stockpile of 75 t of this material for the bucket crusher trial.
"In 50 minutes, the sample pile had been crushed to 3 in minus sizing," said Dan.
"This translated to a production volume of over 500 t per day. We have found the bucket crusher to be an extremely useful tool in our demolition arsenal – it provides quality finished product at a very favourable cost."