Business as usual at online WDS
Despite the Covid-19 enforced change from the traditional live event to a more modest online version, close to 400 people logged on to this year's World Demolition Summit (WDS) yesterday.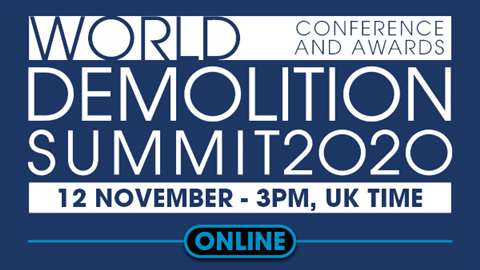 The pandemic may have denied demolition contractors, equipment suppliers and other industry professionals the opportunity of meeting face to face, but there was still lots for delegates to enjoy including chat rooms and video call opportunities.
The conference programme, though reduced in numbers of presentations, was as powerful as ever with speakers Angus Holdsworth (Andun Consultants, UK), a joint presentation by Bartek Kogutowski (Delta Group, Australia) and Roland Alford (Alford Technologies, UK), and James Milburn of US company Milburn Demolition providing content from three continents.
Wrapping up the event was Andrea Gazzola, business development manager of Italian heavy lifting specialist Fagioli, who described his company's part in the demolition of Genoa's Morandi bridge, which collapsed in tragic circumstances in 2018.
The World Demolition Awards ceremony took place in two sessions between the conference presentations, with 13 winners sharing the prizes as follows:
Urban Demolition under US$10 million – Veit & Company, USA for Marquette University McCormick Hall
Urban Demolition $10 million or over – Kiewit Infrastructure West, USA, Alaskan Way Viaduct
Explosive Demolition – Jet Demolition, South Africa, Bank of Lisbon implosion, Johannesburg
Civils Demolition – Erith Contractors, UK, Cleveland Street substructure, London
Innovation Plant and Equipment – Caterpillar, Switzerland/USA, Ultra High Demolition machines
Recycling and Environmental – Grupo Mitre, Argentina, demolition of former Osram lighting plant
Safety and Training – Budget Demolition, Canada
Industrial Demolition – McMahon Services, Australia, deconstruction and scrapping of quay and gantry cranes at PSA's Singapore City Terminals
Innovation Tools and Attachments – Webster Technologies, UK, Rockhit hydraulic breaker
Contract of the Year under $1 million – Liberty Industrial, Australia, Hanson Blackwattle Bay Concrete Batching Plant
Contract of the Year $1 million or over – Brandenburg Industrial Service Co, USA, Liberty Rig project, Alaska
Collaboration in Demolition – Delta Group and others, Australia, New Western Australia museum project
New Entrant – Demex, Australia
World Demolition Award ('Best of the Best') – Jet Demolition
There was also a Highly Commended awarded to Flesan Demolition Chile in the Civils Demolition category.
The World Demolition Summit is organised by Demolition & Recycling International in co-operation with the European Demolition Association and the National Demolition Association of the USA. Headline sponsor is Volvo Construction Equipment.
Next year's WDS will take place in Chicago, USA, on 20-21 October.