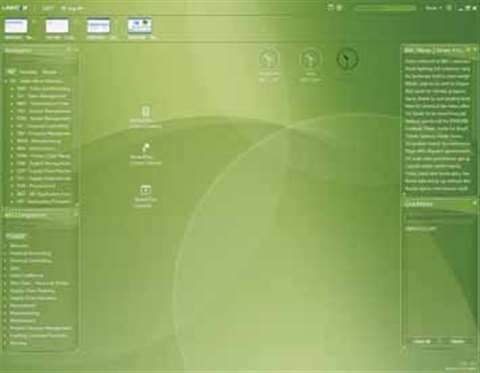 Just as a driver uses "real-time" information to continuously control a vehicle, rental company managers want real-time information to direct their companies. Software suppliers are filling that need.
Hence the name applied to some new software and features: dashboards. As described by Don Whitbeck, president of software supplier Systematic in Canada, "A management dashboard gives [the ability to] probe thoroughly into real-time revenue, profitability and asset utilization. When tough decisions need to be made, you're looking for up-to-the-minute information that will indicate exactly how well you are doing."
Systematic's product, called Systematic Dashboard, uses graphical displays – including classic 's peedometer' gauges – to give an instant picture of almost any facet of a rental company's business, from financial metrics to asset management and rental management indices.
The systems allow users to choose what they want displayed. As Mr Whitbeck says, "Automated alerts let your dashboard monitor the key business metrics important to you, giving instant feedback about problematic issues.
"Dashboard views provide a high-level summary of your operation with the option to drill down into specific areas and to do root-cause analysis, telling you where the business is right now, today, this week and this month."
Mr Whitbeck says the system will revolutionise a rental company's operations because it "ensures that managers spend little time tracking down information, because it is right there in front of them all the time, so they can spend more time focused on their customers and equipment and less time focused on their business information."
Manage by exception
Wynne Systems in the US has teamed up with InfoManager Inc in Indianapolis, Indiana, to offer a similar data analysis tool. Matt Hopp, director of business solutions at InfoManager, says the system "Manages by exception, allowing managers to find that extra 1%. It allows managers to see what they need to do every day."
For example, it can highlight instances of over- or under-utilisation; show equipment that is unavailable and ranked in order of utilisation; and depict performance of individual sales staff or managers against targets using a 'traffic-light' system. You can track rental rates, analysing, for example, how often they are within 90% of the daily rate, and you can do the same thing on a weekly or monthly basis.
Lawson Software in the US likes the driving analogy, too. The company, now over a year since its assimilation of Intentia, says it designed the new release of its M3 Smart Client product "... to give the most comfortable driving experience possible." Frog design, the company that created user interfaces for Apple and Microsoft, also created the current interface of the Smart Client product.
Smart Client allows users, without programming, to remove screen data fields that they don't want, to change the tab order for data entry, or to create a hyper link to other applications, for example. Users can colour rows and columns of output screens to depict different conditions to highlight selected information.
Also using a graphical presentation, the 'Rental Planning Board' displays an overview of equipment bookings and availability. Doing so makes it easier to for busy counter personnel to source equipment for a rental contract. The company says this feature is particularly beneficial for planning and making multiple, short-term contracts.
The latest release, which sales manager Julian Archer describes as the "most advanced by the company in 10 years", has several other new features. Its Up/Down Rental (rental in lieu) module allows searching for and renting alternative equipment while maintaining information about customers' requests. It stores and links all information about requested and actual transactions Smart Client also now has the Exchange handling feature, which provides logistical and tracking information without affecting pricing and invoicing when equipment is exchanged while on rent.
Customer feedback
New software also helps provide timely information about business performance from outside the company. The latest version of rentalresult, from developer Rental Group in the UK, and a new product from Californian company Satmetrix's help companies get customer feedback almost immediately.
Both use the Internet to e-mail customers after rental transactions to invite them to respond to a short survey. Web-based forms allow customers to rate the service.
The rentalresult product, according to Result's chief technologist Ian Kelly, allows rental companies to configure the survey specifically to contracts, assets, or customers. The requesting e-mail can be initiated at either dispatch or return.
Satmetrix's product, meanwhile, generates a 'Net Promoter Score' that allows a rental company to assess performance by product type, geographical area, depot, and even salesperson or service technician.
One user of Satmetrix's product is Scottish power and temperature control rental company Agrreko. Simon Lyon, its global head of marketing and communications, tells AI that the system has become an important way to measure the performance. He says equipment utilisation used to be the most important performance measure, but that the net promoter score, linked to the profitability of contracts, is now a powerful driver to improve the business.
Mr Lyon says managers can look up the scores and link them to contract profitability, so, for example, managers can assess if sales staff are achieving good scores, but at the expense of low pricing.
The system can be set up to automatically alert managers if a customer posts a very low score. These 'alarms' can be triggered to different levels of management depending on the customer or the degree of dissatisfaction.
In practice, such systems allow rental company managers to be on the phone to a major customer just minutes or hours after a low-scoring performance.
So whether it is customer opinion or performance measures, software output has moved far from the days of tabulated figures of historical account details. Managers can now climb into the driver's seat of their businesses.