Busy 48 hours for Epiroc breakers
By Steve Ducker12 July 2018
Netherlands-based contractor LEK Sloopwerken recently demolished three 150 m (492 ft) long viaducts on the country's A27 motorway during a single weekend.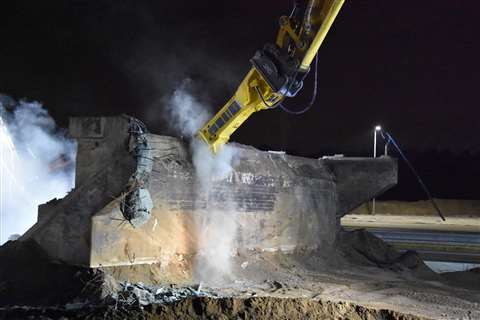 To achieve this the company used Epiroc rig mounted heavy hydraulic breakers equipped with Epiroc's patented Intelligent Protection System (IPS).
The widening of the A27 and A1 motorways between Eemnes and Bunschoten-Spakenburg is a huge infrastructure project. On the Utrecht to Almere stretch of the A27 alone it involves the heavy demolition of six old viaducts and their foundations.
To minimise traffic disruption, the contractor was given a window of 48 hours to demolish three of the bridges located near Hilversum and Bilthoven, an urban area with restrictions on noise and dust creation. Each bridge is 6 m (20 ft) high, and altogether the demolition work involved breaking 5,000 cu m (176,000 cu ft) of specially reinforced concrete.
The job was completed successfully within the timeframe using nine Epiroc rig mounted heavy hydraulic breakers with service weights of 3 to 7 t.