Busy at Link-Belt
By Christian Shelton03 March 2017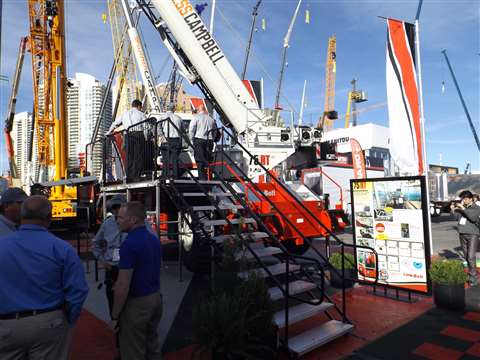 Link-Belt showed its new 75 US ton (70 tonne) capacity 75RT rough terrain crane at the ConExpo construction equipment exhibition in Las Vegas, USA.
It transports fully loaded with counterweight below 100,000 pounds (45 tonnes), the manufacturer says. Power is from a 6.7 litre Tier 4 Final Cummins QSB engine. The US manufacturer has also uprated its larger rough terrain, the 100 US ton capacity model, to 110 US ton (100 tonne) capacity and renamed it 110RT.
Link-Belt product development teams have been especially busy in the crawler crane sector, to the point where the US manufacturer's stand seemed to have more 'all-new' crawler cranes than any other at the show. The new 130 US ton (118 tonne) capacity 228 HSL crawler builds on the HYLAB range. Improvements have been made to transportability and attachment versatility.
As with other HYLAB models, the 228 HSL offers two styles of boom: a tubular type up to 235 feet (72 metres) long and an angle boom, up to 155 feet (47 m). The fixed jib from the 218 HSL can be used. On a transport trailer the 228 HSL has a retracted track width of 11 feet 11 inches (3.6 m). Its nine-piece modular counterweight is designed to make it easy to move, in four or five loads with full counterweight.
Also new from Link-Belt is the 250 US ton (226 tonne) capacity 298 Series 2 lattice crawler crane. It builds on the success of its 298 HSL predecessor. Scott Knight, Link-Belt product manager, lattice and telescopic crawler cranes, said, "We believe the new transport package and combination boom tip absolutely completes our customers' wish-list."
The new boom design allows the working combination boom tip section to remain in place when transitioning from conventional mode to luffer with a maximum combination of 180 feet (54.8 m) of luffing boom and 195 feet (59.4 m) of luffing jib.
A new retractable auxiliary lifting sheave has a capacity of 25 US tons (22.7 tonnes). The conventional boom length remains the same as the 298 HSL at 60 to 290 feet (18.2 to 88.39 m). The maximum tip height of boom and jib [250 ft. + 90 ft. (76.2 + 27.43 m)] is 342 ft. 3.2 in. (104.32 m). Power is from a Cummins QSL 9 Tier 4 engine.
New in the telescopic crawler line from Link-Belt is the 250 tonne capacity TCC-2500, which expands the top end of Link-Belt's telescopic crawler crane line up which now boasts five models from 50 to 250 US tons (45 to 227 tonnes) capacity. The TCC-2500, with its Tier 4 Final Cummins QSL 9 diesel engine and seven-section formed boom, made its public debut.
The 223 foot (68 m) pin and latch boom is the longest in its class, Link-Belt says. Attachments include a three-piece offsettable fly that measure 12, 40, and 67 feet (3.7, 12 and 20 m) and it can also have two 25 foot (7.6 m) boom extensions for an overall tip height of 346 feet (105 m). These attachments with optional hydraulic luffing allow for "up-and-over" capacity like lattice boom crawlers with luffing jibs. Production units of the TCC-2500 will be ready for shipment later in March, the manufacturer said.