Cable car construction for Liebherr
By Laura Hatton24 August 2015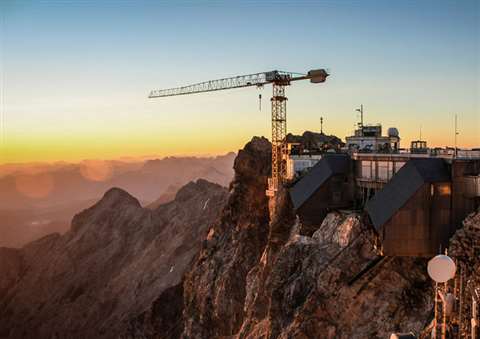 Bayerische Zugspitzbahn Bergbahn is using a Liebherr 150 EC-B 6 Litronic flat top tower crane at an elevation of 2,975 metres on the Zugspitze peak in Germany.
The 150 EC-B 6 is being used to help build the new Eibsee cable car which will be used to transport visitors from the Sonnalpin midway station to the summit of the Zugspitze. It will have the highest steel support in the world, at 127 m, and will cover 3,207 m from the support to the summit station, a spokesperson said.
The crane was dismantled into components weighing no more than 3.4 tonnes. The sections were transported to Sonnalpin midway station on the rack railway before being lifted to site by a helicopter from Swiss airline Heliswiss. Once at the site, the crane was erected from the air with the help of Liebherr erection specialists, a spokesperson said. It was configured with a radius of 50 m and a hook height of 18.6 m.
Challenges at the site include wind speeds of up to 280 km/h and low temperatures. The crane is designed to withstand temperatures down to minus 25 degrees Celsius. The planning work for the crane erection was carried out in close collaboration with Martin Hurm, project manager for the construction of the new Eibsee cable car, Bayerische Zugspitzbahn Bergbahn and Michael Weißschädel, project manager at the Tower Crane Solutions Department in Biberach, Germany.