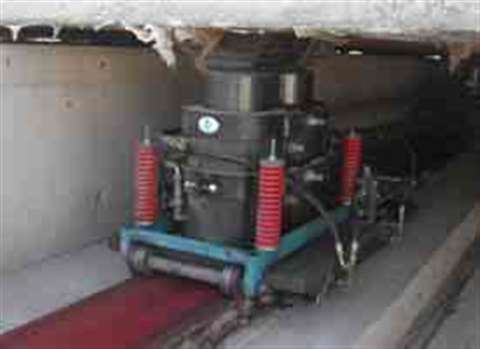 Swedish company Bygging-Uddemann AB was involved in the construction of the new container terminals in Pusan and Kwang Yang in South Korea last year. The company supplied a solution for caisson production and transfer using its own gantry slipform and heavy lifting techniques.
The method used by Bygging-Uddemann has been developed by the company over several years and involves a slipform gantry and an hydraulic elevator. For the recently finished Kwang Yang stage 3:1 project, Bygging-Uddemann developed a system for the transfer of the 5500 tonne caissons from the gantry to the floating dock.
Vice president of Bygging-Uddemann, Henrik Magnusson explains, "Since we have great knowledge and experience from bridge launching we realised that we could offer our clients a complete solution for the production of caissons-not only our gantry slipform solution but also a transfer, with loading out-shore to ship solution."
This system, called the Caisson Carrier Vehicle (CCV), is currently operating at the Kwang Yang stage 3:2. It is based on 42 vehicles, each with a lifting capacity of 200 tonnes and two pushing jacks of 400 tonnes each.
For the Pusan project, Bygging-Uddemann developed a new solution, the Individual Pushing Caisson Carrier Vehicle or IP-CCV system. The IP-CCV transfer system is used for two different transfer operations, bottom slab transfer and caisson transfer. It contains a load equalising system with two 125 tonne capacity lifting jacks on a base plate. Pushing force is provided by two 12.5 tonne capacity jacks located on each vehicle with a grip head climbing on the sliding steel track which is used both for sliding and gripping. A total of 32 vehicles (eight rows, with four units in each row) operate with the lifting cylinders divided in pairs on each vehicle. The double cylinder solution is needed when the base slab is transferred into the gantry from the base slab station.
The complete transfer set-up with its 32 IP-CCV units is powered by two 36 kW hydraulic power packs, also developed by Bygging-Uddemann especially for this application.
A unique feature on this new IP-CCV Transfer System, the company says, is its ability to handle high level difference (up to +/- 50 mm) between shore and ship. Competing systems require an almost perfectly level transfer surface to perform the same operation from shore to ship, which can be difficult to provide at marine sites, Magnusson explains. The IP-CCV system also allows for uneven settlement in the ground under the steel tracks with maintained loading distribution under the caisson. This prevents any risk of high concentrated support loads with potential damage to the caisson structure.