Caldwell spreader beam
By Christian Shelton03 February 2020
Illinois, USA-based below the hook lifting equipment manufacturer The Caldwell Group has launched the Dura-Mod modular spreader beam which has a load capacity of 170 tons (154 tonnes). In its shortest configuration the spreader beam comprises a pair of end fittings and drop links and two upper and lower shackles. Intermediate spreader sections can be added to achieve the required span, with the single longest component being 20 feet (6.1 metres).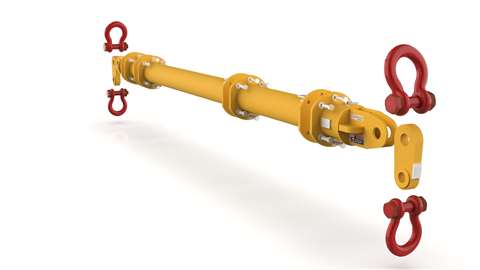 The Dura-Mod modular spreader beam
If a square or rectangular spreader frame is needed the end fittings are removed and corner sections added. The struts remain the same. The spreader utilises standard shackles. Caldwell provides full assembly instructions along with details of fasteners and torque values.
The Dura-Mod is aimed at oil and gas, heavy engineering, and crane and equipment rental markets, among others.The company said that it can safely be used in conjunction with other manufacturers' products, providing all components are certified and conform to relevant standards. It will be sold through Caldwell's global distributor network.
Caldwell added that it is looking at producing a version with a load capacity of 250 tons (227 tonnes) or possibly even higher.