Cameras and operator assistance devices
By Christian Shelton24 October 2017
The world of cameras and other operator assistance devices is moving fast. Not so very long ago communication across jobsites meant shouting loudly, whistling and waving; compare this to the latest buzz words in jobsite communication – connectivity, big data, the internet of things, human-machine Interface, virtual reality, etc – it's clear we've come a long way in a short time.
Crane cameras
One company contributing to this evolution of communication is UK-based BlokCam. It produces wireless crane camera systems and has made a big impact in a short time with its plug and play wireless camera offering (also called BlokCam). The company reports many testimonials from crane operators, giving an insight into just how much users value the camera's ability to give them an additional pair of eyes and ears where they need them most. BlokCam is keen to point out that, in addition to visual feedback, its system also offers audio communication for enhanced functionality.
With BlokCam's crane camera system it is not just the crane operator who can see and hear what they are doing; the company also offers an office link which allows the data from the camera to be captured in a site office for load monitoring and site surveillance.
Acutely aware of the fast-paced nature of the technology industry, BlokCam is not resting on its laurels. The company states that R&D never stops in its quest to be market leader. Among its latest developments is an update to the BlokCam battery charger. It is easier-to-use, more robust, and helps improve the efficiency of the camera's batteries and the performance of the camera system, BlokCam says.
The company has also modified its camera lens. The housing contains a spring-loaded, rotatable lens, which can be adjusted without tools and can fit on any side of the hook block. BlokCam has also developed a new dual camera system. It says the twin sensor enhances the system's capabilities when working with larger hook blocks or other lifting accessories. The two sensors connect to a single transmitter allowing multiple viewing options. BlokCam says this makes it the only twin, block-mounted, high-definition camera system on the market. Another innovation is the development of the #BlokMag system accessory that enables the BlokCam to be mounted to any shape of hook block. The company says the attachment accessory even allows flat surfaces to be mated with curved surfaces.
Dutch company Orlaco designs analogue and digital cameras for cranes that supply high-definition, real-time images. This real-time functionality is important, says Orlaco, as even a slight delay in the images can make the difference between an accident happening or being avoided.
The company has just optimised its camera kit for tower cranes. The zoom camera now has a 40x optical zoom as well as zero-lux night vision mode. Orlaco says an 'over-exposure' function means it is possible to look into dark areas in strong sunlight, such as the interior of a ship against strong backlight. It has also optimised the camera's solar panel so that it returns a better energy yield in daylight, allowing charging on cloudier days, while the camera's spectrum scanner automatically provides the best possible wireless connection for data transfer between the camera and the operator's display. To prevent the ingress of moisture the cameras are filled with gas, while an automatic inbuilt heating function is designed to provide the operator with a clear picture in all weathers. The camera is positioned in the crane hoist to provide the optimum view from where the operator can zoom in on the load, without any decline in picture quality, says Orlaco.
Orlaco says its durable Emos ethernet camera is the first variant to on the market with such low latency, rapid start-up time, and rapid data transfer capabilities. A high-definition image combined with extremely low latency makes it possible to apply intelligent technologies to camera images that were not previously possible on mobile industrial vehicles, Orlaco states. As such, it says its Emos ethernet camera can provide the basis for applying image processing features such as real-time remote view, image recognition, and the advanced stitching together of multiple camera images. The Emos ethernet camera can be combined with the Orlaco Wireless Sender and Receiver Box (WISR), for what Orlaco describes as 'unlimited image transfer possibilities'.
German manufacturer of radio control systems for cranes, HBC-radiomatic, has recognised the appeal of Orlaco's cameras and constructed its radiomatic photon radio control product to be compatible with a range of them. The radiomatic photon delivers live video images to the transmitter's colour display, using a separate radio link and, depending on the application, cameras with different viewing angles or infrared cameras can be used.
Anti-collision solution
German manufacturer of radar and sensor systems, Symeo GmbH, has developed a new wireless solution that it claims prevents collisions between cranes operating at multiple levels, such as semi-gantry or overhead cranes in production halls.
Instead of cameras, the new anti-collision solution is based on Symeo's wireless LPR-1D24 sensors. The company says its robust sensors are designed for the dynamic, real-time positioning of cranes and they work in conjunction with Symeo's user-friendly, web-based assistant. Continuous monitoring of all crane movements and the establishment of flexible restricted zones, allows production and logistics managers to improve operational safety, control automated processes in a more targeted way, and make production processes more efficient, Symeo says.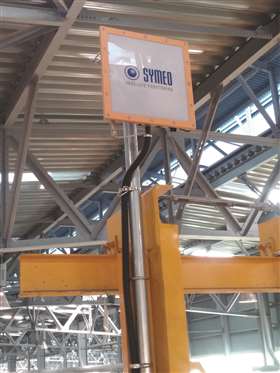 Crane measurement data is wirelessly transmitted via a sensor to a wall-mounted station or a central station. Position information of all cranes is continuously exchanged between the units. The system can also determine the precise position of the crane trolley and the load status.
If a loaded crane trolley moves too close in the direction of a crane operating at the level below, or if two cranes move too quickly towards one another, the crane movements can be automatically slowed down or stopped. It is designed with a direct relay switch so the anti-collision system can be implemented without an additional programmable logic controller (PLC), Symeo says.
Fleet management
It's not just crane operators and construction managers that are benefitting from advances in connected technology; drivers and fleet managers are, too.
Vehicle camera manufacturer ProVision has recognised the potential of connectivity within the context of fleet management, branding its new camera and GPS tracking system offerings under the slogan 'CameraMatics' – a fusion of the words cameras and telematics. ProVision says its offering is a result of merging four key technologies – video input (cameras and scanners), smart processing systems, communications systems, and unique algorithmic IP – to deliver what it describes as intelligent driver and fleet safety systems.
Provision says its CameraMatics solutions meet a growing demand from fleet operators for cloud-connected vehicle cameras which can generate hardware status alerts in real-time. One advantage of this, says ProVision, is that fleet managers can be reassured that the cameras are recording. If in the event they are not, the fleet manager can take suitable action immediately.
In the case of an incident, the fleet manager is alerted and automatically presented with short snippets of camera footage showing just before, during, and after the incident. They can then remote-connect and download as much footage as they want to help protect themselves from legal action or rising insurance premiums. As there is no memory card or similar device to physically remove from the vehicle, there is no danger of ever not being able to access the information.
In addition, the cloud-connected system allows fleet managers to receive accurate tracking and driver behaviour data. This includes vehicle position and status, plus speeding and harsh driving alerts, allowing managers to proactively deal with poor driver behaviour or inappropriate vehicle usage. Where more advanced driving behaviour monitoring is required, the ProVision says its Adas system can monitor the types of behaviour that can trigger serious incidents. These include: minor and major fatigue; mobile phone use; driver distractions; forward proximity and collision threats; and lane deviations.
Connectivity
A company that's ahead of the connectivity curve is Swedish loader crane manufacturer Hiab. Its HiVision innovation introduced virtual reality headsets into the cab of forestry cranes. Using virtual reality glasses, crane operators can see a 3D view of the load they are picking up; the virtual reality is constructed from cameras fixed around the loader crane. Two forward-looking cameras mounted on the crane boom create a high-quality stereoscopic 3D image. This is combined with images from cameras mounted on the side of the vehicle. Hiab says this provides excellent peripheral vision for the operator, with a field of view that extends beyond 180 degrees. It also says the elevated cameras give a sense of overview and control of the work area. End users report that the experience is both immersive and intuitive.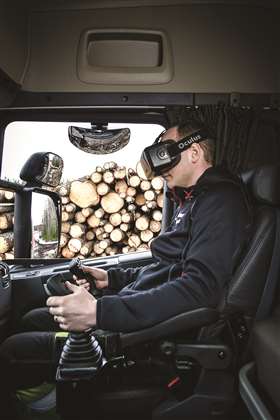 Hiab claims that by using image processing algorithms, vision is enhanced for improved contrast and image quality, even under difficult lighting. Essential information about the truck and crane system is also displayed in a heads-up display overlay, making it available without obstructing the operator's view.
Advantages of the operator being able to stay in the forestry crane truck's cabin include increased safety and increased productivity, Hiab claims. Slip risk is reduced as the operator no longer needs to climb in and out of an operating station while the enhanced vision means the operator can work for longer, as they are less affected by poor light and low temperature.
Hiab has now launched HiConnect, which the company claims provides managers and owners of load handling fleets with insights to help unlock value in their businesses and enhance the productivity of their fleet.
The data platform offers users real-time information about equipment utilisation, operation and condition, enabling them to optimise performance and avoid unnecessary downtime. "Currently, customers have limited, often manual-input based insights, and lack of information about their equipment utilisation rate, condition and operation," explains Jan-Erik Lindfors, vice president, new business solutions at Hiab. "Now, HiConnect offers real-time insights via web-based dashboards with clear and simple overviews that provide status monitoring, service planning and help improve the operation of each unit and operator."
Hiab has been trialling the technology with selected customers through multimarket pilots since 2015 and it will now structure the HiConnect service offering by introducing different tiers of business-critical insights adapted to specific business needs and fleet size. In the final quarter of 2017, Hiab will present a HiConnect retrofit solution to selected existing Hiab loader cranes and Multilift demountables and customers in five markets – USA, United Kingdom, France, Netherlands and Germany – with expansion of the HiConnect offering and market coverage during 2018.
Roland Sundén, Hiab president, stated, "We are very proud to be the first in our industry to bring this comprehensive suite of connected solutions to the market. As a pioneer in load handling, it is part of our mission to continue shaping the future of load handling. We have worked closely with our customers and collectively see many benefits today and huge future potential in HiConnect. This upcoming initial market offering is just a start. Early adopters will now receive key insights and functionality, but will also be part of further developing the HiConnect platform based on their customer needs… We stated our ambition that all new Hiab equipment shall be connected by 2018. That is what we are working on, connecting us more deeply with the customer to develop new ways of adding value to their business,"
As you can see, where the crane operator was once at the heart of the construction site now, due to the latest technology, they are becoming more a part of a connected construction site, where the boundaries between communication, control, assistance, and analysis are becoming blurred.