Canada's first Grove GMK6400-1 delivered to A.W. Leil Cranes
By Hannah Sundermeyer28 March 2023
Following its December 2022 delivery to A.W. Leil Cranes and Equipment, the first Grove GMK6400-1 to arrive in Canada has sparked a revival for the Nova Scotia-based rental services provider, the company said.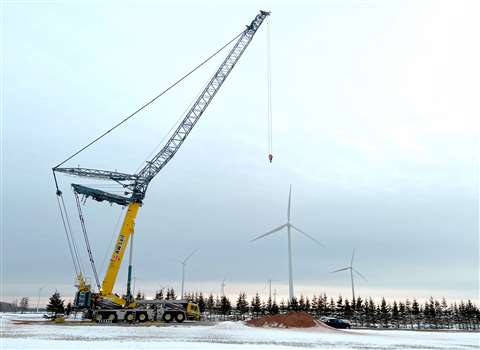 Due to fleet capacity constraints, A.W. Leil Cranes had been excluded from many opportunities in its market — particularly in providing maintenance services to the wind turbines it had erected during the last wind construction boom in the early 2000s.
"Our largest crane was 400 tons, which usually left us just shy of being able to service larger wind towers, so we recognized there was a need to upsize," said Ryan Long, president, A.W. Leil. "We were initially looking at 500-650-tonmachines, but once we started doing careful comparisons, plotting out every tiny detail in a spreadsheet, the GMK6400-1 kept shining through."
The 450-ton GMK6400-1 offers features such as the self-rigging MegaWingLift and MAXbase variable-position outriggers that support a lifting performance usually only seen on seven- or eight-axle cranes. Local dealer Shawmut Equipment of Canada, provided operator and technician training to A.W. Leil's team at handover, where the crane joined a fleet of Grove TMS truck cranes and National Crane boom trucks.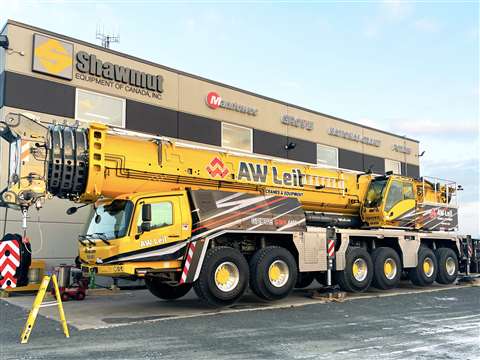 The crane immediately headed out to its first wind farm on Prince Edward Island. Given the sparsely distributed population of the region and the scarcity of long-term projects, A.W. Leil's cranes invariably cover far more ground than most.
"Taxi work is crucial for us, so the icing on the cake is that we can just head straight out, trailing a boom dolly behind," Long added. "Other machines in the region have to spend extra time and work sending extra permits, trucks, and boom launching before every single mobilization. In the end, that's added cost to the customer. The GMK6400-1's easy roading really has been a major turning point for us."