Canadian-Korean JV to build large EV motors facility in Hungary
LG Magna e-Powertrain has announced plans to build an electric motors manufacturing facility in Hungary.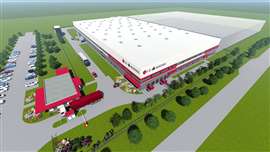 The Canadian-Korean joint venture company, formed in 2021 by electronics giant LG Electronics and global automotive supplier Magna, announced the expansion of its operations ahead of IAA Mobility 2023, the world's largest motor show, held in Munich, Germany.
The facility, to be located in Miskolc in northeastern Hungary – an area known for its heavy industry – will cover more than 26,000m2 and is slated for completion in 2025.
It will serve as LG Magna e-Powertrain's inaugural production operations in Europe, initially focusing on the production of electric motors, but with confirmed plans to develop a range of electrified powertrain solutions, including inverters and on-board chargers for the electric vehicle (EV) market.
Once completed in 2026, the facility is expected to generate approximately 200 new jobs in the area.
Diba Ilunga, President of Magna Powertrain, said, "Adding the new Hungary facility marks another milestone for the JV in executing its growth plan.
"With this new capacity – the JV's first in Europe - LG Magna e-Powertrain is well positioned to keep pace with customer demands and increases in global EV production."
Eun Seok-hyun, president of LG Vehicle Component Solutions (VS) Company, said, "Our new facility aims to meet the demands of European automakers, demonstrating our commitment to delivering innovative solutions to our customers."
Cheong Won-suk, CEO of LG Magna e-Powertrain, said, "Along with the facilities in Mexico, China, and South Korea, the facility in Hungary will be critical as the company accelerates its position as a go-to mobility solutions partner in the fast-growing global EV market."