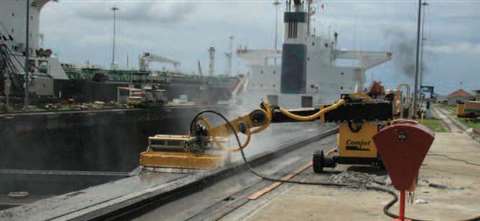 The Panama Canal Authority, Autoridad Del Canal De Panama (ACP), has bought a Conjet Robot 363 MPA hydrodemolition machine to remove concrete around the canal's tow track system. This is a necessary part of the project to replace the tracks, which began in 1999, and which is already using two Conjet Jetframe 122 hydrodemolition sets.
Electric drive locomotives which help guide ships through the canal's three sets of twin lane locks use the tow track. ACP, which administers, manages, operates and maintains the canal, is responsible for removing the 16.19 km of worn out tow track along the tops of the lock walls, and replacing it with a new stronger system to cater for the increase in canal traffic and high loadings from the locomotives.
The Conjet Robot directs a high-pressure stream of water onto the concrete around the tracks, safely removing it to allow for their replacement. Power comes from two Conjet 345-400 Power packs supplying water at a pressure of 1100 bar and flow of 195 litres/min. This configuration has seen ACP boost concrete removal by +50% over the Jetframe equipment to 0.75 m3/hour.
Enquiries 334