Cannon takes first UK Genie micro-scissor
By Euan Youdale25 June 2019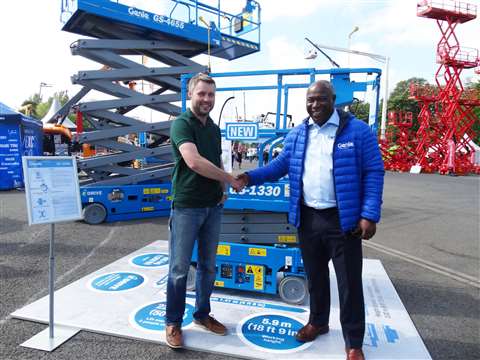 Following an order at UK exhibition Vertikal Days, in May, Cannon Access has become the first rental company in the UK to own Genie's new emission-free, 3.9m platform height GS-1330m micro-scissor.
Tom Cannon, director, Cannon Access, said, "For years the industry standard has been to use 6m (19 ft) scissor lifts, even if the customer is only working at half that height. And whilst this is not an issue, it is great to see a leading manufacturer producing a smaller conventional machine that will fill in the gap at the small end of the scissor lift market."
Weighing less than 900kg, the six units a pair of new Genie Z-45/25 RT rough terrain boom lifts at Cannon Access.
Launched at Bauma Munich in April, the Genie GS-1330m scissor has a lift capacity of up to 227kg for two people, with the benefits of a power-efficient e-drive system. Drive enabled at full height and in stowed position, in addition to the ability to climb up to 25% graded slopes, the GS-1330m scissor measures 1.4m x 0.78m and weighs less than the service elevator capacity limitation of 1,000kg.