Case hybrid concept revealed
By Becca Wilkins15 April 2009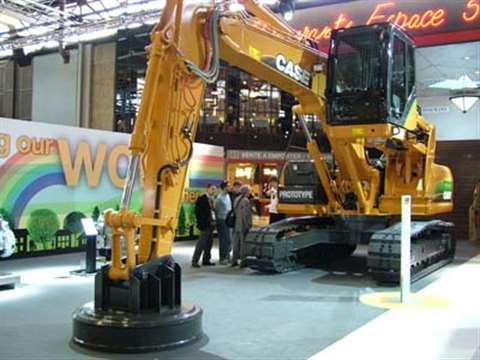 Case has unveiled a prototype hybrid material handling excavator on the first day of Intermat.
Based on the CX210B material handling crawler excavator, the elevated cab scrap handling machine has the potential to reduce fuel consumption by up to +40%, according to Bill Seidel, Case's product portfolio and brand marketing vice president.
The company added the new machine will also "substantially" cut exhaust emissions.
The prototype excavator retains a diesel engine to power the hydraulic system for the boom and track drive, but this motor also drives the electric generator, which in turn is used to power the lifting magnet and the electric slew motor.
A spokesman for Case said, "When the engine is under low load conditions, surplus energy is converted to electricity and stored in high efficiency capacitors. As the engine comes under higher load, while lifting for instance, the electrical system provides support, boosting performance in the slew system and the magnet."
Working in repetitive operation such as scrap handling, the machine is continually turning from one side to the other. An electric swing motor uses less energy than a hydraulic motor, reducing energy consumption. As the slew brake is activated, the energy generated is again stored for later use by the capacitors.
A third energy saving is achieved by integrating the magnet generator into the hybrid drive, rather than it being powered by the machine's hydraulic pumps. In this way magnet makes use of the additional electrical energy stored in the system.
Integrating the magnet operation alone can result in a +25% fuel saving, with the additional 15% reduction created by the hybrid drive system, the company explained.
Mr Seidel said Case is investigating a wide range of alternative fuel solutions that could be seen on new Tier 4 Interim (Stage IIIB) and Tier 4 Final (Stage IV) machines.
"It's a challenge in so far as that some of these technologies are new - so there's design time and testing time to account for. We are trying to balance investment with Tier 4 and other green technologies."