Case Construction Equipment has increased the operating capacity and upgraded emission standards on its four most technologically advanced skid steer loaders and compact tracked loaders.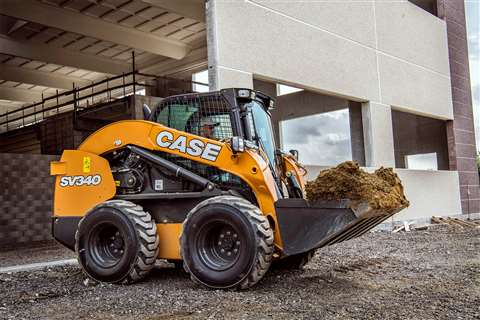 These technical updates mean that all four 90 hp compact loaders achieve Tier 4 Final compliance.
The 90 hp Compact Hi-eSCR engines, designed and manufactured by CASE's partner company FPT (Fiat Powertrain Technologies), have higher combustion efficiency, enabling lower heat rejection and a reduction in the exhaust gas recirculation (EGR) rate from 25% to 10%.
New model numbers have been introduced to reflect the significant advances in operating capacity. The radial lift SR270 and vertical lift SV340 skid steer loaders replace the previous SR250 and SV300 models, and the radial lift TR340 compact track loader replaces the TR320. The vertical lift TV380 track loader also achieves lower emissions, but because its operating capacity is unchanged it retains the same model name.
The rated operating capacity rises from 1,135 kg (2,502 lb) in the SR250 to 1,225 kg (2,700 lb) in the new SR270; from 1,360 kg (2,998 lb) in the SV300 to 1,545 kg (3.406 lb) in the SV340; and from 1,451 kg (3,198 lb) in the TR320 to 1,542 kg (3,400 lb) in the TR340.
All the upgrades went into production at Case's 46,000 sq m (495,000 sq ft) manufacturing plant in Wichita, Kansas, USA.