Case loaders' emissions priority
By Neill Barston26 September 2014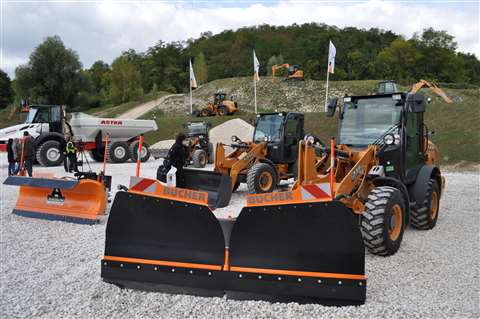 A new range of compact wheeled loaders from Case Construction has been developed complying with Tier 4/Stage IV emissions requirements.
Comprising six new machines, the launch of the F-series at an event near Paris, France, signalled its continued investment in the sector.
Its latest models span the 4.4 tonne 21F through to the largest loader, the 6.2 tonne 321F, which have been designed to offer increased lift capacity of up to 400kg each compared with previous models.
As completely new machines, the series has had a major redesign of cabins. The 21F and 121F are under 2.5 m high, aiding transportationunder bridges if loaded on a truck.
Its FPT Industrial engines span from 58 to 74 hp (43 to 55 kW). They have been designed to operate without the need for a particulate filter to meet latest emissions standards.
Key features include enhanced hydraulic systems, with high flow options available on the 221F and 321F. This enables the use of power attachments including snow blowers and asphalt planers.
The series underwent extensive prototype testing including trials in Northern Norway, as part of the company's major research and development programme.
Speaking to Construction Europe at the launch event, Andy Blandford, vice president of Case construction equipment, said, "There are a number of our businesses that are doing well – particularly within construction. We are projecting the industry will be up another couple of percent points next year and we are well positioned to capitalise on that.
"We have listened to the requirements of customers with the F series of loaders in having lower cabs and improving attachment compatibility and comfort within cabs.
"From day one the series has had customer input, so this series will be important for us. We are expecting it not just to do well in Austria, Germany and Switzerland, but other markets as well."