Cat attachments lines grow
By Lindsay Gale17 April 2009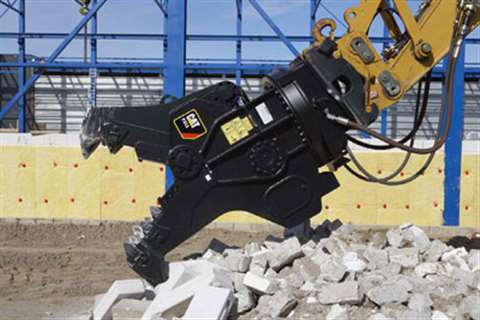 Caterpillar Work Tools has used the Intermat exhibition to launch new demolition tools in its attachments range.
The four model multi-function P300 series crusher range for carriers weighing from 15 to 85 tonnes provides its customers with greater cost-effectiveness, flexibility, ease of use and functionality, says the company.
The 1,890 kg (4,158 lb) P315 is intended for use on 15 to 25 machines and has a jaw opening of 731 mm (28.8 in) and a tip closing force of 90 tonnes. The 2,550 kg (5,610 lb) P325 is for use with 25 to 35 tonne carriers and offers a jaw opening of 855 mm (33.7 in) with a tip closing force of 125 tonnes.
The P335 weighs in at 3,550 kg (7,810 lb) and is for use with 35 to 60 tonne machines, with a jaw opening of 983 mm (38.7 in) and a tip force of 160 tonnes. The largest new crusher, the 5,230 kg (11,506 lb) P360, is designed for use with 60 to 85 tonne carriers. It has a maximum jaw opening of 1,201 mm (47.3 in) and a tip force of 210 tonnes.
All four offer a maximum crushing force of 350 bar. According to Cat, the special position of these new crushers cylinders allows them to generate the same power but at a significantly lower weight.
Cat has also introduced a new demolition and sorting grapple in the shape of the G325B that is intended for use on carriers weighing from 28 to 35 tonnes. Weighing 2,370 kg (5,214 lb), the G325B has a capacity of 900 litres and features a closing force of 66 kN and full 360 degree rotation.
Designed specifically for selective demolition, the new grapple features a low construction height and is made from high grade, impact resistant steel. All hydraulic components are fully protected, and high quality bushings with lubrication grooves are used along with hardened pins and internals dust seals to ensure durability.
Finally, the company has also introduced its new Fusion wheeled loader coupler system, the design of which moves the centre of gravity closer to the machine, that allows the loader to conveniently pick up and use a wide range of attachments. According to Dave Becktel, Caterpillar Work Tools commercial manager: "Fusion is designed for Caterpillar wheel loader models ranging from the 918H to the 972H, including the IT38 and IT62. The single, unique interface allows many machines to share the same work tools - a cost reducing systems for multi-loader fleets."
The key benefits cited by Cat include improved machine performance and visibility, dual action locking and a universal interface. Cat has patented the design of the new coupler.